Film Festivals in British Columbia: A Comprehensive Listing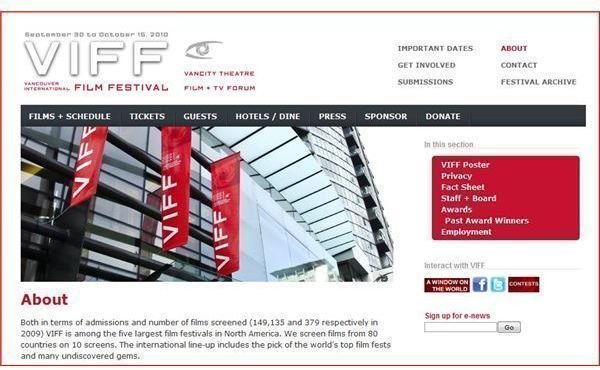 Screenings for Beginners and Professionals Alike
Film festivals in British Columbia are abundant, inspiring, and as captivating as the phenomenal landscape that fires the human imagination in this beautiful Canadian province. There are numerous festivals held throughout BC that cater to many different types of films and feature the work of artists of a wide range of talent, ability, and style. British Columbia has long been a popular shooting location for a vast amount of major motion pictures and television programs (nine years of the world famous X-Files programs were shot here; sorry to disappoint the fans who thought they were viewing backdrops in West Virginia). BC has the third largest amount of film production in North America. For a roundup of the most popular celebrations of this ilk, read this list of film festivals.
Filmmaking is so prevalent here that popular festivals have popped up all over the province that cater to both the best in picture making and the work of fledgling artists offering the results of their first works. The Canadian government offers tax incentives to all those shooting films in BC which is another reason this region is so popular for this art form. The terrain is diverse, from mountain settings, to the coastal backgrounds, and the many cities and towns which can double for virtually any other place a script calls for (like West Virginia).
Where and When These Festivals are Held
Let's start at the beginning. The BC Student Film Festival offers any student filmmakers the opportunity to show off their efforts to a general audience that also includes judges recognized for their established professional abilities in the film industry. It's held in May of each year. Every entry receives feedback which goes a long way toward cultivating fledgling talent.
Next, we move right into the big time offerings you can see at the Vancouver International Film Festival held this year in 2010 from September 30th - October 15th. This is the fifth largest film festival in North America that screens a large number of films from all over the world, many of which are the pick of the litter from other famous festivals. The laudable goal of promoting the understanding and appreciation of the world's culture is one aim of the VIFF, along with encouraging a sheer love of film to the general public.
The Whistler Film Festival is dedicated to promoting and recognizing the efforts of the Western Canadian film industry. They offer workshops for professional development and educational opportunities for young filmmakers and viewing the best work of professionals and independent film makers from the region. Whistler is an amazing ski resort town and since this festival is held in early December, you might want to pack those skis and snowboards for the trips too. Incidentally, in the snowless months, this is a place for riding adventures that you can read all about in Whistler Mountain Biking at its Best.
The Antimatter Film Festival in Victoria BC (each October) nurtures works in experimental cinema, offering a haven from industry giant agendas and commercialism. Over in Victoria you will find that each spring season ushers in the DOXA Documentary Film Festival (also in May) to illustrate this unique brand of cutting-edge non-fiction filming. And for the sheer joy of movie appreciation, the Victoria Film Festival in February is free and enjoyable for all. The Women in Film & Television Vancouver celebrates and advances women in all screen-based media.
You can find even more film festivals in British Columbia, from the Jewish Film Festival to the Asian Film Festival. British Columbia is clearly a place that is home to a wide appreciation of just how special, educational, and entertaining movies can be. You can find a festival going on just about any time of the year too so whether you're in the industry, trying to break into it, or just a big fan, BC is a great destination.