Top 10 Video Editing Software Applications: Finding the Best Digital Video Editing Software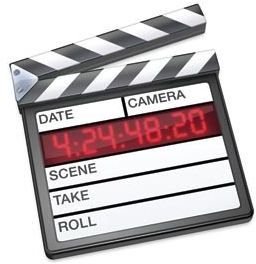 Finding the Best Digital Video Editing Software
Video editing is essentially a means by which you can take what has been shot in various forms and craft it into a final project. This means that the video editing software that you need is going to have to give you the features you are after as well as provide an interface that will facilitate creativity and ease of use. The non-linear video editing model is fairly standard, but there are still a number of different video editing programs that offer different benefits and detractions. Here is a list of the top 10 video editing software applications out there, both professional and costly and free digital video editing software.
1. Final Cut Pro
The first, and most obvious choice, on our list of the top 10 video editing software applications is going to be Apple's watershed Final Cut Pro.
Final Cut Pro continues the non-linear video editing
revolution that began with Avid and ran with it. Creating a general software package that maintains affordability while including top of the line professional post-production programs like Color, Soundtrack Pro, and DVD Studio Pro, Final Cut Pro is a digital video editing software program that has combined the professional level of features with the kind of interface that is practical for those new to the digital video process to learn.
With Final Cut Pro, you work in the accepted "Timeline" format where you cut and arrange different clips, add video effects and transitions, and have the general kind of image and audio control you would need to be entirely creative in your editing. Final Cut Pro is quickly becoming the industry standard and the first place for those who want to become professional level video editors to go.
2. iMovie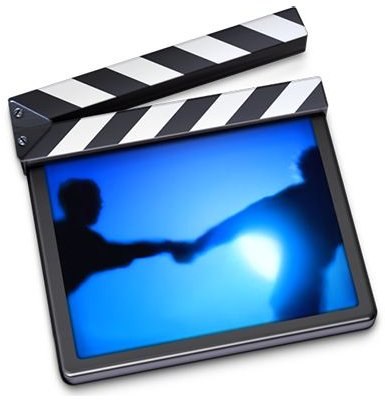 iMovie comes standard on Mac computers as part of the iLife package and is often considered the best of the simple video editing programs.
iMovie actually works much different than the Timeline format of programs like Final Cut Pro or Avid, but has made video editing accessible to almost everyone with a Mac computer. What iMovie has done, in essence, is changed the workflow for home videos where now they can easily be transferred from their raw format into one that can be cut together and spruced up with a very easy video post-production program. Everything is included in iMovie, from the ability to add text and make edits to the addition of video effects, but simplicity is the name of the game instead of features. The workflow allows for easy import and export, and with other iLife programs like iDVD you can easily go into DVD authoring. iMovie is essentially a free digital video editing software program as it comes along with your Mac computer.
3. Windows Movie Maker
Windows Movie Maker is also a free video editing software program in the same way that iMovie is, except that it comes with Windows PCs instead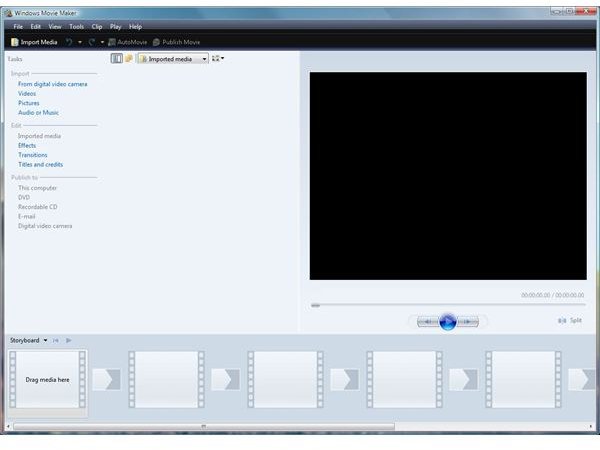 of Mac computers.
Windows Movie Maker is built a little more around the Timeline model, except that you can arrange clips in an even easier Storyboard mode. Windows Movie Maker is mostly designed to keep simplicity at play and this means that the options are few, but it is a great place to start for those that have never jumped onto a video editing program like this one and who just need simple tasks.
You will also be able to include things like video effects, video transitions, text, and export options, but they will be few and non-adjustable in most cases. This is fine in that what Windows Movie Maker brings to the table is a basic way to crunch together edited videos when time is short. Remember, this free video editing software program is only going to be available for Windows computers.
Please continue on to the next page to see what other programs have made the list of the top 10 video editing software applications.
4. VirtualDub
Next on our list of the best digital video editing software programs is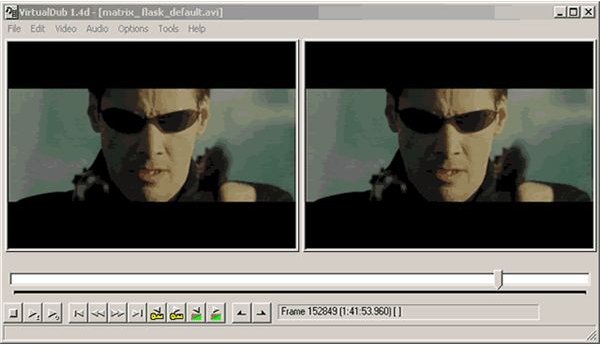 VirtualDub. This is one of the most interesting free video editing programs on this list as it is barely considered a video editing program as it lacks most of the features that have made Final Cut Pro or Avid Media Composer the standards. Instead, it really functions as a program for capturing and processing video, but does allow for some very basic functions and will serve as the most basic and quick of all of these programs. Try it out when you are trying to work with video in the quickest way possible.
5. Avid Media Composer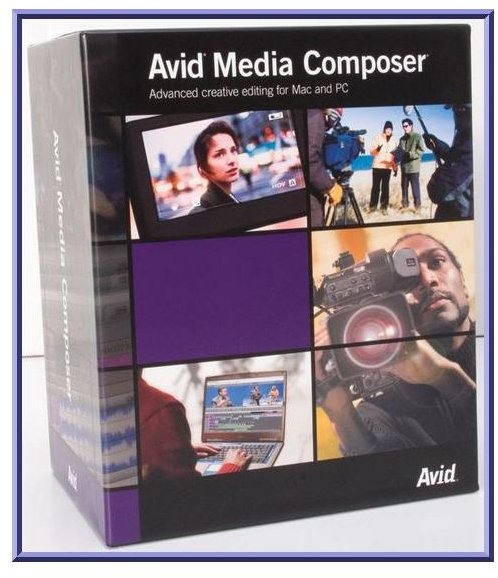 Avid Media Composer is the grand emperor of non-linear video editing programs. Not only was Avid the first to release a non-linear system, it has remained the film industry standard and the most complete out of all professional video editing programs.
For those who are intending to work in industry led post-production, Avid Media Composer is going to be a must as it is still used in most of the feature industry, though Final Cut Pro is challenging its superiority at all levels. Though most lower level video editors may not have used Avid, it still stands out as being the most complete system out there. Avid is known for having a huge list of tools and a package of third party programs that come with it to create a complete system, and there is even a set of Avid specific hardware that you can use along with it in a way that is similar to Pro Tools. This is partially why many computers are Avid specific and there are Avid systems used in post-production houses, often times with Avid software used for server and media sharing.
Avid Media Composer is not, however, practical for many users as the price ranges from about $2,300 to $2,500. Avid is actively trying to gain back many of the Final Cut Pro users, especially those that have started to learn video editing through Final Cut Pro, so you can see that it is only going to increase the fight between the two leaders in professional film editing.
6. Wax
Wax is an interesting choice among free digital video editing software programs and is one that is much more involved than iMovie or Windows Movie Maker.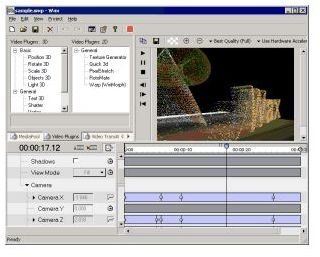 You are going to get most of the features that you have come to expect from full service non-linear video editing programs, but not near as much as you would end up with something like the Final Cut Studio. Still you will actually benefit from Wax's inclusion of unlimited video and audio tracks, which is a feature that you are not normally going to be allowed. Top down compositing is also allowed, though you would likely save upper level compositing for Shake or After Effects. Try out Wax, or even try to use it as a general plug-in for another video editing program.
Please continue on to the final page of this article to see the remaining programs that make our list of the top 10 video editing software applications.
7. Adobe Premiere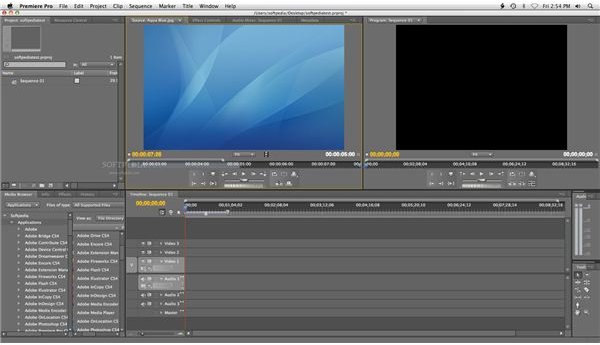 Adobe Premiere comes behind software like Final Cut Pro and Avid Media Composer, but is still a great option and can bridge the prosumer and professional video editing worlds.
Adobe Premiere is still used in the professional video production field and you will find that visually it is a leap from Final Cut Pro, but since the non-linear video editing principles remain the same the learning curve should not be too dramatic. What is especially great with Adobe Premiere is how great it works with other programs in the Adobe Create Suite. Adobe Flash, Adobe After Effects, Adobe Photoshop, and Adobe Illustrator are all leaders in their specific functionality, and you are going to be using all of them in your post-production work whether or not you are using Adobe Premiere. If you do use Adobe Premiere you will then be able to tap into them easily, not to mention Adobe Encore for DVD authoring.
8. Zwei-Stein
Zwei-Stein is going to be an interesting choice in free digital video editing software, but will work perfectly for some people. It sets a clip use limit at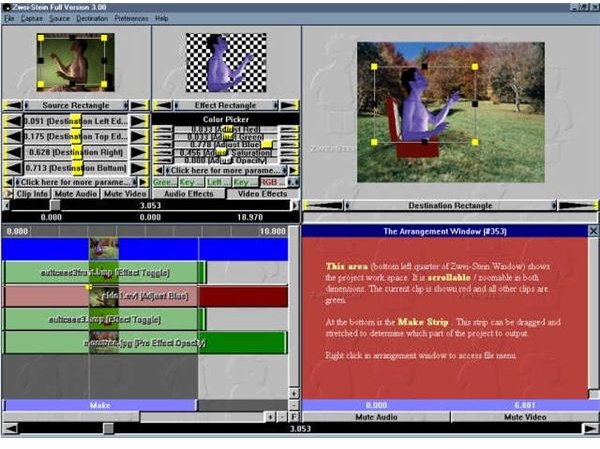 256, but that may be perfect for the type of video editing projects you want out of Zwei-Stein. You will also find that the interface is very specific and can be kind of hard, which may not be what you are looking for out of a software that is essentially built around simple edits. Try out Zwei-Stein and see if it is going to be for you, but what you will find is that it is a very unique free video editing program and may fit the way you work during post-production perfectly.
9. Sony Vegas Pro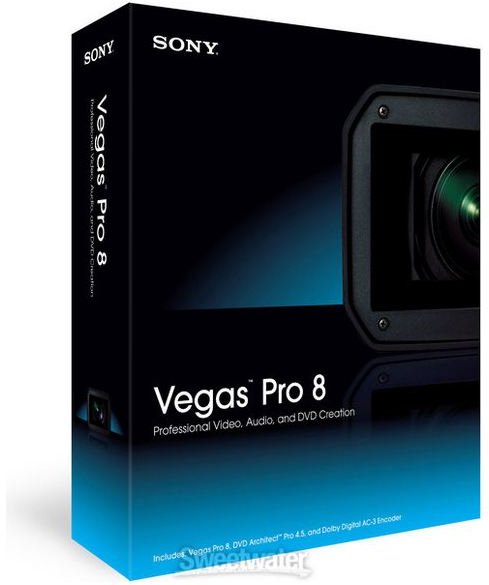 Sony Vegas Pro was Sony's answer to Final Cut Pro, Avid Media Composer, and Adobe Premiere. It is a full service non-linear video editing program that provides professional features, though is not used near as much professionally. You will also find that it is somewhat cheaper than the other big three, yet this does not mean that it is going to be inexpensive by any means. Try out Sony Vegas Pro and see if it flows a little better than the rest, but because of its lack of popularity there is a great likelihood that there will be less development for it. Sony Vegas Pro is the more professional version of Sony's video editing software, but they also have Sony Vegas Movie Studio that is more in line with Windows Movie Maker and iMovie.
10. Roxio Creator
The final program on our list of the top 10 video editing software applications is Roxio Creator. Thia is one of the industry's great cheap deals. Roxio Creator is a video editing program that is not in line with the professional expectations of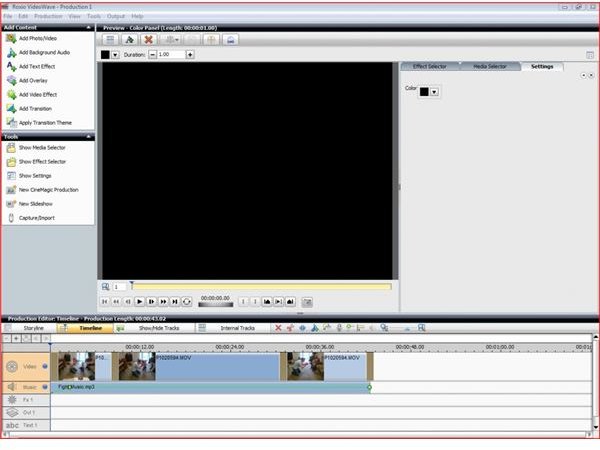 Avid Media Composer but certainly outdoes the vapid simplicity of Windows Movie Maker.
Roxio Creator is going to be perfect for home video editors as you can easily capture video directly from your digital video camera and it is clearly designed with the ability to export video in a variety of different formats, which is needed for the diversification in today's media consumption. The Timeline format is fairly standardized, though somewhat simplified from the prosumer model. Once you get to know where everything is in Roxio Creator you are going to find a great option for quick video editing, and for $79.99 it is a steal. Read this Roxio Creator 2010 review to learn more about what this software has to offer.