How to Get Your Film on IMDb or Cheat Your Way In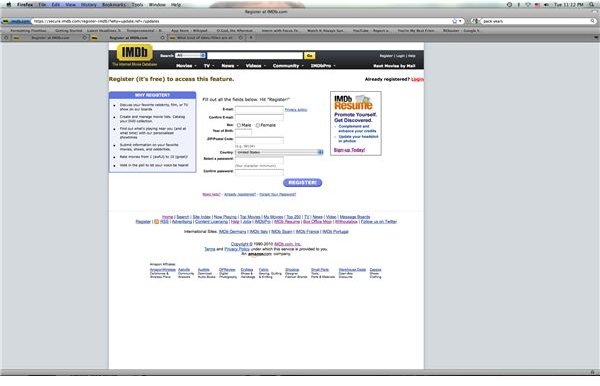 IMDB.com
The Internet Movie Database, known commonly as the IMDb, is the defining source for all information. You can look up movies, directors, actors, any crew members, as well as involved companies, musicians, and other people appearing in films and see details from their complete filmography. You can look at specific films, see its production information, what awards it was nominated for, everyone that worked on it, and a host of more information. Though the IMDb is used by everyone as their main definitive source of film information, it also is used in the film industry as a professional resume system. If your film is not listed on the IMDb then professionally it will barely even exist, as this ends up as the centralized info system. The IMDb does not just let anyone add themselves to their system, and if films are to be included in their database then it has to meet a few qualifications. There are some standard ways to get yourself added to the IMDb, as well as a couple loopholes that will allow you to possibly cheat yourself into an IMDb page.
What is Acceptable
There are two primary principles a film or project must meet to be considered part of the IMDb's cannon. First, it has to be of "general public interest," which means that it cannot just be a video of you and your family on vacation. Second, it needs to have been available for public audience in some format at some time. To meet these two qualifications the project has to have been shown or made available in a few platforms. These include regular theatrical showings that were not inspired by a private premiere or party, on a television station that is a regular operation and not public access of some sort, been taken from a commercial website in a very large number such as Netflix, has been put out on video, DVD, or comparable format in commercial sale, been included in an actual retailer catalogue, had a current "person of interest" such as a celebrity attached to it, been shown in a competitive film festival that is substantial and does not accept every submission made, it is of general historic interest at this point, or it is in some kind of official archive or records database. Several of these requirements are fairly vague, so it stands to reason that most people focus on films being included into the IMDb record through theatrical release, DVD sale, or film festival display.
The IMDb will also accept a variety of projects that do not fit into the feature film mold. Beyond feature films you can also put in experimental films, short films that are not simple commercials, films released on non-theatrical platforms, video games, TV series and other television programming, documentaries, and other combinations of those.
Standard IMDb Process
If your film or video project meets these IMDb standards then you can apply to have it included. To do this you must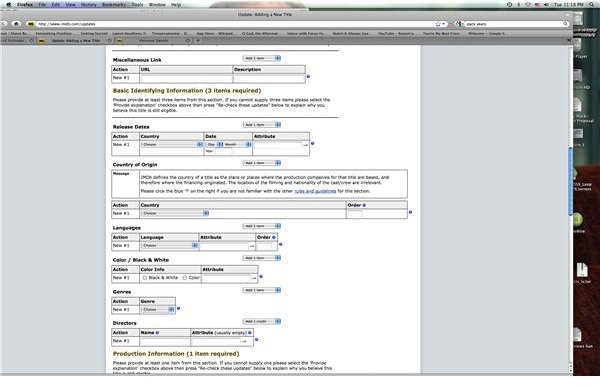 show some sort of concrete evidence as to the fact that this film actually exists and meets these requirements. This evidence can mean a lot of things, and, for example, sending in a link to a place that sells your film on DVD will usually work. The evidence itself has to be substantial in providing information that could not easily be forged, but a respected retailer or institution will have their own safe guards against this and that will usually prove the evidence reliable to the IMDb. You will have to begin by registering with IMDB and creating an account, but this should be standard for those who are becoming serious filmmakers. Once you have activated your account you will fill out an information sheet about your film, have the information checked against the database for similarities, include all the possible information about items like language and genre, and everything else that could possibly be included in a final movie's credits. From here, your film will go to IMDb for approval, and if it meets the qualifications then it will be included.
Cheating IMDb
Many early filmmakers cannot wait until they get their IMDb page, and it can be the difference between getting a job and getting funding on your next project. Even if you have not had a project that has met any of these qualifications in a true sense you can still get there by cheating the IMDb. Start by authoring a couple copies of your film onto a DVD. Go to www.createspace.com and register your film before sending in the two copies of your film. What Create Space will do is register your film onto Amazon.com, though it is less than likely that anyone will want to purchase it. Then you can apply to the IMDb with success.