Using the OneStep DVD Function in Apple's Simple DVD Authoring Program iDVD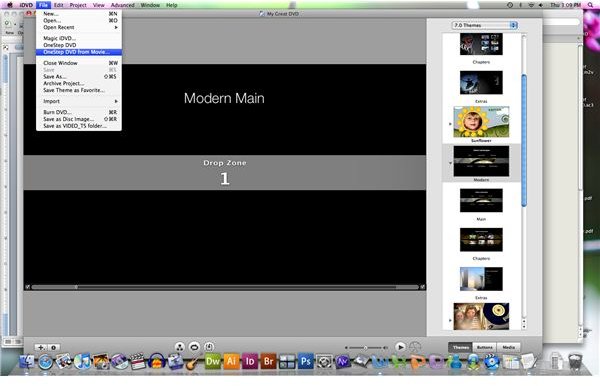 OneStep
What is great about Apple's iDVD is that it takes the mystery and skill out of DVD authoring. For most people, DVD authoring seems like a complicated part of the post-production process that should be saved for professionals. Even DVD authoring software like DVD Studio Pro, which makes it practical for people to produce professional looking DVDs, is far too difficult for the uninitiated. With iDVD they can take care of simple DVD authoring projects without much skill. If you just want to make your own incredibly basic DVD that will just play your movie file then iDVD includes a great function for this: OneStep DVD. Here is an iDVD tutorial on how to create this almost instant DVD project using the OneStep DVD function.
DVD Authoring
Start by creating a new iDVD project, which is an option you can choose from the opening iDVD menu. Once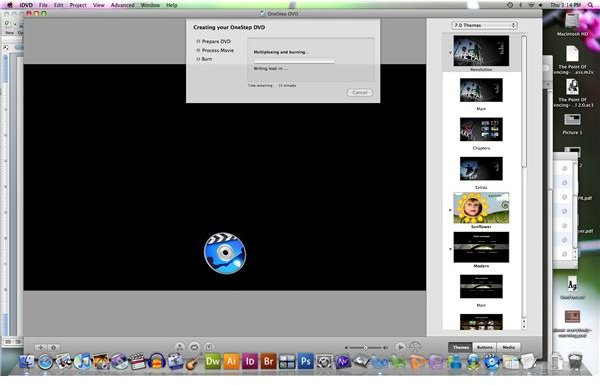 here you can go to File and select from two different options. The OneStep DVD option will allow you to capture a movie directly from your camera or a DV capture deck to then create the OneStep DVD from. If your movie is already on your computer as a movie file, which it will be if it came out of a non-linear video editing program such as iMovie, then you will select OneStep DVD from Movie. This will allow you to select that movie and bring it into your new iDVD project. From here iDVD's OneStep DVD will actually take over and go through a three step process: Prepare DVD, Process Movie, and Burn. This can actually take a little while as OneStep DVD will take your video and first allow a basic DVD project to be constructed. From there it will go through the process of properly encoding your movie so that it can work on this authored DVD. This is a major advantage of iDVD's OneStep DVD as most DVD authoring programs will ask you to go through a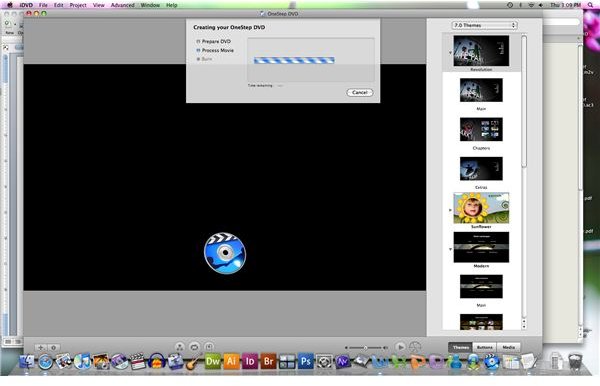 compression and codec process so that it will fit onto a DVD correctly. This is much of the reason why software like Apple's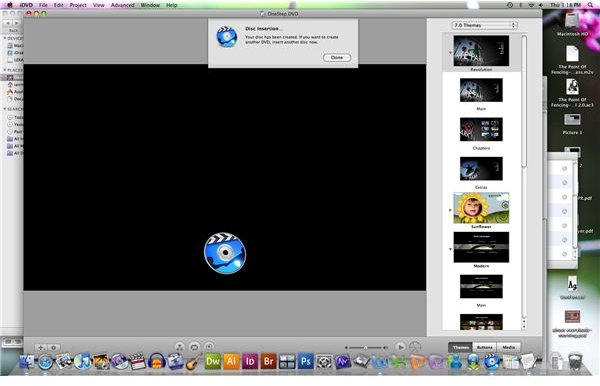 Compressor is required to transfer from Final Cut Pro into DVD Studio Pro. Once it is done with the Process Movie step it will go through the "Multiplexing and Burning" phase, which you will wait through and watch on a progress bar. Once this process has come to a close it will spit out your DVD and will then ask you if you want to insert another DVD-R to burn from the same project. This is an easy way to burn multiple discs as well.
Basic DVD
What the OneStep DVD process will do is produce an auto-play DVD without any real menu systems or controls in place. This is not going to feel like a complex DVD authoring process, but it will be great to preview footage or turn something in for a class project or presentation.
This post is part of the series: iDVD Tutorials
Here are articles containing iDVD tutorials.