Creating Chapter Breaks and Menus in DVD Studio Pro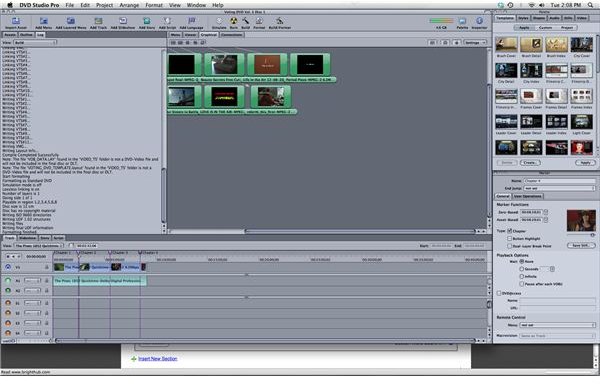 Chapter Mark
One of the defining features of the DVD format is the chapter break. The reason for DVD chapter breaks is the in-between nature of the DVD as it does not allow for fast forwarding and rewind in the same way a VHS tape does, and it does not allow you to pinpoint spots in the way a digital format does. To employ the DVD chapter break into your DVD authoring project you actually have to bring in two elements: adding the chapter points to the video and then creating a chapter menu if you want. Here is a tutorial looking at the process of using DVD chapters in your DVD Studio Pro DVD authoring project.
Setting Chapter Points
Start by creating the appropriate track for your film, importing the compressed video and audio into DVD Studio Pro, bringing that media into the video track, and connecting the video track to the appropriate menu. This menu will be the one with the Play button and can either be off the base menu or a specialized "play menu." Once you see the video and audio on the track you can actually view it in there. To set a chapter point you simply click right above the track's Timeline at a specific point, placing in a numbered chapter point. This chapter point can often be a few frames off of the exact place you wanted it to be so you may want to try it a few times and double check. Make sure that the chapter breaks are in appropriate locations such as in between sequences or topic changes, or at the very least in between full scenes. Now where you are watching this DVD you can skip forwards and backwards between chapters in the video.
Chapter Menu
The nature of the chapter menu is up to you and DVD Studio Pro actually has menu templates that are specific to chapter menus. A chapter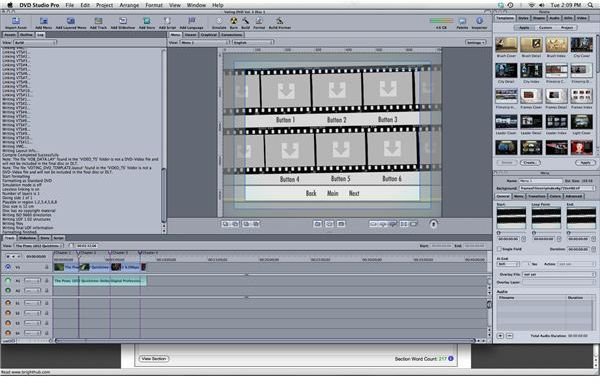 menu in DVD authoring is often one that has little block buttons for each chapter and a little video representing that chapter. To do this you will go back into your Final Cut Pro editing project, cut out a little video sample for that chapter, import it as an asset into DVD Studio Pro, and then use a template that has six or more little video blocks with the downward arrow in each block. You simply drag and drop that short video clip onto those arrow spots and that video will play there. You then sync those video buttons to a specific chapter in your track that will correspond correctly. This will allow people to then go to your chapter menu, find the chapter they want to begin at based on the video clip that is represented there, and just click on it to start the film at that point. You will then have to integrate this chapter menu into the rest of the menu series that you have created. This will not allow them to just play that chapter and will instead just begin the film at the selected point.