Motion 4 Tutorial: Exporting Motion 4 Files for Use in Final Cut Pro 7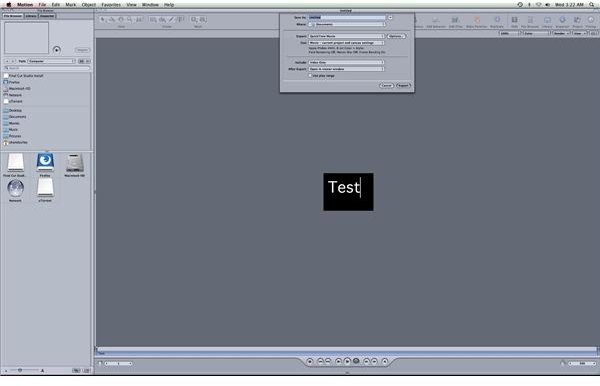 Motion 4 Workflow
Motion 4 was designed to work as part of a workflow and instead of a standalone project. What this means is that you will create an project in Motion 4 to then be exported out of it and into a program like Final Cut Pro 7 to be integrated into a larger film project. This is the general process for Motion 4, especially now that it is standard in the Final Cut Studio 3. Completing and exporting your Motion 4 project is standard and simple, but it requires you to know where you are going with it and what it is going to be used for. Here is an easy tutorial and set of tips for exporting your Motion 4 project.
Exporting Your Motion 4 Project
Once you finish your Motion 4 project you are going to want to play it several times in its current form before you even think about exporting. The Motion 4 project will export exactly the way that it plays, so this will be the last chance you have to alter your file. Once you are set that this is the complete Motion 4 project you want you will go to File and select Export. From here a menu will come up with several options for exporting your Motion 4 project. You will start by choosing a name for the Motion 4 export and a location where you will want it to go. You will want to choose a name that is in line with the rest of the Motion 4 projects that you are going to import into Final Cut Pro 7. Under the Export options you will want to keep it on QuickTime, which will create a movie file for the Motion 4 project. Below this you will choose Movie options that you will want to match to the Sequence Settings in the Final Cut Pro 7 project. This way the Motion 4 project will appear correctly in the sequence. Under Include you will keep it on Video Only unless you have included audio. Once you choose to continue the export Motion 4 will process the export and then leave it in the location that was chosen.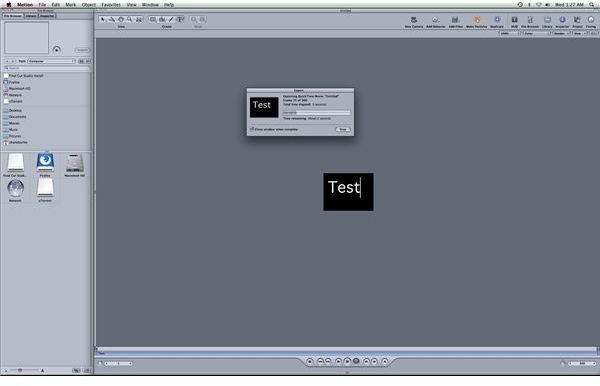 File Use
Once the export has finished you will have a QuickTime move for the Motion 4 project that can be used on its own as a standalone video file or can be imported into another program, such as Final Cut Pro 7. When you are ready to import it into Final Cut Pro 7 you will open up your project and then go to File and choose Import. You will find the file and select to import it into your project. Once it appears in your Browser you can drag and drop it into your Timeline and alter it the way you would with any video file.
This post is part of the series: Motion 4 Tutorials
Here are some tutorials and tips for working with Apple's Motion 4.