NTI Video Home Maker: Quick and Easy Video Creation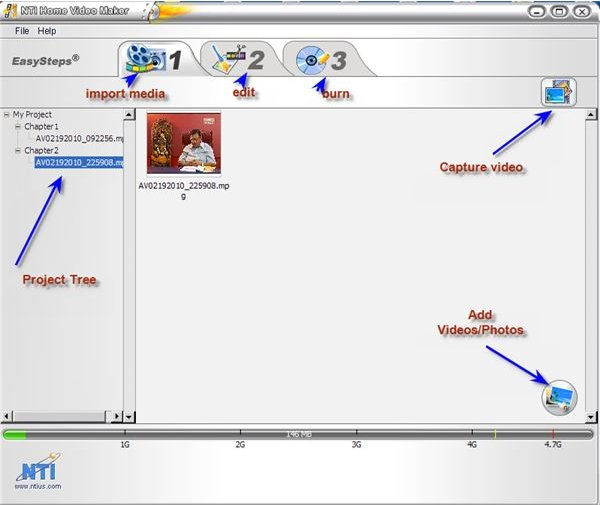 NTI Home Video Maker is not a standalone video editing program. It comes as a part of NTI Media Maker, which among others, offers the user the ability to create CDs, DVDs and Blu-Ray discs, apart from creating photo slide shows.
Let's get down to finding out how you could use NTI Home Video Maker.
Firstly, you would want to download NTI Media Maker from www.nticorp.com. The trial Premium version is fully functional for 30 days and works with Windows 2000, XP and Vista at the time of writing. If the program impresses you can purchase it for $80. There's a 50% discount offered at the time of writing which means you only pay $40 while the offer is valid.
Getting Started
NTI Home Video Maker opens with a plain, grey and white interface with icons highlighted in a pleasant blue.
There are only two drop down menus – File and Help. Under the File Menu you can create a New Project, Save Project and create a New Chapter, among others. The Help menu consists of tutorials and a link to the developer's website.
You don't necessarily have to go to the File menu to get started. You can use the EasySteps panel at the top half of the interface and save your work as a project later if you need to come back to it.
Tab 1 with the film strip icon gets you into the Add Photos and Videos mode. However, you can't add photos or videos by clicking on it. You would have to click the icon on the bottom right of the interface.
Supported Media Files
Clicking on this icon allows you to add your media files to the program. Each time you click on it, a new chapter would be added. Supported media files include BMP, JPG, GIF, AVI, MPG, WMV, ASF, VOB and M1V.
Each time you load a file, it would be added to the project tree on the left panel of the interface.
Video Capture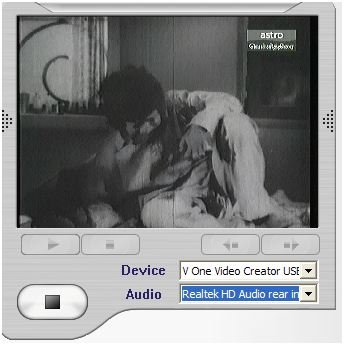 You can also bring video clips into the program through the video capture mode. To activate it, you would have to click on the blue icon to the right on the top half of the interface. The moment you do that, the icon will change to that of a camcorder and a capture screen would pop up in the middle of the interface.
You can then choose your preferred video capture device and hit the record icon to start capturing your video.
Video Editing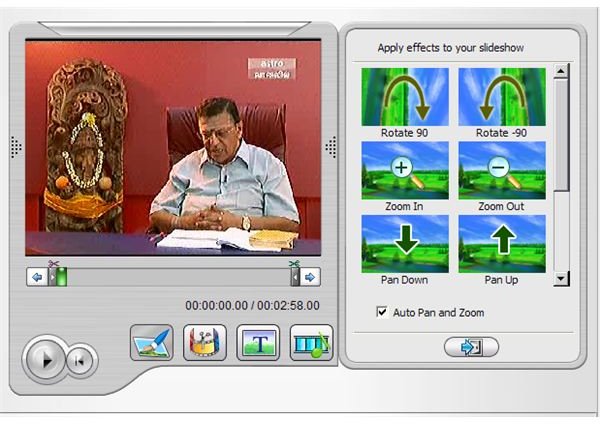 Once you've lined up your clips, you could proceed to Tab 2 – Edit Photos and Videos. First select the chapter you want to edit before clicking on Tab 2.
In the editing mode you can apply effects such as emboss, zoom in and blur, among others. You could also add transitions and add menu title and if you're doing a slideshow you can also add music to your presentation.
Any changes you make in this mode can be previewed in the video player window in the middle of the program interface.
Video Output
Once you're done with editing, you can move on to the final phase, by clicking on Tab 3 – Output Photos and Videos.
In this mode, you can output your videos as DVD or in formats suitable for portable devices.
Create a DVD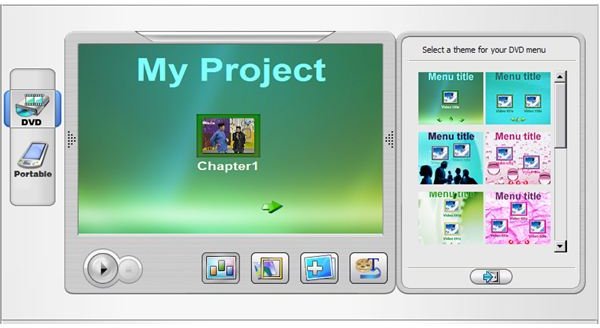 If you're going to create a DVD, you have the options to choose your DVD menu template, select a menu style and background style, add a background picture or audio and create a custom menu title, among others.
Once you're done, you could hit the Burn icon on the right bottom corner of the interface. A properties settings box pops up allowing you to set your TV Mode (NTSC/PAL), burn speed and the location where your DVD files are to be saved.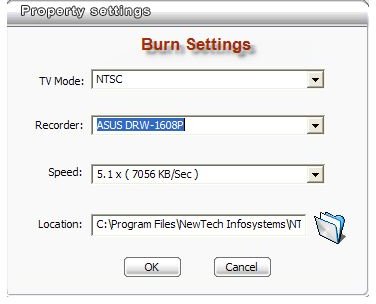 Video for Portable Devices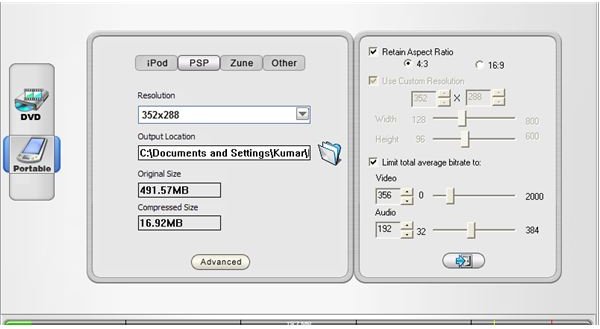 Video for portable devices option, on the other hand, gives you the choice of exporting for iPod, PSP, Zune or in the MP4, WMV or AVI formats. You can also set the video resolution between 352 x 240, 352 x 288, 640 x 480 or introduce a custom setting.
Click on the Advanced tab and you could set the aspect ratio – 4:3 or 16:9 and also control your video and audio bitrates with the sliders provided.
When you're done, hit the Burn icon and retrieve the converted files from your preferred output location.