Intro to iMovie: Great Mac-Based Video Editing Software for the Beginner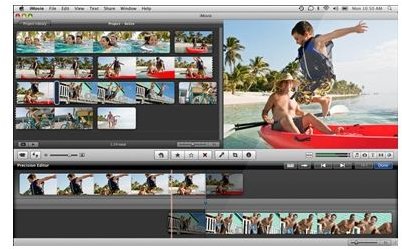 A Beginner's Editing Software
When a home digital video producer is first getting started on putting together video projects he or she may not want to use a complex editing program. Though software like Apple's Final Cut Pro and Sony's Vegas Pro are powerful they have a learning curve that may be difficult for a novice with no production history. Luckily Apple has included iMovie in their operating system, and this simple program can do most of the editing tasks that a newbie would need. This program has been the fallback for many video journalists in the field, as well as been used to produce feature films like the independent documentary Tarnation.
Picture: https://upload.wikimedia.org/wikipedia/en/c/c9/IMovie_09.jpg
Learning the Interface
Importing Video
What is great about iMovie is that it is designed to meet the needs of the home digital video producer, as opposed to programs whose function is for higher-end film and television editing. You begin editing by importing video footage into the program like you would with any editing program.
Go to "File" and you have the options to "import a movie file," to "import a movie from a High Definition project," or to "import a movie from a camera." If you were using a digital video deck attached to you computer to capture your footage then you would use the "import video from camera" option.
Set Up
The set-up of iMovie is divided into five parts, with a window on the upper left hand corner used as the Project Library where whatever project you are working on resides. The selection of a project from this menu will determine what is in each of the other windows.
The center window is where you drag media, such as video or audio, to create a new project. The upper right hand window is the video display where you see your video as it is being cut. The bottom left hand window is the Event Library where all the media you import is listed under what date, or labeled event, you captured it on. The other window that makes up the rest of the bottom of the display is where the primary editing of the video track occurs.
When you import video it automatically goes into a section under the Event Library, and when you click on this it appears in the video track. In this box the video is automatically divided into several sub-sections that are very short in their timeframe. In between the top and bottom boxes are options like a bar to make the video display icons appear bigger, quick buttons for importing video and marking clips as favorites, buttons to initiate voiceover recordings and to crop video clips, and options to adjust selected video and audio.
Below the bottom windows are the options to play the sequence you are working on, to show it in a full-screen mode, or to only show different groupings of clips such as those marked "favorite." These tools help the new video editor keep the clips they would like to use organized.
Cutting It Up
When you drag your cursor over the video sequence a red bar appears in the video clips and follows the cursor. When you hold down the mouse a yellow box appears containing the entire section that you are dragging your cursor over. This is now a selected sub-clip and you can decide that you want to reject this sub-clip, which is essentially to remove it from your project, or you can drag it up to the upper middle window for safekeeping.
It is up here that you can cut together that sub-clip specifically or make changes on it. If you want to drag in audio this is where you can click on the audio button directly below the video viewer, locate the audio you want, and then attach it to the sub-clip. You simply drag the audio piece that you want from the menu that appears and put it on the part of the sub-clip you would like it to be on.
The track down below is where the movie exists as a sequence, similar to the Timeline in more complicated video projects. Once you decide what clips you want to be there, what order they should exist in, and what type of visual or audio corrections should be there you are ready to export your video. To do this you will go to "Share" in the task bar, and select "export movie." Once you do this you will be given a list of video options that you can choose and then you will be able to export the video to the Finder.
Somtimes Hard
Though iMovie is still significantly easier than professional editing software, it can still be a little confusing. Its set-up is significantly different than most non-linear editing programs, so those that have already had a little experience with other programs will have an even tougher time getting the hang of it. A little trial and error will always help, as long as you know the basic functions of the interface. Still, this is an excellent introduction to the art of video editing.