Saving Movies to Your Hard Drive with Windows Live Movie Maker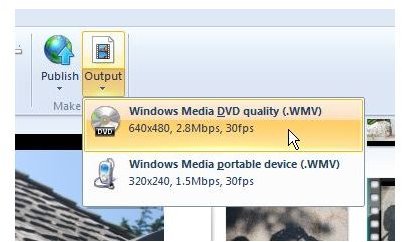 Save to Your Hard Drive
When you're ready to save your movie you have limited choices: publish to an internet host or output the movie to your hard drive. In this article let's focus on the hard drive option. This is a much more streamlined feature than it is in Movie Maker 2.1 in XP or the reduced set of options in Vista's MM6.
It's so simple that Movie Maker provides just two choices…. DVD or Portable Device. You don't get to pick the file name or the location. It names the saved movie the same as your project file and puts it in the folder with it. To avoid searching for it, save your project first to the folder of your choice, and then save the movie. When it starts saving, you'll see a temporary file in the folder, followed by the final wmv file when the saving is complete.
After making the saved movie, it's up to you to take it to your DVD making software, or wherever else you're heading with it. If you're using the Home Premium or Ultimate versions of Vista, you can go from the Windows Live Photo Gallery to DVD Maker even though the DVD Maker option isn't available from Windows Live Movie Maker. With other versions of Vista you'll need to use third party DVD making software such as Nero, MyDVD, and Adobe Premiere Elements.
About the Saved Movie
The beta software doesn't offer any quality choices. With the DVD option, It saves your movies as DVD quality wmv files, a higher quality than any of the default choices built into the XP versions of Movie Maker. Checking a saved file shows it to be 640x480 pixels, 29.97 frames per second, about 3 Mbps bitrate with an audio bitrate of 192 kbps. That's a quality comparable to a high quality video DVD. Plan for wmv files of about 1 GB per hour of video.
The video codec used to compress it is the Windows Media 9 Professional one. The audio is compressed with the Windows Media Audio 9.2 codec,192 kbps, 48 Khz, stereo, 1-pass CBR.
The Portable Device option makes a good quality 320x240 pixel wmv file of 1.5 Mbps with stereo audio.
Note about Aspect Ratio… using true widescreen videos as source files results in the newly made movies being standard 640x480 videos with the widescreen source letterboxed within it, with top and bottom black borders embedded in the video.
Playing them with Windows Media Player on my widescreen laptop, the video displays with compound borders… on all 4 sides. Although Windows Live Movie Maker doesn't distort the shape of the input files, it doesn't provide an optimal output when viewing the movie on a widescreen display.
Images
This post is part of the series: Windows Live Movie Maker
The Windows Live version of Movie Maker is the biggest change to come to Movie Maker since it was first released in Windows Me 8 years ago. It promises to be better yet smaller. Join us in looking at the evolution of this new version.