Corel MotionStudio 3D Review: Image Gallery of Main Features and Software Screenshots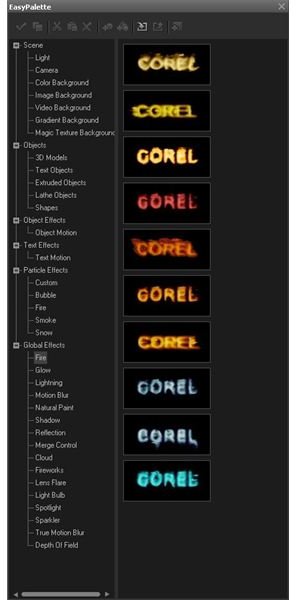 What Does It Do?
While other applications in Corel's collection of digital media products – like PaintShop Pro and VideoStudio – have been around forever, MotionStudio 3D is a newcomer to the scene that focuses on easy creation of 3D animation and titling effects. Don't let the word "easy" fool you into thinking that this software is only for beginners, though.
The software does come bundled with a wide range of preconfigured objects and effects, but it also includes a host of tools that support custom creation so you really can build an animated sequence from scratch. The real target audience for MotionStudio 3D seems to be dedicated hobbyists and budding professionals. However, even if you really are a true beginner, you don't have to shy away from the product, especially if you like to experiment and learn as you go.
As we go through the rest of this review, we'll highlight some of the main features of the software – including the many effects that are available and how well it works with other programs.
Adding Text and Text Effects
Since one of MotionStudio's primary uses is to create custom title sequences for videos, it shouldn't come as a big surprise that the software supports a wide variety of text effects. MotionStudio also includes a basic (but well-rounded) text editing tool that allows you to modify your text, font and size without changing the applied effects. Likewise, you can modify any effect applied to your text without changing these basic attributes. This makes it a lot easier to experiment when you're trying to create the perfect animation.
If you're not quite ready to start creating your own text effects, you can use the preconfigured ones found on the EasyPalette. Just click on the effect you want and drag to your text. Then, if you want to tweak it a bit, you can select the effect on the Attribute Panel and make whatever modifications you like.
Backgrounds
In MotionStudio, you can make the background of your animation as simple or complex as you like – this is one of the features of the software that I really love. You're not just restricted to static images either, since it's just as easy to insert a video file for a background as it is an image file. Plus, MotionStudio comes with several included files (photos, videos, gradients and more) that you can just drag and drop into any project.
Even if you choose to use one of the included files rather than your own, you can still make the background look quite unique by adjusting its various attributes. Be forewarned – it's really easy to lose track of time when experimenting with this feature!
Particle Effects
Perhaps one of the most impressive features in MotionStudio is the advanced particle system that allows you to add realistic animations of fire, smoke, bubbles and more – all of which are rendered in real-time so you can actually see the movement as you make adjustments to various parameters. As with other effects in the application, you can add a preset particle effect and use it as-is or you can tweak it to create your own custom animation.
You can also build a particle effect completely from scratch, but that's not something you probably want to try on your first outing with MotionStudio unless you have experience doing this in other applications. Don't get me wrong – the tools for creating your own particle effects are very intuitive and it's especially awesome to see the effect rendered in real-time. But, even with the highly functional tools, this type of work is going to take a lot of practice, so you may want to start out by modifying the existing particle presets and work your way up from there.
Adding Objects
MotionStudio has a fairly decent collection of objects that comes bundled with the software, and all you need to do to add one to your animation is drag and drop it in the video window. Just like with text, once an object is added, you can animate it by dragging and applying one of the preconfigured effect options, or you can design your own motion parameters.
You're definitely not limited to those included objects, though. You can import graphics created in other software applications, or you can even draw your own. I'll talk more about that on the next slide.
Creating Your Own Objects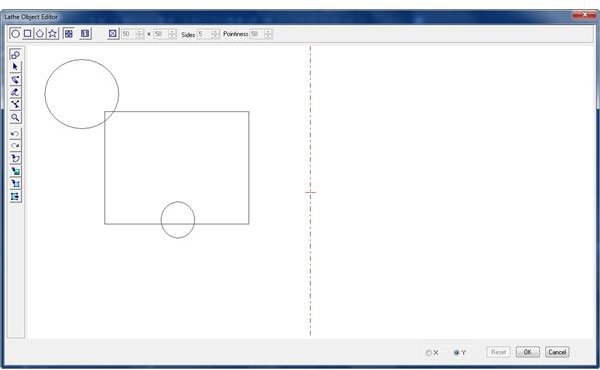 At first glance, the drawing tools in MotionStudio look very rudimentary, but they're actually extremely powerful. Even if you're not even close to being an "artist" you can create some great-looking designs in very little time.
For instance, the object shown in the above screenshot literally took me only seconds to create. I clicked on Insert Lathe Object and drew the rectangle and two circles shown in the image to the right. After clicking OK, I was returned to the main screen of the program with the lathe object created. (Basically, a 3D lathe object is created by rotating a 2D "flat" image around a particular axis.) I then applied a preset texture to get the finished result shown above.
It may take a little practice, but you can create some amazing objects just by combining basic shapes in this manner. You can even export the objects you create to 3DS files (or add them directly to the EasyPalette), so you can import and use them in other projects.
Video Tutorials
Like other Corel multimedia products, you can access the Corel Guide from within MotionStudio by clicking on the orange icon in the upper right corner of the software interface. On the tab labeled Learn, you'll find several video tutorials for the software to help you get started.
At the time of this review, all of the tutorials found here were very elementary – enough to get you familiar with the basic tools and how to use them, but not much more. Hopefully, new videos will be added over time and they'll focus more on the advanced capabilities and creative uses for the software. But, for now at least, the current selection is a little disappointing.
Additional Content
In the Corel Guide, you'll also find additional content, such as objects and backgrounds, you can download for use in MotionStudio. One important thing to note – after you download and install a pack, you'll need to restart the software before that new content is available. So, you may want to download and install everything at once to avoid opening and closing the application over and over again.
As you can see in the screenshot, each pack has a Price field even though all prices are marked as FREE for now. I'm guessing that sometime in the future, Corel plans to start offering premium content along with these free downloads. Maybe users will even be able to share their own creations through this interface?
Compatibility
I have to admit that I am seriously impressed with MotionStudio's import and export options – all the major bases seem to be covered. Here's a quick rundown of compatible file formats.
Import Support
Video: AVI, MOV, AVCHD™, MPEG-2, MPEG-4, WMV, 3GP
Image: BMP, JPG
Vector graphic: Adobe® Illustrator® (version 8 or earlier), EMF, WMF
Audio: MP3, WAV, AIFF, AU, AVI, MOV, M4A, WMA, 3GP, CDA
3D model: 3DS, X Model
Export Support
Video: AVI, MOV, AVCHD, MPEG-2, MPEG-4, 3GP, WMV
Image: BMP, JPG, TGA, GIF
3D model: 3DS, X Model
Web animation: SWF, Animated GIF
The software even includes a basic raster-to-vector conversion tool that you can access when importing a raster graphic.
Should You Buy?
When I first heard about MotionStudio 3D, I thought it was simply going to be a companion product for VideoStudio Pro. Nothing could be further from the truth. While MotionStudio is a great tool to use for creating animated 3D titling effects, that's only the tip of the iceberg. In addition, it's an extremely intuitive tool for creating standalone 3D animations and also a great resource for learning the basic concepts of 3D modeling. With a price of $99.99, it's a real bargain.
As with any software, I always recommend trying before buying if at all possible. Corel does offer a 15-day free trial of MotionStudio 3D that you can download from the official web site. Check it out and let us know what you think about it.
References