Steps To Making A Documentary: Learn The Basics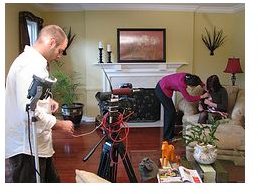 Some people who want to get into the film industry think they can get their foot in the door by making a documentary because they have a video camera and an idea, but that is not all you need. There is a lot more to it than simply filming and putting interesting shots together in the editing room. Here are some guidelines to help you get your documentary made and seen.
A Marketable Idea
Probably the most important issue is coming up with an idea that you can sell to people who have the funds to back you. Whether you are going big-time to the movie studios or simply to your local businesses, you need to have an idea to offer. Plan a documentary film by putting your ideas down on paper and making a proper proposal. Lay out your intentions on what you plan to offer and how you aim to present it. Define the point you want the documentary to make and how will your film accomplish it.
In Depth Research is Required
To make a documentary worth watching, research your subject and get to know it as well as you possibly can. You must know what you are talking about and engage your audience. Without background knowledge, you cannot determine what you need to present to the audience that will enlighten them, and that is the point of a documentary. Break down the information into the form of a story that will connect with your audience.
Put Together a Budget
Once you have funding, make the most of it. Create a budget and stick to it. Documentary film budgets are notorious for going overboard. Keep in mind that the film budget has to cover a lot more than just your fee. Here are some things you may have to budget for:
Purchase or leasing of equipment
Location permits
Liability Insurance
Assistants
Office and administrative expenses
Catering
Props
Post production time and editing
Copyright fees
Check here for sample film production budget.
Making a Script
Putting together a script for a documentary is not the same as a script for a feature film. There is no pre-set dialog between the principles determined ahead of time. Rather, a documentary script begins with more of a framework or even a shot-by-shot outline of what you want to cover, questions you want to ask, and the types of shots you want to get. A narrative can be included that will be done during filming, or it can be done afterward with the narrative done as a voice-over.
Documentary Equipment
For digital filming, you will of course need a computer, editing software and basic video production equipment. Hardware you will need includes cameras, additional memory cards, batteries, lighting, reflectors, tripods and microphones, cables and more. You can rent or lease any of these.
The type of camera you use also depends on the type of shooting you will be doing. Start with a camera that you find easy to work with in the field and in the editing room. Choose one that has features that you need and know how to use. Make sure it can be mounted on a tripod for hands-free shooting. Your camera is your tool in trade, so get the best you can possibly afford.
When you are ready to go on location, make sure that you have everything with you that you might need. This includes extra batteries, extra memory cards, lighting props, a tripod and even releases for locations and people you shoot.
Casting and Interviewing
Having decided what your documentary is going to be about, you also need to determine how best to get your message across. Casting your documentary usually means interviewing people about the subject. Choose people who are knowledgeable, interesting, likable and easily understood.
Have your questions well thought out and written down. If applicable, remind your subject about the topic and how long you expect the interview to take. You want your documentary to be a story with a beginning, middle and end, and your interview should do the same. Make sure your questions lead your subject along this path. Your interview should begin with a couple of 'warm-up' questions. Ask easy general background questions before moving on to more specifics. Good interviewing skills are a large part of the steps to making a documentary. If you don't have them, find someone who does and cast them.
Post Production
Oftentimes, post production is overlooked when the idea of a documentary starts coming together, but this is where the film is actually made into a cohesive work of art. With the work of an excellent editor and sound mixers, your documentary can go from humdrum to fabulous. Allow plenty of time in your schedule and budget for documentary film post production. You can also create a flow chart for editing. Give this just as much attention, if not more, as you gave everything else.
Part of your post production activities will be ensuring that you have all the proper paperwork in order, including personal releases, location permits and so forth. It also means copywriting your film once it is in the 'can.'
Getting Your Documentary Seen
If you have been hired to create a documentary, distribution is not going to be a problem as you already have an audience. If you are shooting a documentary freelance and are ready to distribute, there are many places to start looking. You can use a location release for that purpose.
Additionally, the National Education Telecommunications Association (NETA) is an excellent choice if your documentary has educational value. There are also major distributors such as Discovery Communications, PBS, The History Channel, the Independent Film Channel (IFC) and the Sundance Channel. Another option is direct distribution, in which you purchase satellite time directly from a facility such as PBS or a local television station, advertise and broadcast on your own.
Don't overlook online venues, such as YouTube, Face Book, FreeDocumentaries.com and many others where you can upload your film and get it viewed. In the world of what it takes to make a documentary having your film seen is the primary goal.
References