Media Player Troubleshooting: CyberLink PowerDVD 9 Closes Unexpectedly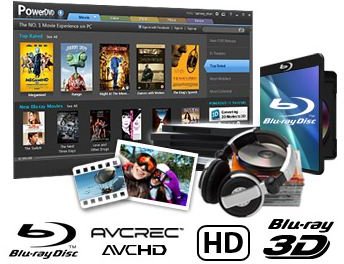 PowerDVD: Blu-ray Player
CyberLink PowerDVD 9 is a media player created specifically for HD and Blu-ray movies. You can also view your photos on the player and listen to your favorite music tracks. You can stream your favorite Facebook and YouTube media as well.
The player is a powerful tool when it's working. Many people have experienced issues with PowerDVD crashing or freezing. If you are having this problem as well, first make sure that your system is compatible with PowerDVD.
Compatibility
PowerDVD is compatible with Windows 7, Vista and XP. If you have XP, however, you need to install the Service Pack 3 because older service packs are not compatible with the program. You also need a fast processor. For example, the PowerDVD Blu-ray 3D with the Hardware Acceleration feature requires one of the following types of processors:
AMD Athlon 64 X2 4600+ or faster version
Intel Pentium D 950 or faster version
The program won't work with a slower processor. Read the guidelines on the CyberLink website to learn if your computer system is compatible.
GPU and Drivers
CyberLink also recommends that you update your graphics processor, especially if you are buying the TrueTheater 3D Playback program. You need devices that actually support 3D. It recommends that you use Nvidia GeForce 9500GT graphics or later versions. If you are planning on running the AMD Accelerated Parallel Processing for TrueTheater HD technology, CyberLink encourages you to use one of the following AMD Radeon HD series:
If your computer system is compatible, but the program is still crashing, try updating the sound and board drivers. This should repair most crashing issues.
Freezing at Chapter Marks
Another issue some users have is when the program freezes while playing Blu-ray media. PowerDVD keeps playing the same frames over and over in an endless loop. It often happens when the video is reaching the chapter mark.
This seems to most often occur if you have any type of 4xxx card. You can update the card but the new card may not be compatible with your system.
A better solution may be to update your video driver, especially if you have Catalyst 9.3. Update to Catalyst 9.4. Your Blu-ray media may still look slightly corrupted, but it won't freeze. You can watch the whole film, but the images near the chapter marks won't look so great.
Test Drive Before You Buy
If you are still experiencing problems when CyberLink PowerDVD 9 closes unexpectedly, you may want to call CyberLink. If you are running the program on an older computer, you may just have to upgrade your system. Otherwise, you should invest in another program.
You should always test-run a program before purchasing the full version. Most programs are free for a certain period of time. You can figure out if there are any kinks before you even purchase it.
References
CyberLink, https://www.cyberlink.com/downloads/trials/powerdvd/requirements_en_US.html
AV Science Forum, https://www.avsforum.com/avs-vb/showthread.php?t=1130904
Myce Beta, https://club.myce.com/f142/cyberlink-powerdvd9-crashes-271508/