Avid Tutorial: Learn How to Import MTS Files into Avid Media Composer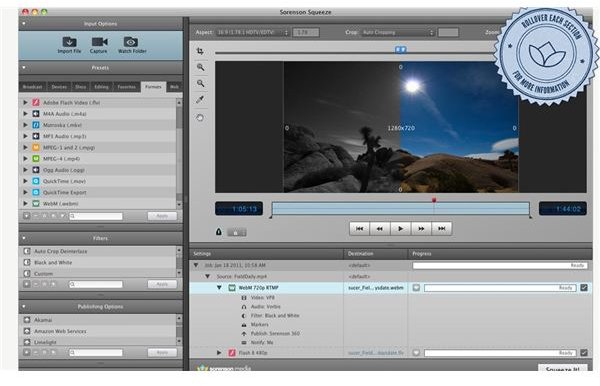 MTS File Overview
The MPEG Transport Stream (MTS) video format is a type of HD camcorder file format, commonly used by both Sony and Panasonic. Maybe independent filmmakers are forced to use this format for filming videos since it's the default format for their camcorder. The problem comes, however, when they try to open up these files into any version of Avid, especially Avid Media Composer. They usually get an error message, or the video just won't import. So, you are now faced with a question: how to import MTS files into Avid Media Composer.
Needed Tools
Well, there are some workaround solutions. You can convert the file into another format, and then import it into Avid Media Composer. This is the easiest solution. But, you don't need to purchase some a conversion program. You can usually perform this task with programs currently installed on your computer: QuickTime or Windows Media.
You also need a program named Sorenson Squeeze. While this program is expensive by itself (costing upwards of $700), it is usually bundled with Avid editor programs. So, you should already have it.
Preparing the File
If you have a Mac, you are probably using QuickTime. To start changing the file in QuickTime, follow the below procedures:
1. You can open your file by right-clicking on it, and then selecting Open With. Then, select QuickTime from the dropdown menu. Or, you can open up QuickTime, and then go to File and then Open File. Double-click on your file to open it.
2. When the file is open, go to Window and then Show Movie Inspector or Show Movie Info depending on your version.
3. You must now record both the frame height and frame width.
4. Once you are done with this step, you can now manipulate your file in Sorenson Squeeze.
To prepare your file in Windows Media Player, follow the below steps:
1. Open your file by right-clicking on the file, and going to Open With and Windows Media Player. Or, open up Windows Media Player, and then go to File and Open. Select your file, and open it.
2. Go to the File menu, and then select Properties.
3. Write down the frame height and width.
Using Sorenson Squeeze
Now, it's time to manipulate your file in Sorenson Squeeze. The process is the same no matter if you first manipulated your file in either QuickTime or Windows Media.
1. Open the file.
2. Select and drag it to either the batch tree or preview window. You can also import the video by selecting the Import File button.
3. In the format window, you'll see a variety of heights and widths. Find the one that most closely reflects the height and width that you wrote down. Apply this new format to your video.
4. Now, hit the Squeeze button, which converts your file into a .mov file. This is a format supported by Avid.
5. Open up Avid, and import your video.
References
Sorenson Media, https://www.brighthub.com/guides/windows-media-player.aspx