Pick the Best Online Video Converter: Top 5 Options

One advantage of using an online video converter is you do not really have to worry about what operating system your computer uses. If you use a Mac or Linux, you will find online video converters a great help because most video converter programs are designed for Windows.
Let's look at the available options.
Movavi Online Convert
With Movavi Online Convert, you have two conversion options – you enter the URL of a video from a file sharing site like YouTube or you specify the location of a video clip stored in your hard disk. You can upload a file size of up to 100MB (a maximum of five video clips) for free conversion and log off your computer as Movavi takes some time for processing.
Once the video conversion is done, a download link will be sent to your email address. The link is valid for seven days if you are under a free account and forever if you are a gold or silver account holder.
Onlinevideoconverter.com
With OnlineVideoConverter, which has been providing free video conversion service since 2007, you get started by choosing the location from which you are surfing. Then you enter the URL of the online video you wish to convert. Among the popular video sharing sites supported are YouTube, Metacafe, Vimeo and Break.com.
Among the formats available are MP4 HQ HD, MPEG, DivX and iPod formats. Although the developer promises that OnlineVideoConverter is free of spyware, you do have to put up with popup ads. This is not a major concern if you are only going to use this service to convert the occasional online video.
Mediaconverter.org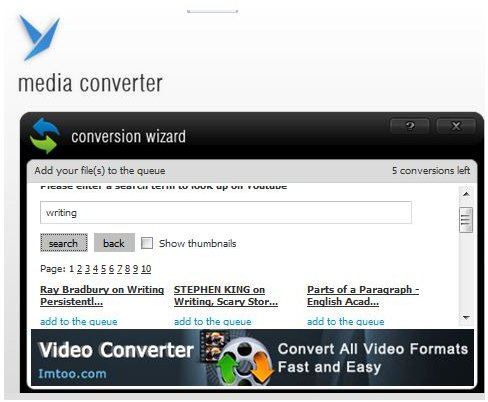 With Media Converter you have three conversion options – you can enter a link for an online video, upload a file or browse YouTube for a video clip to convert. File size is limited to 100MB (free account) and if you wish to convert large file sizes, you have to upgrade to a premium account.
One attractive feature of the online service is the ability to browse for YouTube videos by keyword. A list of videos bearing the keyword will be displayed. You can then add your preferred videos to the conversion queue.
Zamzar
Zamzar offers an online conversion that is pretty much like other online video converters – enter an URL for an online video or browse your hard disk for a video file.
Under the free account, you are allowed to work with files that do not exceed 100MB at any one time. You can convert large video files if you sign up for the paid packages. The Business package, for instance, allows you to convert a video fie size of up to 1GB and gives you an online storage of 100GB for USD 49 a month. Conversion is also much faster under a paid account.
2Conv.com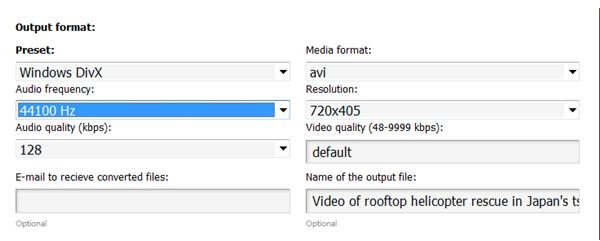 This site allows conversion of video files from an URL or uploaded video file to Windows DivX and iPod. This is useful especially if you would like to play your video files in a media player or a portable multimedia device.
You can also choose the desired video quality and audio frequency for the conversion and even name the output file.
Online video converters are helpful if you do not fancy installing a software program onto your computer, more so if you have the occasional video file to convert. Check out the available options and choose the one that fits your video conversion needs.
Information by writer based on the exploration of the above websites.
Screenshots by Writer