iMovie Tutorial: Does iMovie Understand MPG2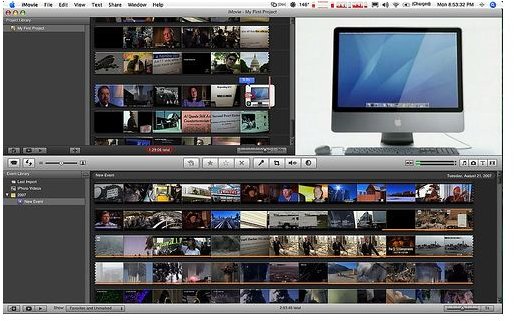 iMovie Overview
iMovie allows you to make trailers for your independent movies. You can then share these trailers with your followers on YouTube, Facebook and Twitter. But, many people use MPEG-2, which is a type of generic coding for films and audio. It is a type of lossy compression, but it's quite commonly used. If you are using iMovie, then you may be wondering something: does iMovie understand MPG2?
QuickTime: Is It the Only Solution?
Well, the short answer to this question is no, not by itself. The MPEG-2 component that allows you to view, edit and incorporate MPG2 into your videos is actually part of a separate program: the QuickTime MPEG-2 Playback Component for Mac OS X. It's not part of the iMovie bundle, and
generally Macs just don't support the format.
You basically have to purchase a license to add MPEG-2 to Apple iMovie. And, after spending close to $2,000 on iMovie, many people find this very frustrating since they feel like it should be part of the bundle. But, it's not. So, you either have to suck it up and not use MPEG-2 data. Or, you have to buy QuickTime component, which costs about another $30. And, this component is solely for viewing and importing MPEG-2 data. It does nothing else.
If you have dealt with Apple products, then you know that many of their products don't have support for common formats. For example, you can't watch Flash videos on either the iPad or iPhone without a plug-in.
In comparison, Windows systems already have a free encoding program for MPEG-2 data. If they don't, then you can download free apps like MPEG Streamclip to do this.
Possible Workaround
But, you may be able to fool your Mac into accepting a MPEG-2 file. MPEG-2 files are not supposed to be editable since they are the final version of a DVD. They have already been compressed, which makes means that any additional editing will cause the images to look extremely noisy.
You created a nested folder just like your camera uses on your memory stick. To find how the folder should look on your memory stick, open up iMovie, and then plug in your camera. This will cause the camera pop-up dialogue box to appear.
Go down to the bottom of this dialogue box, and select "Archive all". You will now see a dialogue box where you can save the movies on your camera. Write down or copy the way the camera archive folder structure look.
Use this same structure on your memory stick, and import that folder. To do this, go to File, and then Import. Select Camera Archive, and open up the folder. You should now be able to import your MPEG-2 files.
While this is a cumbersome way of doing thing, it's the only way to import these files for free. If not, you will have to fork up the $30 for the QuickTime program.
References
Apple, https://discussions.apple.com/message.jspa?messageID=11223141
Udt_greenberet1123, https://www.flickr.com/photos/[email protected]/1317605652/sizes/m/in/photostream/