Xycod PostworkShop Pro Review: Creative Effects and Artistic Filters for Images in Desktop Publishing Projects
PostworkShop Pro and DTP Projects
No matter what type of desktop publishing project you're working on, it's crucial to have great eye-catching images to help promote the message that you want to convey. If you're not much of an artist yourself and you don't have the money to hire one, finding the perfect images can be hard work. One way to approach this task is to scour the Internet for stock images and then use some type of editing software to transform these images into graphics that have the right look and feel for your project.
PostworkShop Pro is a powerful graphics editing application that allows you to apply a wide range of effects and creative filters to any image so you can create that perfect final result even if you have no artistic background. In this review, we'll take a look at the program's features and how well it performs as well as evaluate whether or not it's a good value for your money.
Ease of Use (4 out of 5)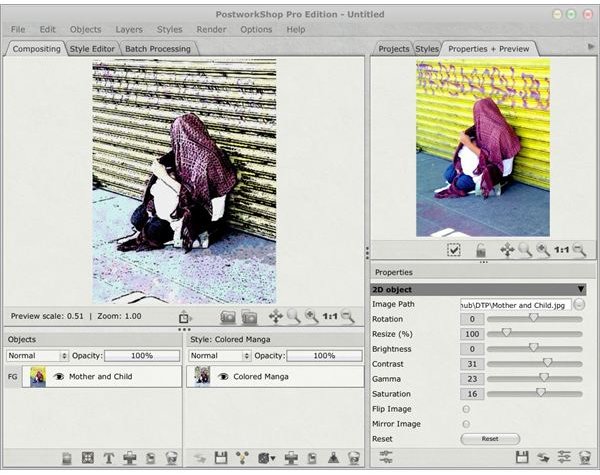 PostworkShop Pro has a fairly intuitive user interface that makes it easy to apply and preview effects without getting bogged down by technical details. At the same time, you can still access those technical aspects if you want to fine tune an image or create your own style.
If you have a basic familiarity with image editing applications, you shouldn't have much trouble figuring out how to access and apply any of the built-in styles found in the software. Even if this isn't the case, there is an excellent collection of tutorials on the PostworkShop web site that covers everything from getting started with the software to creating and publishing your own styles. These tutorials are available in a mixture of text-based and video formats.
Features and Performance (5 out of 5)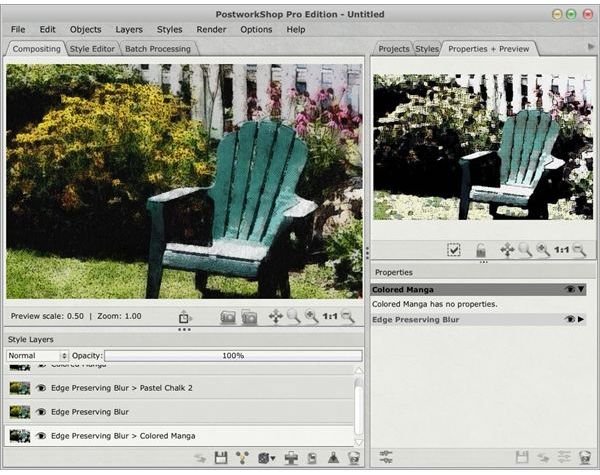 One of PostworkShop Pro's biggest strengths is the ease with which the software allows you to combine and edit existing styles in order to create new ones. The software uses a layer-based approach so you can easily apply multiple styles to the same image and choose different blending options. After trying out multiple styles, you can easily switch between then and view the results of each one in the preview tab.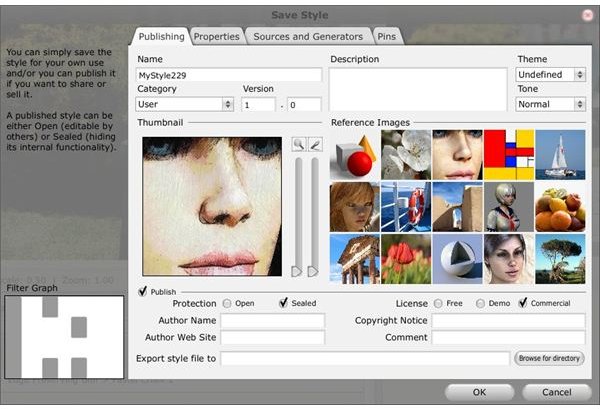 If you create a particular style that you like a lot and want to reuse, you can easily save that style so that you don't have to recreate it from scratch for later projects. In fact, you can publish that style for other users, either as a free or commercial style. While you can distribute these creations any way you desire, one of the easiest ways is to upload to the PostworkShop website. You can even sell your styles through this venue.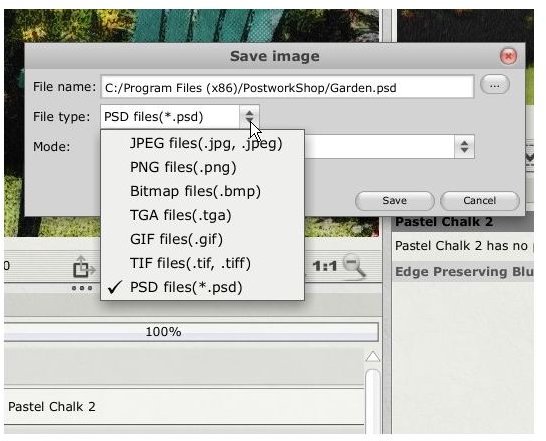 Whether or not you want to save the styles you create, PostworkShop Pro also offers several options for saving the actual image files – including standard JPEG and PNG formats as well as the Photoshop native PSD option. This makes it a fairly routine process to edit an image on PostworkShop, save it, and then add it to other projects using the desktop publishing program of your choice.
Price to Value (4 out of 5)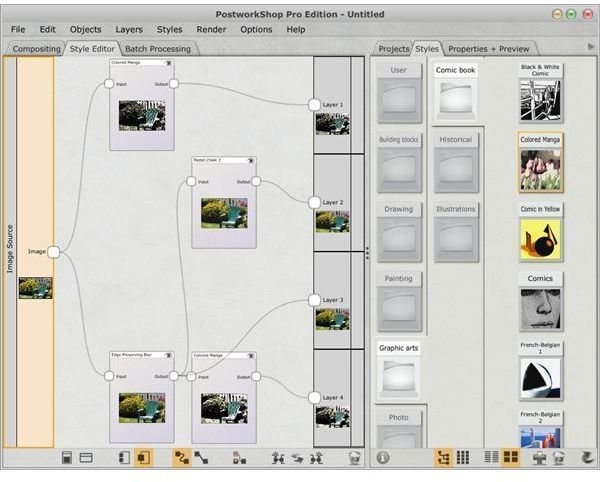 Although this review has focused on the Pro version of PostworkShop, there are two other editions as well – Basic and Artist. All three editions are available for both Mac and PC, with the Basic Edition being free, the Artist Edition running $49, and the Pro Edition priced at $99.
The Basic Edition of the software lets you apply styles to images and save the resulting image files, but if you want to save the actual styles, you'll need to move up to either the Artist or the Pro edition. In addition, the Pro Edition supports batch processing and allows you to publish commercial styles.
Even if you already have another robust image editing program, PostworkShop Pro is a good value for the money, especially considering its high compatibility factor. While $99 may seem a bit high to some, that's actually less than the price of most full-featured effect plugins, and PostworkShop Pro is quite a bit more than a simple plugin.
Overall Rating (4 out of 5)
PostworkShop Pro is definitely a program worth adding to your arsenal of desktop publishing tools. With over 350 built-in styles and an easy to use interface, even the most novice of amateurs will be able to use the software to create stunning, eye-catching images. In addition, the software is robust enough so that experienced graphic designers will find a multitude of ways to use it – especially since the Pro Edition allows you to create your own styles from scratch and even publish them commercially. All in all, PostworkShop Pro is a good value for the price and should open up a lot of new avenues for your creative projects.