Serif PagePlus X4 Review: Best Desktop Publishing Software for the Price?
What All Can PagePlus X4 Do?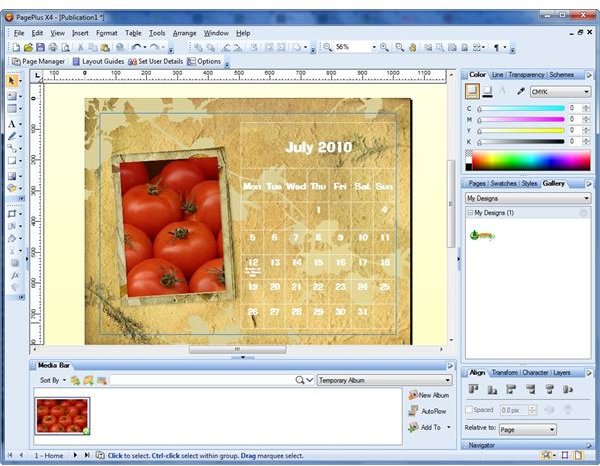 When it comes to desktop publishing software, Serif's PagePlus has been a solid and respected performer for years. Version X4 is no different – in fact, PagePlus X4 includes a number of features that make it more comprehensive and well-rounded than most of its competitors even though the software is priced in a more budget-friendly range.
On top of being able to perform standard desktop publishing tasks such as designing your own flyers, building customized calendars, and even creating multi-chapter books, you can also use PagePlus to open and edit PDF files, edit photos and other images, and design and publish entire web sites. We'll take a look at these capabilities and other aspects as we review PagePlus X4.
Update: A new version of PagePlus is now available. Check out Bright Hub's review of Serif PagePlus X5.
Installation and General Performance (5 out of 5)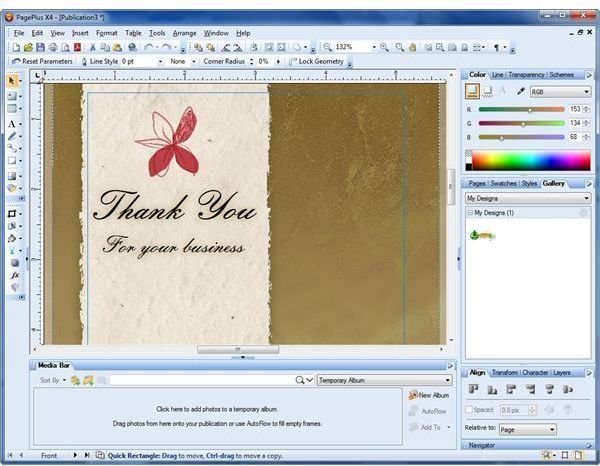 To use PagePlus X4, you'll need to be running Windows 7, Vista, or XP. Other than that, system requirements are pretty minimal for basic functionality. As with any graphic editing software, more memory and a better processor will lend to improved performance and speed, especially if you're working with large files or complex images.
With that being said, PagePlus (like other Serif products) utilizes system resources in a very efficient manner – much better than a lot of comparable desktop publishing solutions. So, even if your PC isn't quite the latest and greatest available on the market, you still should have no trouble running and using the software.
Typical of other Windows software products, installation of PagePlus is very straightforward – basically, you just put the disc in your CD/DVD drive and let the automated wizard do its thing. In addition to the program installation CD, the PagePlus package comes with an additional resource disc that includes hundreds of additional templates, layouts, and other design elements.
Ease of Use (5 out of 5)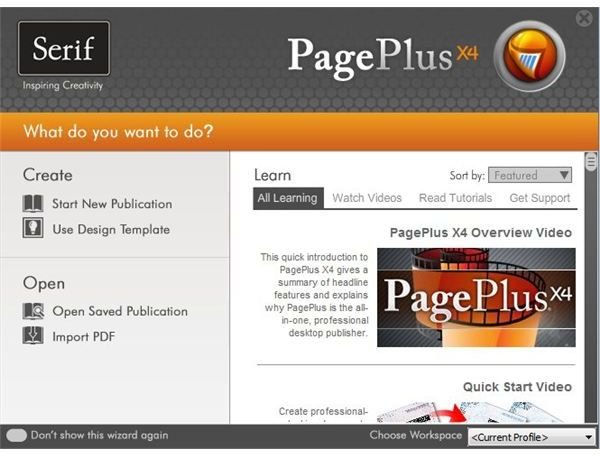 Despite the wide variety of advanced features, PagePlus is very intuitive and structured so that you can "learn as you go." The handy Startup wizard gives you the option to start a new project from scratch or to use one of the built-in design templates that can help you create a publication.
If you're brand new to the software but want to jump in and work on a project that needs to be completed as soon as possible, using one of the pre-designed templates is a great way to start. All of the templates in PagePlus are set up so that you can choose one quickly, enter any customized text you need, print, and be done in just a few minutes.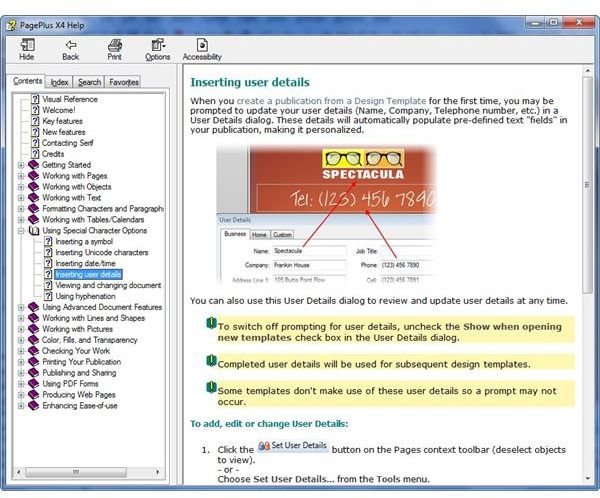 However, the real beauty of these templates is that all of the design elements can be substituted with either your own images or those from the PagePlus resource collection so you can easily personalize any layout and make it your own custom creation with just a few extra steps and no knowledge of the software's advanced features.
When you're ready to start learning some of the software's more advanced capabilities, there are several detailed video and PDF tutorials that can be accessed from the Startup wizard. More support can be found in the comprehensive user manual or from Serif's active user community – links to both of these areas can be found in the PagePlus Help menu.
Features (5 out of 5)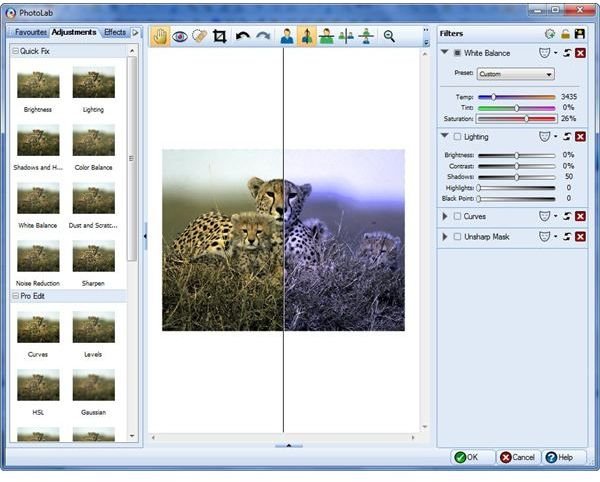 One of the capabilities of PagePlus X4 that sets it apart from other desktop publishing software applications is the PhotoLab tool that lets you edit and apply effects to photographs without having to rely on a separate image editing program. Along with the PhotoLab, you can use the Image Cutout Studio to extract objects from digital photos or to create a transparent background. Both of these features are very easy to use and give great results.
PagePlus X4 also includes a number of PDF capabilities that are rare to find in desktop publishing programs. In addition to performing standard and professional PDF exporting functions, you can also import, edit, and merge PDF files.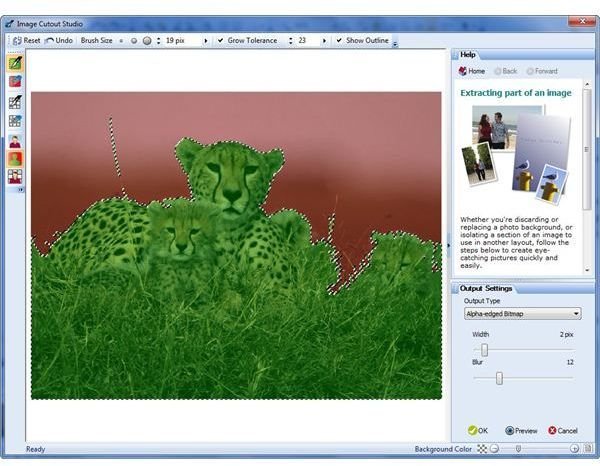 PagePlus also supports some very powerful text and drawing tools, such as the pen tool and the ability to design your own custom text paths. The combination of all of these features makes it possible to design a perfect professional-quality project, whether you're writing a book, creating your own printable business cards, or designing a layout for a catalog or magazine.
Price to Value (4 out of 5)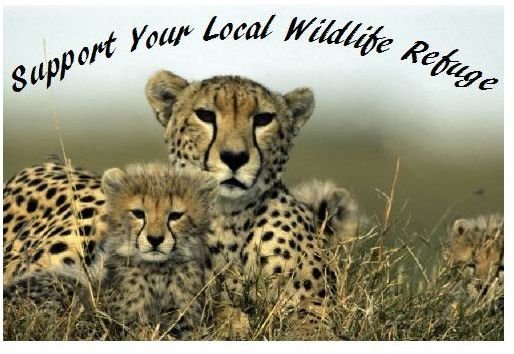 PagePlus X4 lists for $99.99 on the Serif website, but you can often find it for less at other online software vendors, such as Amazon.com. This is an extremely fair price when you take all of the software's capabilities into account.
There are cheaper desktop software programs available, but they don't even come close to PagePlus in terms of functionality and features. On the other hand, comparable products such as Microsoft Publisher and Adobe InDesign are priced quite a bit higher (InDesign CS5 retails for a whopping $699).
If you'd like to get a feel for PagePlus before making an investment, you may want to try out PagePlus Starter Edition (SE). PagePlus SE is a free version of the product with fewer features and capabilities, but it includes enough tools for you to create a number of DTP projects – and you can decide if you like the layout and structure of the PagePlus series by tinkering around with this version.
Overall Rating (5 out of 5)
In terms of price, features, ease of use, and general overall package, PagePlus X4 is hard to beat. In addition, the vast collection of free templates and other design elements that come included with the software make it easy to jump right in and use the program right out of the box. If you're still searching for that perfect desktop publishing program, this is one title that you should keep on your short list.