Microsoft Publisher 2010 Review: Is It Worth Upgrading to the Latest Version of Publisher?
Overview of Publisher 2010
Publisher is the desktop publishing software application offered by Microsoft. Microsoft Publisher 2010 can be purchased as a stand-alone program or as part of the Microsoft Office Professional 2010 suite of applications.
Publisher 2010 vs. Publisher 2007 (5 out of 5)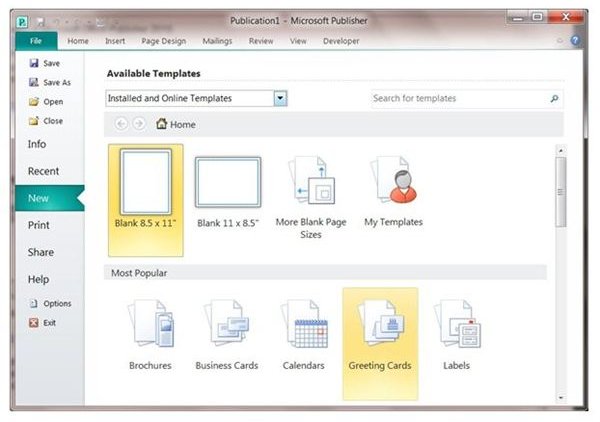 Perhaps the most notable difference between Publisher 2007 and Publisher 2010 is the ribbon. Unlike Word, Excel and other Microsoft Office 2007 programs, which sported the new ribbon interface, Publisher 2007 retained the traditional toolbar of previous Office versions. The toolbar has been upgraded to the ribbon in Publisher 2010. The Mailings tab of the ribbon makes it even easier to perform mail merges in Publisher 2010, and the ribbon boasts a number of new tools and features that were not present on the toolbar in Publisher 2007.
Although it does include the ribbon, the Office Button that replaced the File menu in Office 2007 is no more. It has been exchanged for a File tab that directs you to what is known as Backstage View. Backstage makes it easy for you to find many functions and features you need when working with Publisher, such as templates, recent files and the Print menu.
Publisher 2007 enabled you to save publications as PDF files, provided you downloaded an add-in. No add-in is necessary in Publisher 2010. Simply select PDF or XPS as the file type on the Save dialog.
Publisher 2010 also includes a cleaner workspace, improved photo editing tools and easier access to a wide variety of templates and building blocks compared to Publisher 2007.
Features (5 out of 5)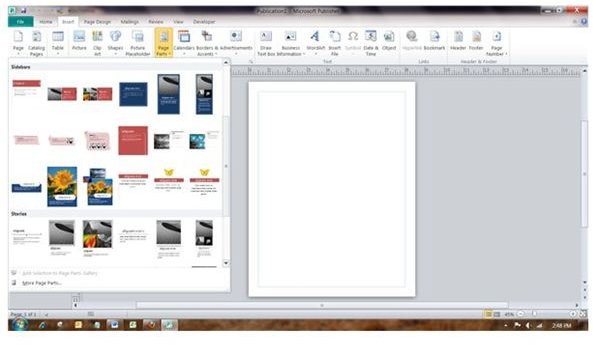 Publisher offers many elements that have not been seen in prior versions. The Building Blocks feature includes an assortment of options that can help you make a polished publication in little time. For example, the Page Parts gallery presents premade headings, sidebars, pull quotes and stories that you can tailor to your publication. Other building blocks include calendars, borders and advertisements.
Making changes to an existing or in-progress publication is easy with Publisher 2010, as well. The Page Design tab of the ribbon offers options such as Change Template, which lets you pick a different template without leaving your current view and Schemes, which allows you to alter the publications color or font scheme instantly.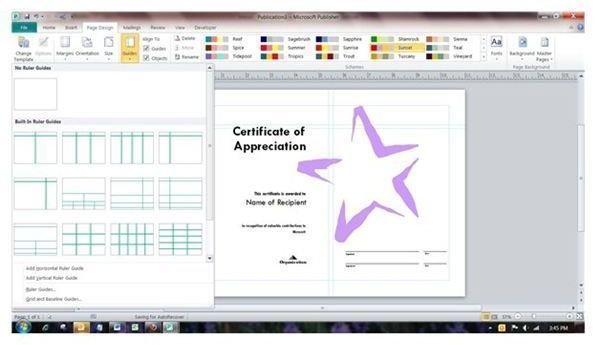 Another promising new aspect of Publisher 2010 is the Layout section of the Page Design tab, which includes a variety of guides and alignment settings.
As noted, the Publisher 2010 Backstage is loaded with beneficial features. Here, you can quickly edit business information, run the Design Checker tool and manage commercial print information. On theShare menu you can preview how the publication will appear in an html email message, save the publication for a commercial printer and more.
Ease of Use (3 out of 5)
Publisher 2010 is easy to install, whether on its own or as part of the Microsoft Office 2010 package. While not extremely difficult to navigate, users who are accustomed to the toolbars of previous versions of Publisher and other Microsoft applications may struggle with the ribbon for a while. In addition to the standard tabs of the ribbon, users must adapt to sub-tabs that appear on the ribbon when certain objects are added or selected.
Value (3 out of 5)
You can currently download Microsoft Publisher 2010 for $139.99 at the Microsoft Store website; for another $15, you get a backup CD, making it an affordable choice compared to many desktop publishing programs. If you purchase the entire Office 2010 Professional suite, you are looking at just under $500.
Overall Rating (5 out of 5)
The new look, improvements and features of Microsoft Publisher 2010 make it worth a second look, even if you have never used Publisher before. The ribbon interface, Backstage View and other changes may take time to get used to, but the enhancements you find when you do will prove to be worth the effort.