A Review of Pattaizer - Generate Patterned Pictures, Text, and Videos
Introduction
Pattaizer is a pattern-based, picture-creating wizard. With the help of this software you can create innumerable pictures that have different patterns. These pieces of art then can be used as headers in your new PowerPoint presentation. These excellent picture and text patterns can also grace advertisements. You can unleash all of your creative expertise to create awesome artwork with the help of Pattaizer software. The best feature of this software is that the output of the artwork is completely in your hands and hence every piece of art contains the unique touch of your ideas.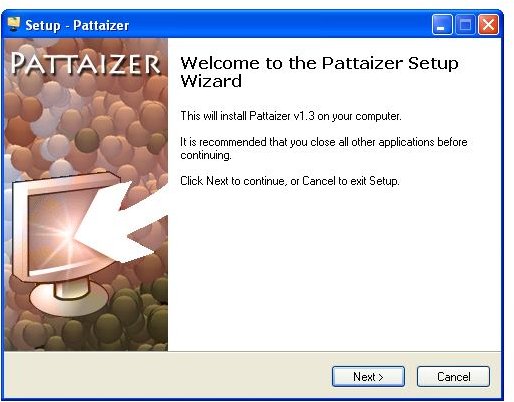 Installation and Setup (5 out of 5)
The steps involved in Pattaizer's installation process are very simple and easy to use. You just click on the exe file and keep on clicking the "next" button on each window and voila, the software is installed. There is absolutely no need to change the default settings in order to install the Pattaizer software. Once you are done with installing the software you just have to load the picture of your choice and continue playing around with several parameters to create pictures of wonderful art.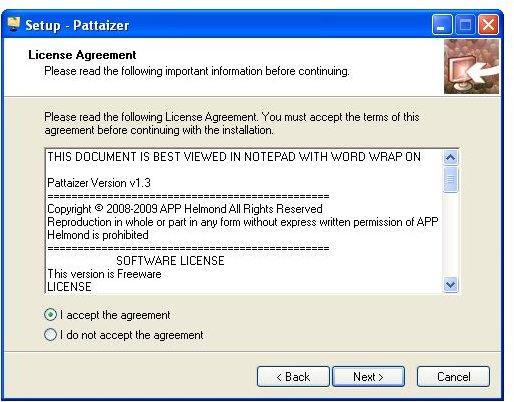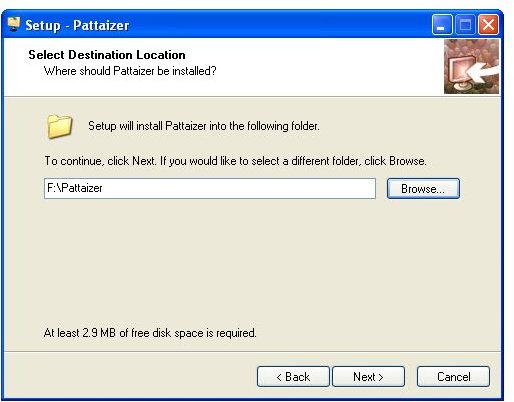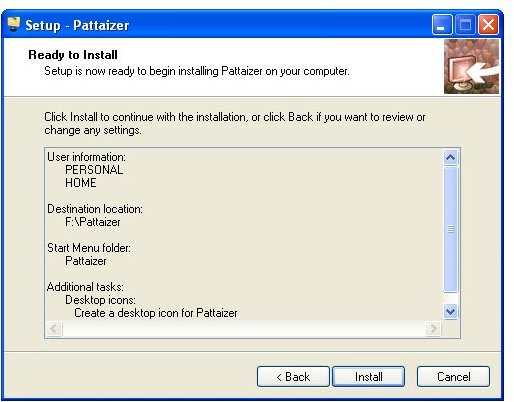 User Interface (5 out of 5)
This software is so simple that you would not even need the "Help" section to carry on your ongoing work. Pattaizer software consists of several parameters that can be changed by the user to generate beautiful artwork. Some of these parameters include basic settings like changing the number of cells that make up the bigger patterned picture, use of colors, dots, and lines as backgrounds, and number of shades of a particular color that can be used to make patterned pictures from the loaded picture. You can also make use of the parameters like mask load and glass FX load to add a shining effect to the patterned picture.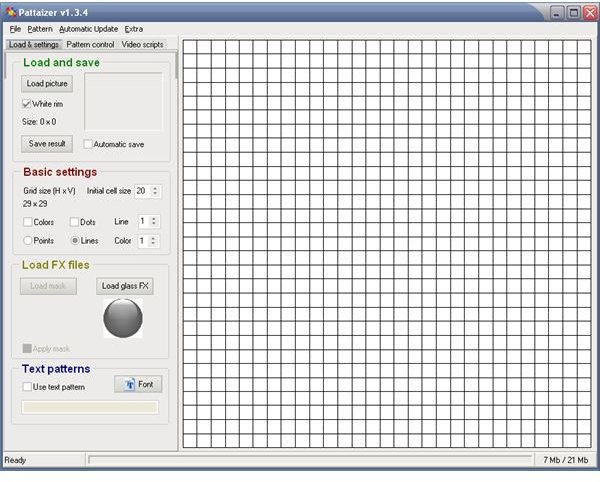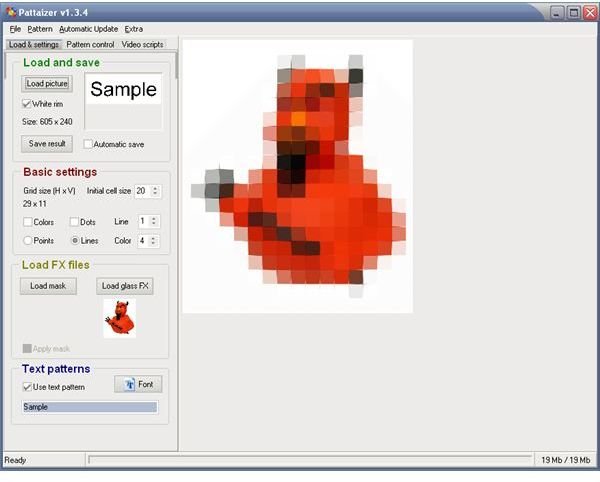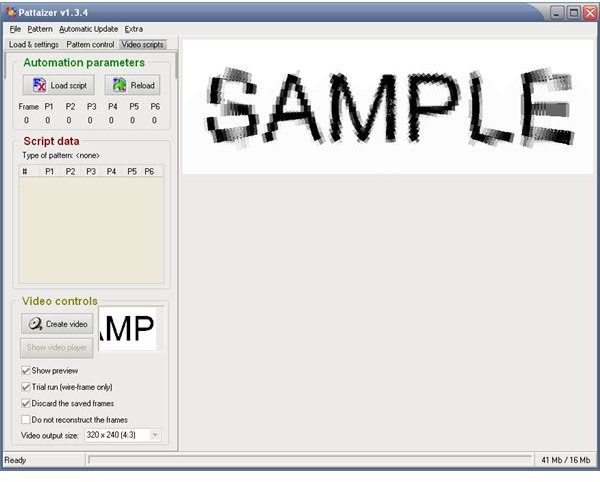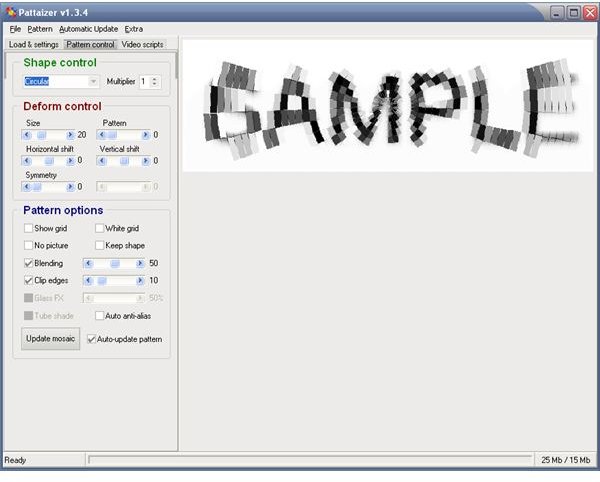 Features (5 out of 5)
The most important feature of Pattaizer is the availability of different patterns like Pinch and blow, circular, hexagons, spheres, kaleidoscope, and many more. Each of these patterns have a particular set of parameters that can be preset by the user by simply moving the slider left or right depending upon the effects that are generated on the loaded picture to create a patterned artwork. These parameters include size, randomness, size ratio, and many more. Variations in blending effects and edge clipping are also available. You can even create movies containing different patterned pictures with the help of scripts. The parameters of these scripts can also be changed by the user. You can even generate patterned artwork by simply loading a text of your choice. You can vary the text font, size, and color. Merely clicking on the generated patterned picture gives you a larger view of your artwork. The patterned pictures can be created by just clicking on the "pattern control" option present on the menu bar to create pictures with different patterns like circular, twirling pattern, hexagons, horizontal and vertical tubes, spheres, spirograph, and kaleidoscope.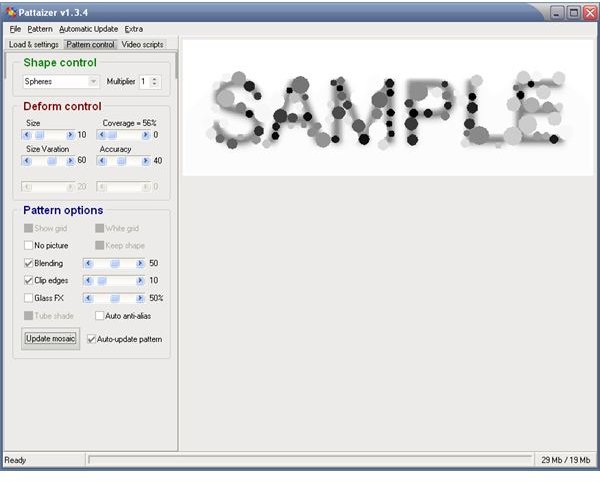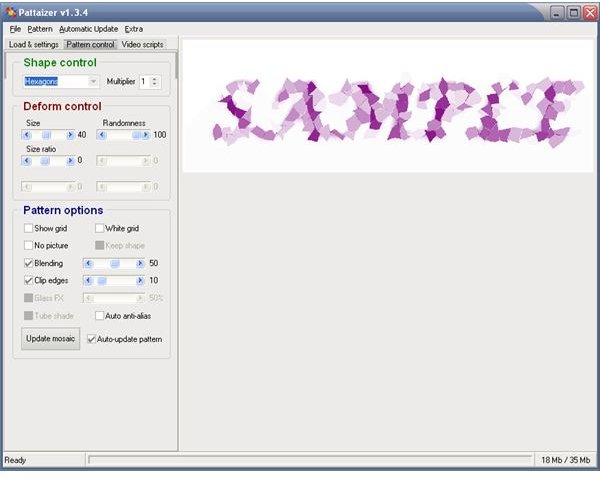 Price to Value (5 out of 5)
Pattaizer software is available for free. Hence, you can make complete use of this freeware to create the patterned pictures of your choice. Even if this software was not freeware every penny and dollar you might have spent on this software would have been worth it. Bear in mind, however, that this freeware is intended only for non-commercial use.
Performance (5 out of 5)
Pattaizer can create patterned pictures and texts according to your desire within seconds. It is compatible with several picture formats like png, bitmap, jpeg, gif, and many more. Pattaizer software works best if your computer contains 2024 MB of RAM memory and 2.6 GHz Intel or AMD microprocessor with Windows 2000/XP operating system.
Conclusion
The Pattaizer software can help you to create interesting pieces of art by loading pictures that can be as small as the thumbnails. With the help of options like source blending and edge clipping, you can smooth out the patterned pictures to generate perfect images with excellent special effects. These images can be used to enhance your presentations and advertisements.