DrawPlus X5 Review: A Design Solution for Professionals and Amateurs
Who's It Aimed At?
Whether you are a professional or an amateur, if you are a graphic artist, an illustrator, a desktop publisher or a web designer, you will find a great deal in this design software for you. There's even bags of tools in here for cartoonists and animators too.
It's actually pretty unusual to find software that is able to cater to both the enthusiastic amateur and the professional alike, but don't let the competitive price fool you, it actually is all those things. Although it is undoubtedly usable for a novice, there are in-depth and extensive features enough for any professional too. It's extremely versatile and can easily stand up to the more pricey options that are considered just for professionals.
You can use DrawPlus to create wall art, logos, book illustrations and cartoons, animations, graphic illustrations, website design, edit PDFs, posters… pretty much anything your imagination can come up with.
Ease of Use - So Much To See, So Much To Do (4 out of 5)
When you first open DrawPlus X5 you could be forgiven for feeling more than a little overwhelmed and not really knowing where to start. Look on
this as a good thing! It's actually a great sign that you have so many features to play around with and make your creations stand out, even if you don't know what most of them mean yet.
For the first-time user of such software though, there is plenty of help in the form of on-screen guidance that's just a click away and will only give you help on whatever tool you are choosing at that time – so you don't have to do any complicated searching. A quick click will hide the help panel away to give you more room on the screen for creating. There are also online tutorials to show you some of the neat things you can do. For the professional though, you will no doubt be familiar with most of the tools, and will be impressed at the range on offer.
If you have any of Serif's other products, then the set-up is pretty much the same and you'll be able to get going straight away, but a great deal of the icons will be recognizable to most of us anyway. I'm used to working with Serif's CraftArtist but there's so many options here, it really is a bit of a learning curve to begin with.
It's not super-easy to get started, but that's just because of the amount of features the software has. But overall, with the help panel and additional tutorials, the software is pretty intuitive once you overcome your initial fear.
Standout Features of DrawPlus (5 out of 5)
It's hard to get across the sheer range of features you get with DrawPlus X5, but trust me, your every need has been catered to. I'd be surprised if there was anything you needed to do that this software couldn't handle. Some of the standout features, though, are:
Easy vector conversion - You can convert a pretty lousy bitmap into a vector logo using the trace and zoom in tools, which gives pretty good results on its own. There are then a host of other tools you can utilize to sharpen the image up. If you click on the image to the right, you can compare the original to the scalable vector graphic.
Incorporated PhotoLab - Not only does having a great photo editing suite included in DrawPlus mean that you
don't have to purchase any separate software, it also means a lot less hassle, as all your imaging can be done within the one program without switching from one to another. There are some complex tools to give you greater control, or you can use some of the presets such as applying effects, color control, red-eye reduction, etc.
Graphics tablet compatible - No separate installations were needed in order for my graphics tablet to work
immediately with DrawPlus, and the ability to use one makes such a difference. Using a mouse works for most technical aspects, but for true artistic freedom when creating cartoons or illustrations, using a tablet comes into its own and the pressure sensitive settings in DrawPlus work so well – it really does make you feel like a true artist.
You can use a mouse to do these things, but the effect isn't the same. This isn't a drawback of the software, it's just asking a lot of your mouse to be able to know how hard you want to press your pencil to the surface. Investing in a graphics tablet is definitely worthwhile for detailed artwork. Look at this way: adding together the cost of this software with a mid-range tablet is still going to leave you stacks of dollars better off than buying some of
the other graphics software apps available.
Animation Creation - You can go for complex storyboards and create your own cartoon, or you can design some really eye-catching web banners. Either way, the creation software is ridiculously easy to use, with plenty of features under your control too. You can turn the simplest drawings into animations with ease by following the step-by-step process from creation, cleaning up and refining your image, adding backgrounds etc., right through to exporting your file as an Adobe Flash animation.
What's New Pubby Cat? New Features in X5 (5 out of 5)
So all this is very well, but what if you have a previous version of DrawPlus – what's new in X5 that might convince you it's a worthwhile upgrade? And if you are a newbie then what other great features can you expect from this software that we haven't already covered?
For the professional, you will definitely notice overall improvements in CMYK support and color separation, and the accelerated graphics technology in X5 means that images are rendered faster, more accurately, and with a better look to fills and transparencies than before.
There have also been improvements in giving you more control over things like blending and transparency settings, allowing you to isolate certain sections or just select groups to apply these settings to. There's also an enhanced solo mode which allows you focus on more complex elements of your design in isolation – even if it's partially hidden – for a result that looks flawless.
Blend Along a Path - New blend tools means you can now follow a path, no matter how complex the shape or pattern, so you can blend
away to track any shape for some great results. It's also a great time saver as well as being way more accurate than following a path by hand.
Targeted Insert - Sounds dull, but is terrifically useful. Rather than drawing something only to then have to mess around with 'send to back', 'bring to front', etc. (although you still have those options), you can target where your insert is to be positioned right from the start. Not only is this more fluid than the old method, it also means you can see the layers in objects when you are positioning it for greater accuracy too – i.e. nothing gets in the way of you being able to see what you are doing and how it will look.
Shape Builder Tool - My personal favorite! This feature basically enables you to make anything you want just by using the quick draw shapes and combining them. I've included some pictures below to show how it worked in creating a cartoon dinosaur. OK, not hugely detailed, but it was created in a matter of minutes and gives you an idea of how the process works.
Quick Draw Cartoon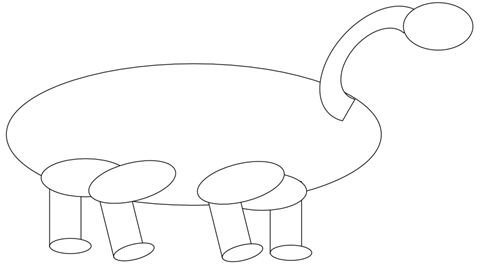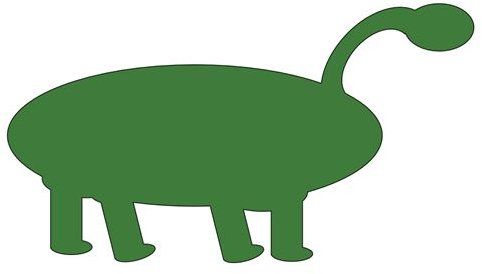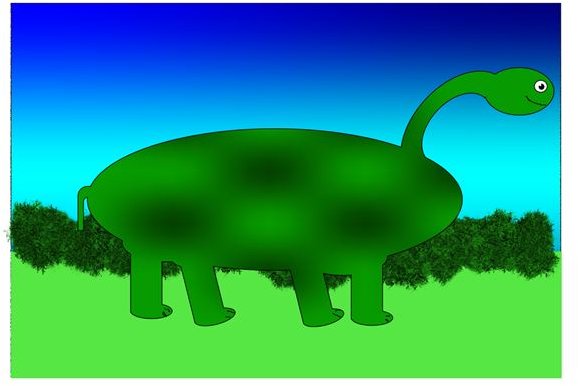 Versatility (5 out of 5)
Not only can you import files from other design software, you can also insert PDFs and have the ability to edit them too, which is pretty nifty. You can also export any files you create into numerous different formats from the usual GIFs and JPEGs to CAD/CAM, video files, TIFFs and even SVGs. In fact, you can import and work on SVGs too. So it's pretty versatile as well as being compatible with so many other programs.
Overall Rating (5 out of 5)
We've mentioned throughout this DrawPlus X5 review what a great deal the software is, but here is the amazing news. It is actually about 1/4 the price of comparable software options, retailing at $99.99. There really is nothing missing from this software that I could find, so honestly the price does not reflect the quality at all.
It turned me from someone with creativity and a smidge of ability into a bona fide artist, which is quite an achievement. There is something here for the enthusiastic amateur right through to the accomplished professional, and the intuitive way in which everything works makes it a joy to use. Along with being impressed by the sheer range of features and capabilities, I have no hesitation in recommending DrawPlus X5.
References
Serif DrawPlus X5, https://www.serif.com/drawplus/
All screenshots were taken by the author and remain the property of Serif. Dinosaur cartoons, and the photo in the PhotoLab screenshot are property of the author.