Corel PDF Fusion Review: How Does It Compare With Other Document Creation Tools?
General Capabilities of PDF Fusion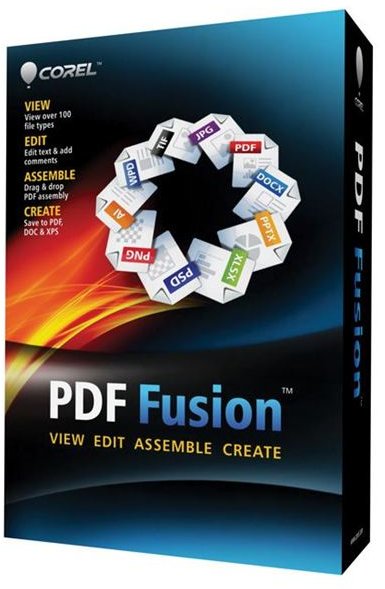 These days, the inclusion of "PDF" in an application's name can mean a lot of things. So, before actually diving into our review of Corel PDF Fusion, it's worth taking a couple of minutes to discuss the software's main capabilities and its intended audience.
PDF Fusion's real focus is taking documents, charts, images, tables and other items created in several different applications, and "fusing" them together into one polished final item. Since the software recognizes over 100 different formats, you can easily bring in files from a wide variety of sources such as WordPerfect, PowerPoint, Word, Excel, Photoshop, Paint Shop Pro, AutoCad – and even less widely-used applications like Microsoft Visio. For a full listing of supported file types, please see this document.
Now, there is one important thing to note. Even though PDF Fusion is considered a document creation tool, it's not going to replace your standard word processor. While there is a Free Text tool that allows you to add a text box to any page in the project, that tool is best used for making additions to pages that have already been created – for instance, it's great for adding a text description to a chart or a caption to an image. But, if your document is going to include more than just a sprinkling of text here and there, you're probably still going to want to type up that text in a separate word processor, and then import it into PDF Fusion to combine with the rest of your project.
So, PDF Fusion isn't going to replace your word processor or any other major program that you use to create source files, but it could replace a lot of the "viewer" application types loaded on your system. We'll talk a little more about that in the Features and Performance section of this review, but first let's look at general usability.
Ease of Use (5 out of 5)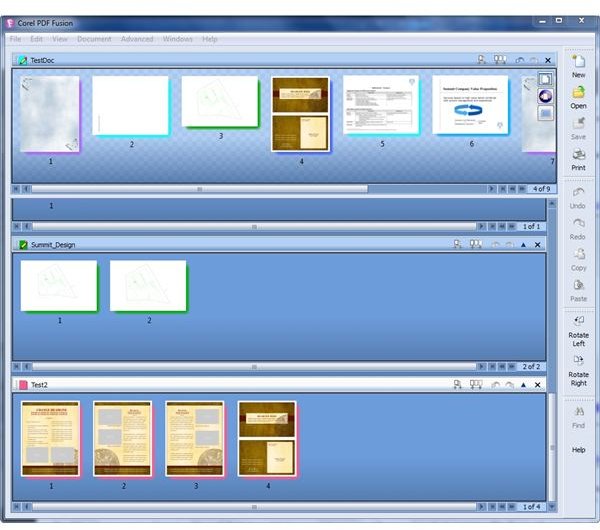 The user interface of PDF Fusion is extremely intuitive and straightforward. In fact, it's so simplistic that it almost seems hum-drum at first glance – you're not going to find any blinking lights, fancy high-detailed icons or any other unnecessary eye candy in this app. Instead, you have a completely uncluttered view that devotes almost all of the screen window area to your project workspace.
At the same time, PDF Fusion does make good use of other more recent trends in interface design, including tab markers for multiple open projects, toolbars that can be undocked and moved, and drag-and-drop functionality. All in all, you shouldn't have much trouble jumping right into the application to get moving on your first project. If you do need a little extra help or can't figure out how to perform a certain task, you can hit the F1 key to access a built-in, searchable help manual.
Features and Performance (4 out of 5)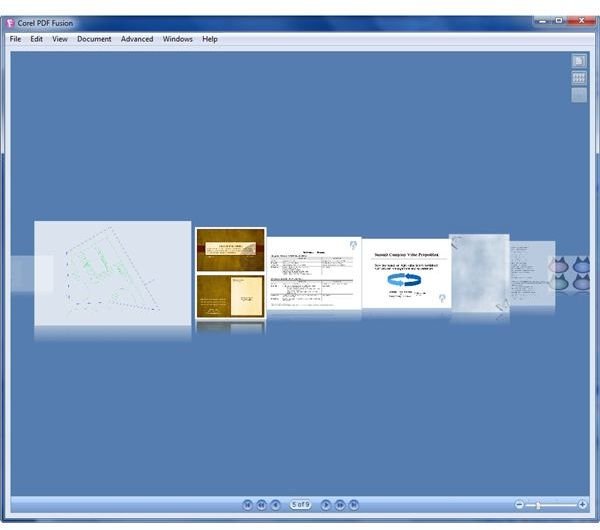 As mentioned earlier, PDF Fusion recognizes over 100 different file formats – whether you have the software used to create those files installed on your system or not. So, if you've been sent an AutoCAD drawing, Visio diagram, Photoshop image or Excel chart to include in your assembled document, you can open, view and – in many cases – even edit these files within PDF Fusion.
One little note on recognized formats – Microsoft Publisher is listed as one of the supported file types, but with the limitation "File ID only." During testing PDF Fusion did a great job of recognizing any Publisher creation that had already been saved as a PDF file, but the software was unable to import or recognize the proprietary PUB format. This isn't a huge shocker since PUB files are notoriously incompatible with other software applications, but it is something to take note of if you're a MS Publisher user.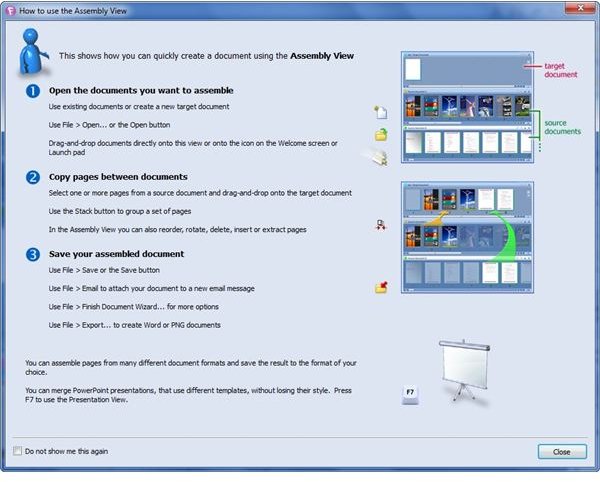 In terms of general performance, PDF Fusion gets tops marks. The software is extremely fast-loading and manages memory very well. It also performs file conversions quite quickly – of course, this is somewhat dependent on the size and type of file being opened. Even after opening a large number of files to assemble into a single document, there were no bottlenecks or slowdowns. In fact, I left the software open and running in the background for three days while testing and reviewing, and didn't experience any noticeable system impact.
Another really nice feature of PDF Fusion is the ability to view any assembled document as a full-screen slideshow. Not only is this a convenient way to preview an entire project before saving, but it also serves as a great presentation tool.
Saving Options (5 out of 5)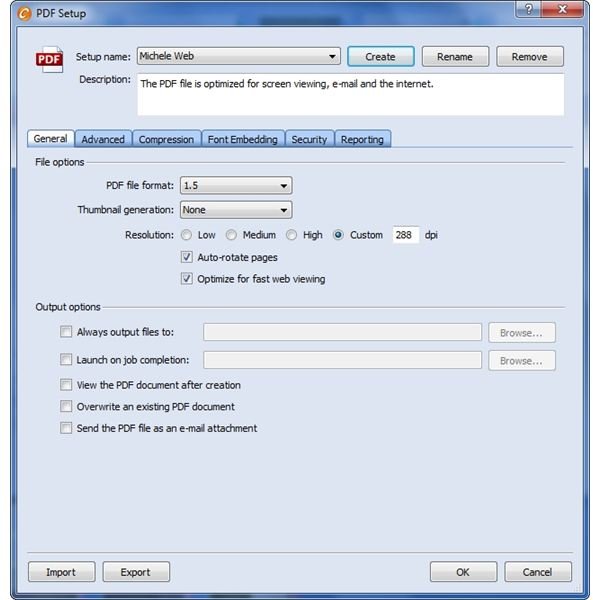 In addition to the ability to save the final assembled document as a PDF file, you can also choose to save as an XPS or DOC file. For each of these final output options, you can fine-tune the settings based on how the document will be used. For example, you can optimize for either Web or print, choose to save using PDF/A standards, specify security and font embedding options, and more.
Also, if you have to regularly save documents using different types of settings, you can create special settings profiles that can be quickly accessed for future projects. You can set up as many of these special profiles as you like, so it's fairly fast and simple to save multiple versions of the same doc – this can be quite handy, for example, if you need a Web version and a print version.
Price to Value (5 out of 5)
With a suggested retail price of $69.99, Corel PDF Fusion is very competitively priced – especially for those who regularly need to put together comprehensive documents with a variety of source files. The software may not have all the features you'll find in a product like Acrobat Pro, but it also doesn't have the corresponding $450 price tag. More importantly, PDF Fusion does have all the tools that most people need along with several extras.
If you want to try before you buy, you can download a free 30-day trial from the Corel product website.
Overall Rating (5 out of 5)
Nowadays, a business "document" is more than just text. It's also a collection of images, charts, tables, summaries – basically, everything you need to give viewers a full and complete understanding of whatever subject is at hand. Because of that, most word processors now come equipped with the ability to insert all sorts of files into a document, and to save the resulting work as a PDF. However, if you've ever tried to use Microsoft Word or any similar program to put together a document of this type, you probably know how frustrating it can be to get everything to look just right.
PDF Fusion, on the other hand, takes the pain out of the process and lets you assemble rich, professional documents that include all of the exhibits and other little pieces needed to tell the full story. Its simple intuitive design and high-speed performance make it well worth the $70 price.
References & Additional Resources
Corel PDF Fusion Official Site, https://www.corel.com/servlet/Satellite/us/en/Product/1301630162690#tabview=tab0
All screenshots taken by author. Box shot courtesy of Corel.