Review of Serif CraftArtist 2 Professional: Creative Digital Scrapbooking and Paper Crafting Software
Booming Growth of Digital Scrapbooking
The popularity of digital scrapbooking continues to grow, and today's scrapbookers are using their talents for more than just designing layouts to show off their favorite photos. In fact, many scrapbookers should really be considered full-fledged graphic design artists who create projects ranging from business cards and stationery to web page banners and layouts—as well as everything in between.
CraftArtist 2 Professional may be classified as scrapbooking software, but it still features high-powered graphics editing tools – for both raster and vector images – that rival those found in industry-leading programs such as Photoshop, Illustrator and PaintShop Pro.  Here are just a few of the new features and enhancements included in this version of the application:
Improved speed and performance for those who use the software on a 64-bit operating system
Ability to import and edit PDF files
Stamp Mode, which allows you to create stamps from any object
3D Decoupage Tool
Punches Tab, which makes it easier to punch shaped holes out of design elements
Graphic Styles Tab with dozens of presets for shadows, bevels, text effects, textures and more
Palette Generator
Ability to import and export SVG files
Along with all of that, CraftArtist 2 supports easy-to-use templates and design elements that let you put together custom scrapbooks, greeting cards, stationery, gift boxes and more. You can even use the software to create your own design elements, which can be saved in the form of a digikit or individual high-resolution PNG images so you can share them with others.
Now, let's look at some of these features a little more closely.
3D Decoupage Tool
You can create tons of different effects by tweaking the settings within the 3D decoupage tool – the screenshot above shows just a few of the different types of looks you can achieve. It may take you a little time to get the hang of the tool, though, since certain options definitely work better on some photos and objects than others. However, there is a nice explanation of the different settings in a tutorial inside the built-in user manual (select CraftArtist Help from the Help menu to access this manual).
If you like to use software to create your designs, and then print and cut them out for physical paper craft projects, you can use the Layout for Print option to separate all of the different layers of a decoupage object on a different page. You will have to choose this option for each decoupage item you have, and these pages can be appended to the end of your current project or created in an entirely new file.
Lots and Lots of Punches!
The Punches Tab is one of my favorite new features in CraftArtist 2. There are several different categories of objects on this tab – from birds to frames to people to steampunk elements – and each one has quite a number of punches contained within.
To use this tool, all you have to do is drag the punch object to a material swatch or other design element, resize it if you like and click Punch. Then you can remove the punch template from your page and separate the punched item from the hole. If you're really only interested in the hole left behind and plan to delete the punch itself, you can click Punch Hole instead and that object will be automatically removed.
You can also create your own punches from any design element – including designs that you've imported or made yourself – and save them for later use in other projects. Just make sure you add the new punch to one of your custom digikits before shutting down the program. Then, when you want to use that punch again, load it from that same custom digikit.
Stamp Mode and Stamp Styles
When I first read about the new Stamp Mode capability, I didn't think it was going to be that big a deal. Sure, by selecting an object and going into this mode, you can stamp that design as often and on as many places you like – it sounded handy, but it just seemed like a copy-and-paste shortcut. Now that I've had the chance to use it, I've changed my mind on that point.
Not only is it an easier alternative to the whole copy-paste-drag process but once you've stamped a design, you can choose from several different stamp styles to make the object look like it was physically stamped. You know how some stamps are darker and others are more transparent than others because of the amount of ink on the stamper? These styles mimic those same conditions.
So, yes, it may seem like a minor addition to some, but it sure is a lot of fun to use and you can create some really interesting designs fairly quickly with this tool. It's especially nice for creating your own patterned backgrounds.
PhotoLab and Cutout Studio
Neither PhotoLab nor the Cutout Studio is new to this version of CraftArtist, but I wanted to include a few words about these tools because of all the added functionality they give to the program.
Just as its name implies, the Cutout Studio is an easy-to-use utility that lets you cut out portions of a digital photo or image, making it easier to incorporate that portion into your project. As a companion, the PhotoLab could almost be considered a subprogram that you can use for minor photo editing and to apply creative filters and effects to photos and other design elements. Both of these tools are extremely versatile, and most users shouldn't need any other photo editing application to fix up their images before inserting them into a scrapbook or other CraftArtist project. 
Digikits
One thing that you should be aware of before purchasing CraftArtist 2 is that the software comes bundled with only a very limited amount digital content. If you're looking for pre-designed layouts, templates, embellishments and so forth, you'll need to acquire those separately. Daisytrail.com has a wide range of selections created by several great designers – prices for these digikits vary, depending on the size of the kit and the designer. I recommend that you can create an account on Daisytrail even if you don't buy anything right away, because the site often sends out emails with sales deals and coupons.
There are also quite a few free digikits that you can download from Daisytrail and new ones are added on a regular basis. Many of these freebies are extremely nice, and have some great layouts and design elements. You can also import quite a few different image formats into CraftArtist 2 – including PNG, JPG, PDF and SVG – and use the designs in those files to create your own custom digikits.
In short, there are a lot of ways to bring new content into CraftArtist 2 without spending a ton in the Daisytrail store. Still, browsing through that store is quite a bit of fun. :)
Bottom Line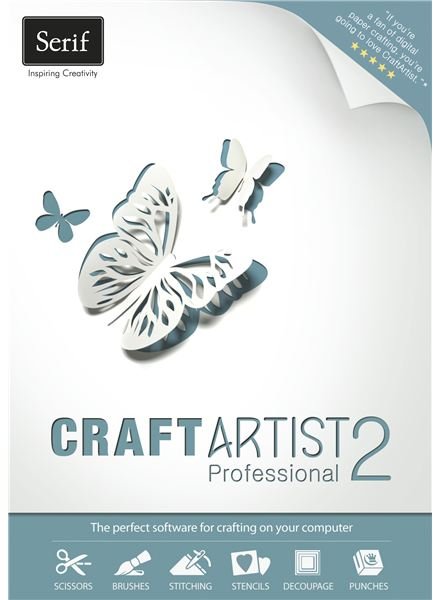 With a suggested retail price of $39.99, CraftArtist 2 is one of the best (if not the best) design software values you're going to find. Don't be put off because the software doesn't come with a couple extra CDs of creative content like some of the previous versions did. (I still consider the Digital Scrapbook Artist products as part of the CraftArtist line.) There's still plenty of free content to download from Daisytrail and other sources – plus the software's core tools make it easy for you to start creating your own original design items.
No free trial of the full version of CraftArtist 2 Professional is available, but you can download the completely free CraftArtist Compact and use that program for as long as you like. It doesn't have all the features that you'll find in the professional version, but it does have more than enough functionality to help you figure out if you like the style and setup of the software. Plus, those free digikits on Daisytrail work in CraftArtist Compact, too.
References