Award Winning Print Ads: To Teach Us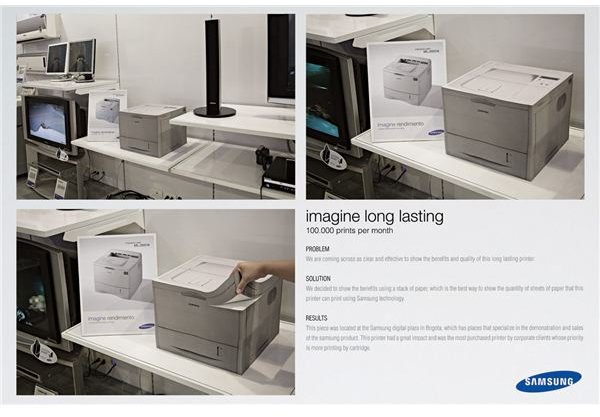 Desktop publishing has allowed the creation of amazing award-winning print ads either on large scale publishing such as outdoor signs or on smaller scale via multifunction peripherals. Although print ads are designed to be witty and eye catching, they are usually more than just the image. A lot of the time the most important thing isn't even in the ad; it's planted in our minds as we try to sort out what the ad is referring to. Major brands have been using print ads for years. Although it started out as pure advertisement, it has turned into an art that is being recognized with awards.
1. Samsung Printers
We see a great print ad showing what is apparently a printer next to a printed page of it. On closer inspection it is revealed that what we thought was a printer is actually a stack of papers. The ad promotes the capability of large printing quantities and a long-lasting printer. The ad was created by Leo Burnett.
2. Kodak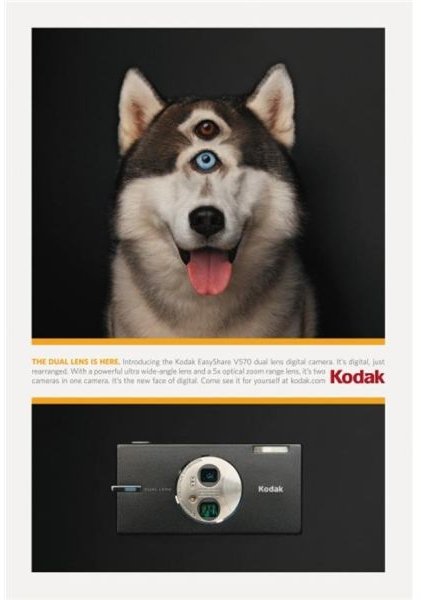 When the Kodak EasyShare V570 dual lens came out it looked like something from a sci-fi movie. The camera has two lenses of different colors placed on top of each other. The print ad shows a Husky dog, known for sometimes having different eye colors, with its eyes on top of each other.
3. Pepsi Twist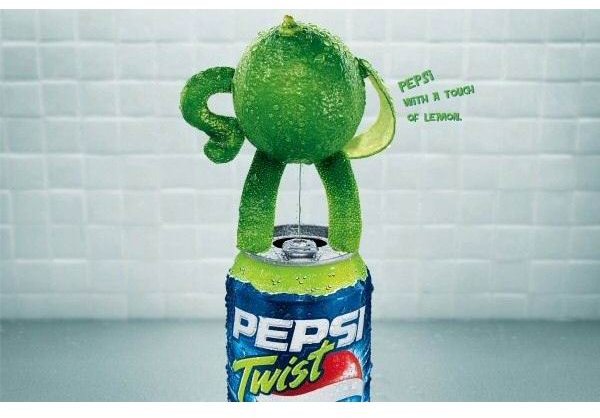 This ad attracts a lot of eyes right away because it has a lime peeing in a Pepsi can or glass. This is of course because the new flavor of the soda includes a touch of lemon taste.
4. Pringles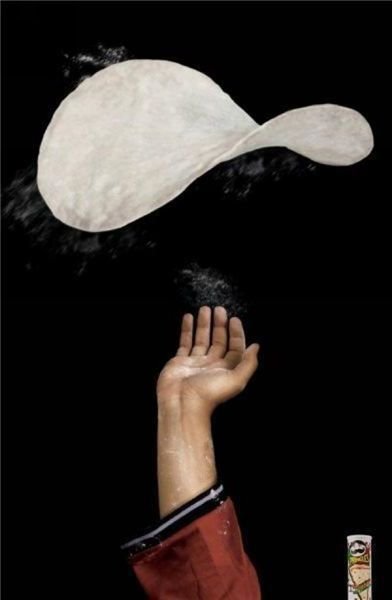 Pringles used the uncommon shape of their snacks to make a cool-looking print ad. The ad, released in the year 2000, shows a hand flipping what would appear to be pizza dough, which in the air has exactly the shape of a Pringles chip.
5. Lazer Bike Helmets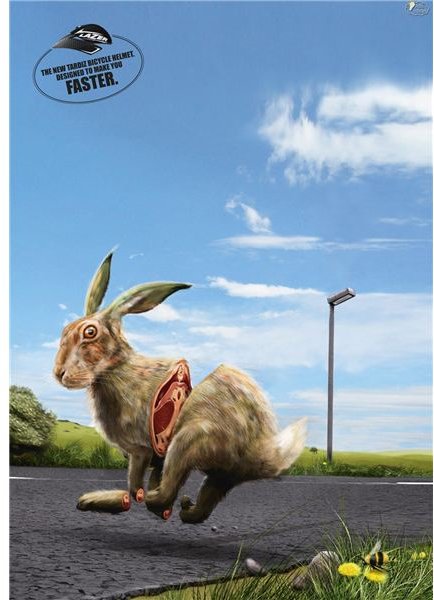 This ad was created by Duval Guillaume of Belgium. This ads show an animal like a fox or rabbit which appears to have been sliced in two on a road. This is a play on the fact that the helmet has an aerodynamical shape that provides more speed.
6. Star Wars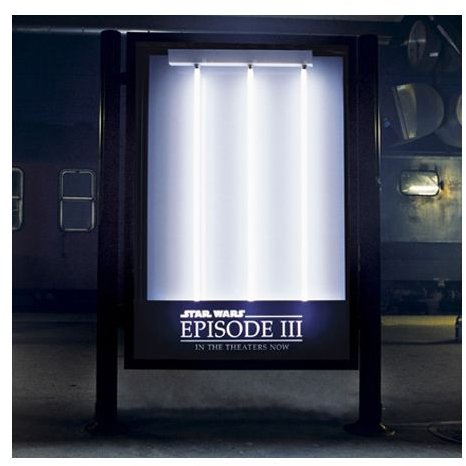 A cool neon back-lit ad for Episode III of Star Wars was made with just the light from the neon tubes. There were three equidistant neon tubes which looked exactly like the roman numeral three (III).
7. HP Printers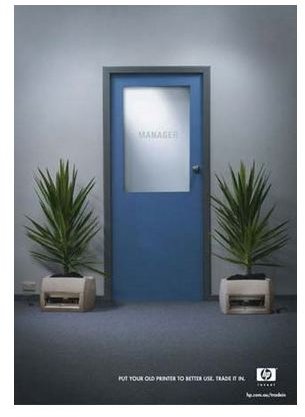 HP had a program where you would trade an old printer in for a new one while paying a reduced price. To advertise this, HP Printers made an ad showing two old printers used as flower pots next to a manager's office.
8. Colgate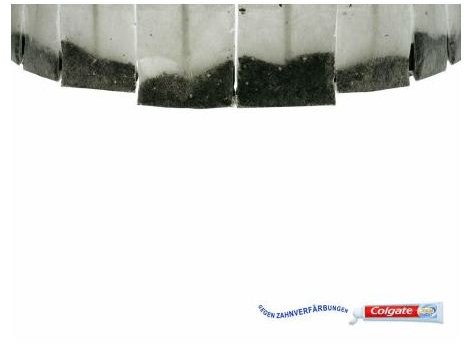 When Colgate decided to promote its new whitening toothpaste, the company did it by making a cool billboard ad. They had coffee beans arranged as teeth and the tooth paste product sitting nicely in a corner.
9. Al Ain Wildlife Park and Resort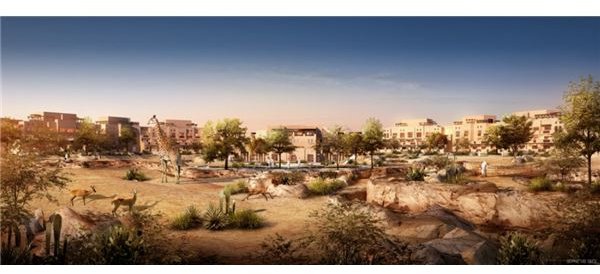 An ad designed for a very luxurious resort that will be built to a new set of green hotel building guidelines. The ad looks like a painting presenting various wildlife roaming next to a resort.
10. The Trillion Dollar Billboard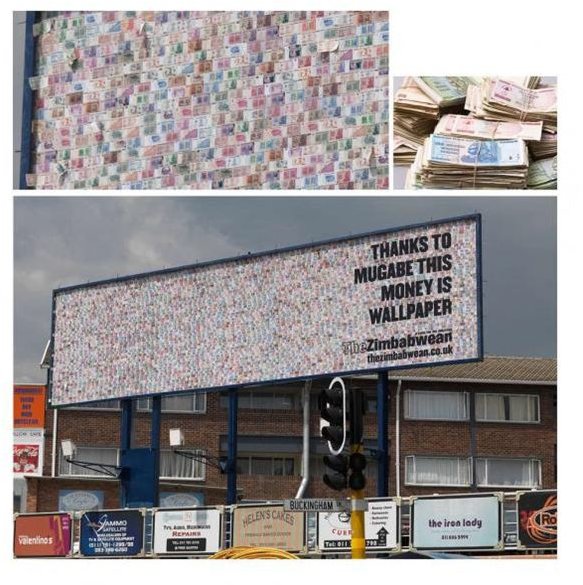 The Zimbabwean Newspaper in Johannesburg made a billboard that was entirely covered in real money. This was made in order to show what inflation and corruption has done to the economy.
References:
MakeMyMood.com. Award winning print ads from around the world. https://www.makemymood.com/content/award-winning-print-ads-around-world
AdsOfTheWorld.com. Creative advertising. www.adsoftheworld.com
Image Credit:
https://adsoftheworld.com/media/ambient/samsung_printer
https://www.advertolog.com/kodak/print-outdoor/husky-7862655/
https://adsoftheworld.com/media/print/pepsi_lemon_twist?size=_original
https://www.advertolog.com/tmpbrand/print-outdoor/pringles-2557855/
https://www.adsideas.com/lazer-bicycle-helmets-ads/
https://www.toxel.com/wp-content/uploads/2008/06/ca8.jpg
https://4.bp.blogspot.com/_1Z_Ueit__uo/SNCtXshfFzI/AAAAAAAAAnE/uUJsRjAgvIw/s400/onlinepromotionindia-hp1.jpg
https://www.adpunch.org/entry/colgate-against-the-discoloring-of-teeth/
https://inhabitat.com/abu-dhabi-to-build-first-green-hotel-for-wildlife-resort/
https://www.coloribus.com/adsarchive/outdoor/the-zimbabwean-newspaper-trillion-dollar-billboard-13153155/