Learn How to Write an eBook: Tips & Suggestions for Getting Started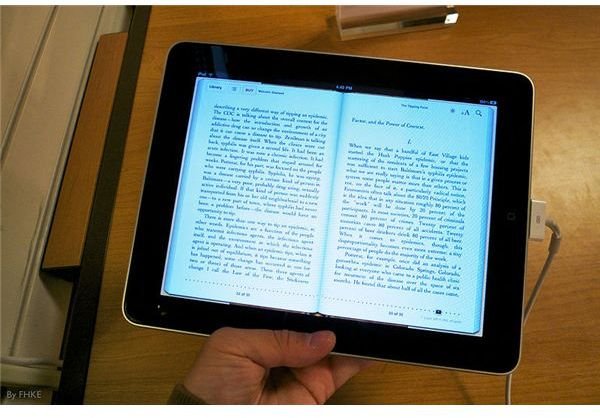 Target Your Market
Your topic and audience needs to be considered before you write your eBook. Ideally, you should know something about what you are
writing. After all, you want people to spend money to purchase your eBook, so it ought to say something more than what anyone could find out from a Google search. Your expertise and experience is your opportunity to create value, so use it.
You need to evaluate the online market for your topic. If you are writing something very technical and specialized, you may have the value you need in your content, but you may lack a broad enough base of potential customers. Do some research into online demographics and search engine keywords to make sure that a demand exists for your topic.
Image Credit: Wikimedia Commons/FHKE
Write Your Book
Writing an eBook can be just like writing any other book. You can include photographs, illustrations, animations, and other materials to support your work. You can write a long book or a short book. You can design your own covers too. The only thing different about publishing an eBook and publishing a printed book is that publishing an eBook is usually substantially cheaper because it is not bound and there are no consumables. Rather than a bound volume, eBooks use eBook readers to display books to readers. With an eBook, you also have a lot of flexibility when it comes to publishing your product.
Publish Your Book
One important part of learning how to write an eBook is choosing a way to get published. If you aren't concerned about your eBook being shared freely on the Internet, you can publish it to Adobe's Portable Document Format (PDF). It has some built in security features that can help keep your eBook secure. Other services are available that give you complete copy protection over your PDF files, putting you in complete control of your eBook from concept to sale.
Self publishing services are available for eBook authors giving them a distribution channel with more online exposure than most authors can get through a blog. Additionally, Barnes & Noble and Amazon both have self-publishing services that allow users to publish eBooks to their platforms. These outlets are becoming very popular with eBook authors because of the popularity of eBook readers like Nook and Kindle, as well as eBook software that makes books available to Apple iPhone, iPad, smartphone, and computer users.
Cha-Ching!
Now that your eBook is published and available for sale, all you have to do is wait for the money to come in. This is where your effort in researching your audience will pay off. If you have written about a topic people are interested in, you will make sales. If your book is well written and substantive, word will spread about your ebook and you will sell a lot of copies.
Selling eBooks from your own Web site allows you to keep all of the proceeds, but if you publish via Amazon, Barnes & Noble, or another service, you will get paid a commission with each sale.