How to Incorporate Native American Symbology into Your Graphic Design Projects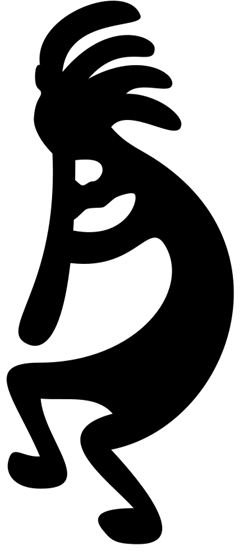 Introduction
Native American style became quite popular in the 1990s. While its popularity died down in much of the United States, it is still thriving in the Southwest. The most famous symbols of the Southwest are the Kokopelli and the howling Coyote. Those are included in this list of Native American Symbology, including how we can combine them into our graphic design projects.
Image Credit: Wikimedia Commons/Booyabazooka
Feathers
Feathers represent the Creative Force. Eagle feathers are used to express honor of the Creator. Turkey feathers are used to decorate a kachina mask. We can combine them into a variety of projects, including logos that represent writing services.
Turtle
The turtle represents strength, female power, fertility, long life, and perseverance. We can use this image in Get Well cards, T-shirts, or office supplies such as mugs and mouse pads. It would also make a strong design for drink coasters.
Coyote
The coyote is a tricker with a keen ability to find things. It is often considered an unpleasant omen. Santa Fe artist, Ricardo Rodriguez, created the widely popular howling coyote with a bandana around its neck. This design has been worked into a wide variety of T-shirts, posters, mugs, etc. Someone needs to create another depiction.
The Morning Star
The Morning Star means different things to different Native American tribes. For instance, the Pueblo Indians considered it an powerful spirit while the Plains and Great Basin Indians considered it as a sign of courage and purity of spirit. The Morning Star can be worked into a design for posters, coasters, T-shirts, a variety of cards (especially birth or announcement cards), and decorative office supplies.
The Sun
The Sun is the giver of life. You will see variations of The Sun throughout the Southwestern region of the United States. The rays of The Sun signify the four directions of the compass.
The Zia
The Zia is another symbol of the sun, the four directions of the compass, and the repetition of life. Both the Sun and the Zia can be worked into a design for posters, coasters, T-shirts, a variety of cards, and decorative office supplies.
Kokopelli
Like the Coyote, the Kokopelli is the symbol of the Southwest. The Native Americans consider it to be a fertility symbol. We can integrate this design in any number and kinds of projects, including clip art and seamless patterns for Photoshop or Illustrator.
Conclusion
I have given a roundup of the different Native American symbols and what kinds of design projects they would be useful for. If you live in the Southwestern part of the United States, you will see a heavy influence of Native American Symbology in a wide variety of designs, from T-shirts in tourist shops to intricate designs on the sound walls of the freeways.
Sources: