Downloadable Great Examples of Microsoft Publisher Travel Brochures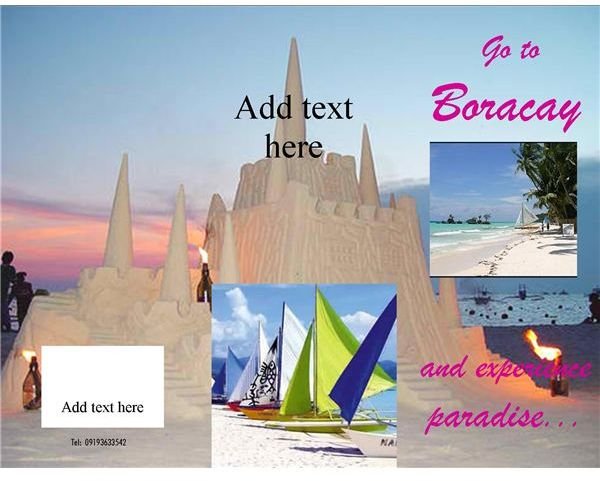 Igniting Travelers' Curiousity
Creative, informative and beautiful. These are the key elements to make each traveler close the brochure you made, and then nail down his/her reservation with your travel agency. So you want to learn how to make a great travel brochure free? Read on.
When creating a travel brochure that invites the readers to visit an exotic land, it is a great challenge. It means making a booklet that clearly describes the new must-see place. It must include everything that the tourists need to know in an informative, catchy and intriguing way.
Yes, tickling the curiosity and interest of the travelers is the must-do in every brochure. Write catchy texts and include beautiful photos that are intriguing enough so you can encourage travelers to jump on board to go where you direct them.
Designing a Travel Brochure
Before you start designing your travel brochure, list down all the necessary information needed.Get a brief background of the place, take photos of its captivating scenery and start constructing lines that sell. Also, highlight the discounts you offer in your travel package.Tourists usually get hooked to see great offers that affords them enjoyment.
When creating a travel brochure, these are the top three items necessary:
1. Vibrant Colors
Good color combination is essential to creating brochures. Your brochure needs to be noticed. The first thing that will catch the readers' attention is the splash of colors in your brochure.
2. Captivating Photos
Seeing the place you want them to visit is vital. Capture the best angles of the site. Hire a professional photographer to make sure you obtain impressive photos.
3. Persuasive Text
Inviting text will make them nail down the booking. Word your brochure nicely and use clean fonts.
Here are some examples of Microsoft publisher travel brochures:
Boracay Travel Brochure
Banaue Rice Terraces Travel Brochure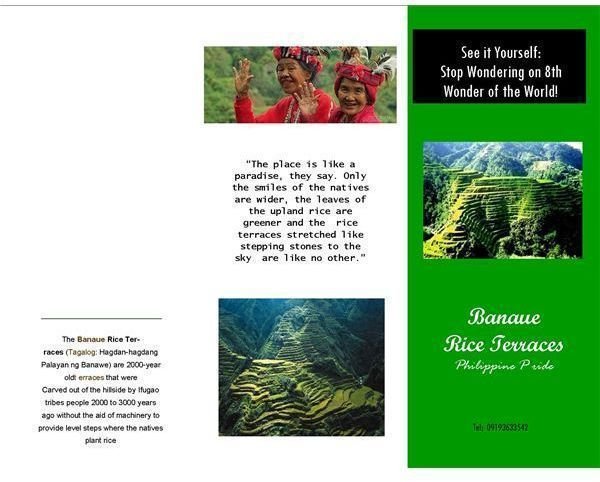 The Step-by-Step Microsoft Publisher Guide
Having Microsoft Publisher installed in your computer means having the brochure halfway done. Walk through the steps that will help you the rest of the way.
Click the "Brochures" option on the menu and then decide what brochure design to use.
Decide on your preferred font style, size and appearance.
Fill colors to the pages if you wish by simply clicking the the "Add text" button and then the "Fill" toolbar.
When adding photos, click "Insert" on the main menu and then select "Picture." Make sure to upload pictures that have good resolution.
To add text, simply click tool "A" on the menu. Click the mouse inside the text box and start typing. You can also move your text box by simply dragging it.
Proofread your brochure. Make sure you have correct grammar, spelling and punctuation. Also, check layout and color combinations and then print a sample copy!