Five Fantastic Gothic Photoshop Brushes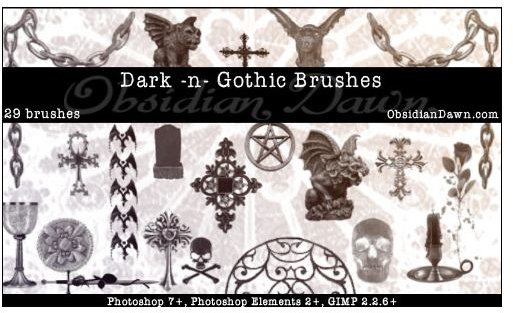 Sometimes there's just something to be said for old world, Medieval craftsmanship and the attention paid to detail. Cathedrals were massive stone creations, rimmed with beautiful hand-cut stain glass, and housed elaborate statues and intricate paintings. Sure, some people might associate the time period with a creepy feeling, but whether you love it for the spook or you love it for the artistic value, you have to admit that there is a charm of the Gothic era! This article features some great Gothic inspired Photoshop brushes, so you can give all your projects that old world flare!
Not sure how to install Photoshop Brushes? This handy tutorial will show you how to find and install brushes into Photoshop!
Looking for something related? We've got grunge brushes as well!
Dark-n-Gothic
This time I figured I may as well start off with a redheadstock feature, seeing as it's just about inevitable that I'm going to have to include her! This time, she's created a fantastic megapack of gothic Photoshop brushes! Dark-n-Gothic brushes includes crosses, designs, gargoyles, graves, goblets, candles, chains, an ankh, roses, rose swords, skulls, stained glass, and more! This pack has 29 brushes that will work for Photoshop 7.0+.
Going to use this brush? Don't forget to credit redheadstock.deviantart.com!
19th Century Accents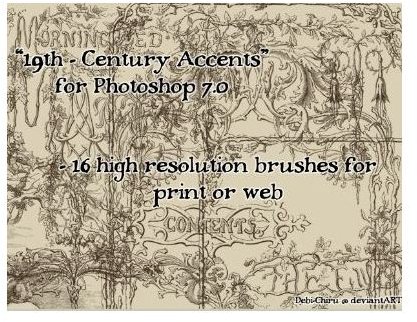 Debi-Chiru has created a beautiful set of 19th Century Accents and borders from scans of an antique book of English poetry that was printed in London in 1848. No wonder these have a beautiful, vintage feeling to them!
Going to use this brush? Don't forget to credit Debi-Chiru.deviantart.com!
Gothic Grungy Swirl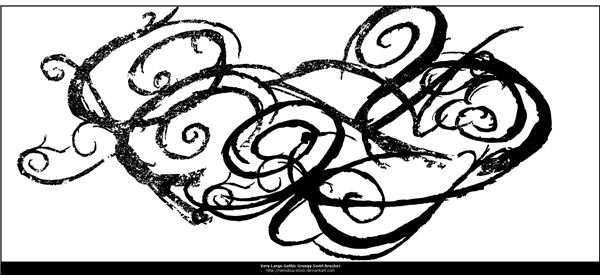 Looking for something a little grungier? Maybe something a little more abstract? remidica-stock has created a really neat set of Grungy Gothic Swirls, perfect for adding to all kinds of projects! Looks especially great in corners when you've got some negative space to fill in!
Going to use this brush? Don't forget to credit remidica.deviantart.com!
Gothic Brush Number 2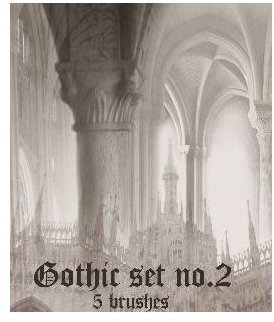 If you're like me, you probably have a fascination with older architecture. I absolutely love the look of old churches and town halls with massive stone walls and beautiful carved pillars. I have to say that wyckedBrush has created a set of fantastic brushes - Gothic Brush Set 2 - that showcase beautiful Gothic architecture.
Going to use this brush? Don't forget to credit wyckedBrush.deviantart.com!
Gothic Frame Brushes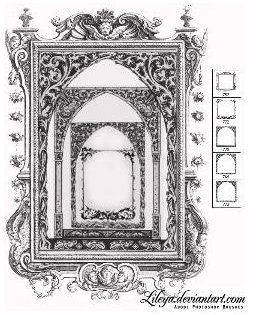 Looking for a unique border or frame for your projects? Look no further than Gothic Frame Brushes by Lileya. She's created a set of intricate brushes that can be used to frame invitations, design projects, and photographs.
Going to use this brush? Don't forget to credit Lileya.deviantart.com!
Gothic Gargoyles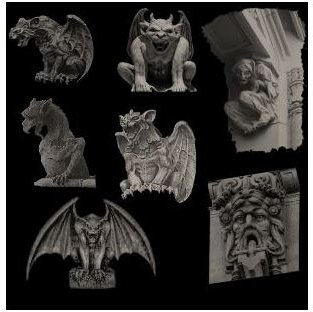 When I think of gothic archetecture, I think of tall buildings with looming, stone figures at the top. Fittingly enough, midnightstouch has created Gothic Gargoyles, a brush pack that showcases some spooky looming gargoyles. Great for Halloween or any scary projects you have.
Going to use this brush? Don't forget to credit midnightstouch.deviantart.com!