Poems for Funeral Programs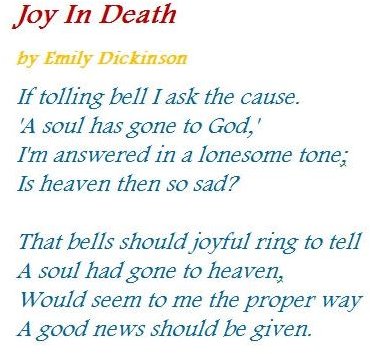 Internet Searches for Funeral Poems
Be aware that many Internet searches on Google or elsewhere have been overrun with webpages that are not as helpful as they should be to people during a trying time. Rather, these sites strive to fill up as many barely relevant search results as possible in order to sell something or otherwise flood them with advertising. One useful trick for searching for funeral materials like quotes, poems, songs or pictures is to use an advanced search parameter that restricts the results to websites that have a .org domain name. These websites often belong to non-profit organizations or religious institutions that provide more earnest help.
To use this advanced search on Google or on Bing, simply end your search entry with "site:org". For example, searching for funeral quotes brings up more noise than helpful information. Searching for funeral quotes site:org removes some of the aggressive advertising and sales pushes from the search results. Searching this way does not guarantee that every result is a good one, but it does cut back on the number of less worthy sites.
(Note: If you know of a specific organization whose website you would like to search in this manner, you can simply add their domain name to the site: parameter. For example, funeral quotes site:saintmarks.org will only return results from the Saint Mark's Cathedral website.)
Finally, consider searching the website for Bartlett's Familiar Quotations for poems and quotations for funeral programs. You can find them at bartelby.org.
Poems for Funeral Programs from the Bible
One place that is both commonly used, yet often overlooked, for finding touching poems for funeral programs is the Bible. Not everything in the Bible is a poem, of course, but there are many meaningful and appropriate poems within its pages.
One of the most commonly used funeral poems comes from the well-known Psalm 23. It starts, "The Lord is my Shepherd…"
Most of the Psalms are poems, so this is a good place to start looking if you want to find a poem from the Bible for the funeral program. Other popular Bible funeral poems are Psalm 90 which speaks of returning to dust, and Psalm 121 which contains the well-known, "I lift up mine eyes upon the hills," line of poetry. Of course, reciting The Lord's Prayer is common at many religious services.
Popular Funeral Poems
Of course, there are many other emotional and stirring poems that are good for funeral readings or to print in a the funeral program poem. Consider whether the deceased or their closest loved ones have a favorite poet. Finding a powerful and comforting poem by a favorite writer is all the more personalized and meaningful.
Here are some sample funeral poems that are often published in funeral programs or recited at the funeral or memorial service. Note that there are many different messages carried in these poems. Some are tributes to life, some ask mourners to not be too sad, others encourage strength in the face of adversity, and others admonish those who are living to live well for no one lives forever. Be sure to match the tenor of both the deceased and their loved ones. A poem that would have made him smile will be much appreciated; one that would have made him blush, would not.
Crossing the Bar, Alfred Lord Tennyson
Ode To A Nightingale, John Keats
Play Jolly Music at My Funeral, Richard Greene
Remember, Christina Rossetti
Death Be Not Proud, John Donne
Do Not Go Gently Into That Good Night, Dylan Thomas
Requiem, Robert Louis Stevenson
To the Virgins (Gather ye rosebuds while ye may…), Robert Herrick
Funeral Blues (The one from "Four Weddings and a Funeral"), W. H. Auden
From the Ode to Immortality, William Wordsworth
And If He Die?, Arthur Davison Ficke
Footprints, Unknown
Short Funeral Poems
Joy In Death, Emily Dickinson
Do Not Stand At My Grave and Weep, Mary Elizabeth Frye