Halloween Gift Box Templates: Where to Find Printable and Customizable Treat Boxes

Overview
There are several ways to use Halloween gift box templates. If you want to use them in a desktop publishing Halloween project, you may wish to select blank boxes, insert them into your program and enhance them as you see fit. Others are already decorated in a Halloween theme, so that you can simply print, cut out and assemble them. With either type, you can embellish them as you see fit with glitter, googly eyes or scrapbooking embellishments.
Following are five websites offering both types Halloween gift box templates, listed in alphabetical order.
Craft Jr.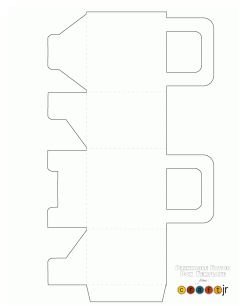 If you are seeking a blank gift box template that you can download and edit with your own custom Halloween effects, the one available at Craft Jr. may fill the bill. There are two download options for this template. You can select the GIF version which prints onto 8 1/2 x 11 paper. You can also choose the scalable PDF version. The site provides instructions on how to fold and assemble the box, which should be printed onto card stock.
Martha Stewart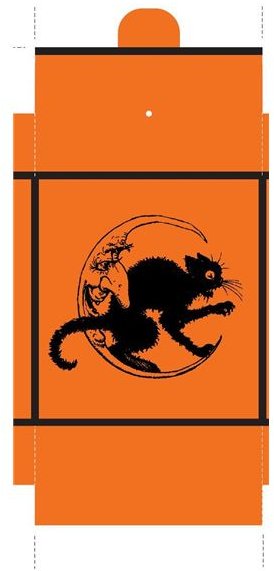 It seems highly appropriate that the make-it-yourself maven Martha Stewart would offer Halloween gift box templates. This template is a PDF decorated in bright orange with a black cat and a goofy-faced moon. Martha recommends using heavyweight printer paper. The site includes instructions as well as tools you will need to create the boxes, which include a craft knife, glue stick and ribbon - preferably black!
Mirkwood Designs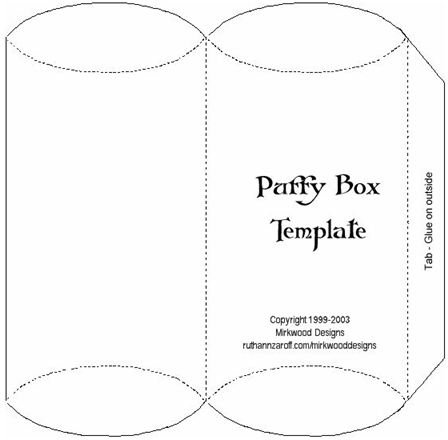 Offering a page filled with free templates, Mirkwood Designs features several boxes that you could use to create Halloween gift boxes. All of the templates are of the plain, black-and-white variety, so that you can use your desktop publishing or graphic editing program to customize and personalize all of your boxes. Options include a "Puffy Box" template, shown here, a "Pyramid Box," a "Takeout Box" and more. These templates are in PDF format. Your biggest dilemma may be which template to use!
Off the Beaten Path Designs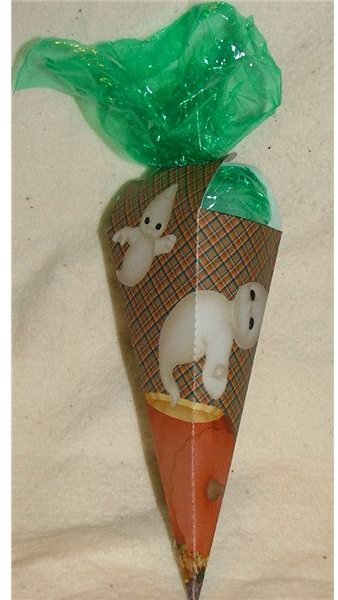 The next template site to make the list is Off the Beaten Path Designs, which sells a variety of templates and patterns, including auction templates and craft patterns, such as this cute Halloween gift box template. The template is not free, but at just $1.50 it certainly is not expensive. It sports a cute ghost design and folds into a cone shape. It also includes a gift tag. Once you order the template, you will receive it in a zipped PDF file.
Shala's Beadwork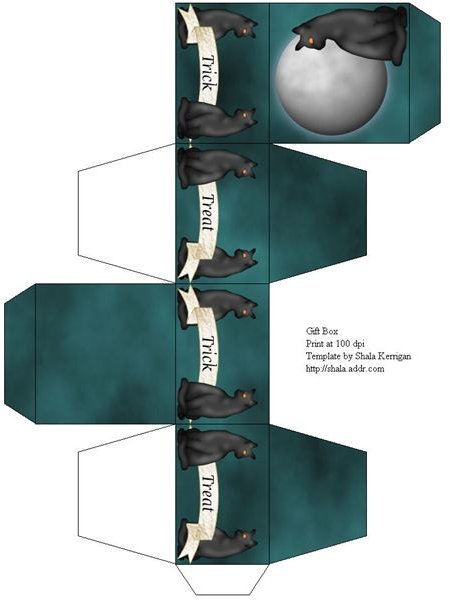 Shala Kerrigan is a crafter who shares beadwork patterns and other printables, including a handful of adorably decorated Halloween items. These printables are JPG files that are ready to print and are comprised of two Halloween bag designs, two Halloween recipe card printables and three Halloween gift box templates, including the cat and moon template pictured here.
Once you find the gift box you like best, try printing it on standard printer paper first to be sure you like the way it looks. This will save you from potentially wasting expensive card stock. If you love it, reprint it, cut it out, put it together and enjoy.