Free Pattern Templates for Scrapbooking

What is Scrapbooking?
The art of scrapbooking is a one time hobby that has come full time. Having grown in popularity through the 1990's this "hobby" went big and helped some create small businesses while helping other build better showcases for the memories of their family and friends.
The basic idea is to take photos, news clippings, quotes and place them onto pages in a creative way. Some people focus on adding decorations to each page and others focus more on using special papers to showcase the items that they are placing onto the page. Another way to create these pages is by using pattern templates to create the design and theme of each page that will be scrapbooked.
Here we are going to take a look at free pattern templates for scrapbooking that you can print and use in your own scrapbooking projects. You can learn more about scrapbooking and the various creative themes that are used through Tools for Scrapbooking and Baby Book Scrapbooking Ideas.
HP Studio Templates
The HP online site offers a wide selection of free pattern templates for scrapbooking. They are not just focused on work related printing projects; since there is a higher number of at home desktop publishers that use HP products the company now has a full set of various free items that are home use related.
HP has over eleven pages of scrapbooking templates online that range from a whole family styled page, pet focused page, baby focused pages and even special event focused pages such as a recital. In the image to the left, you can see their vacation themed page called On The Road Again. To see the entire online gallery that is free for download, click through here: HP Scrapbook Templates
Scrapbookflair Templates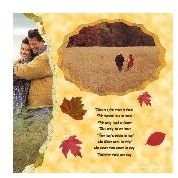 The Scrapbokflair web site host thousands of scrapbooking ideas, an online community and scrapbooking items for purchase. They also have an entire set of free pattern templates for scrapbooking that spans over fifty different templates, they only require that you register for free with the site to be able to download the set.
In the image to the left, you can see their Autumn Nature page template. To check out the full free offering that they have, click through here: Scrapbookflair Templates
ShabbyPrincess Templates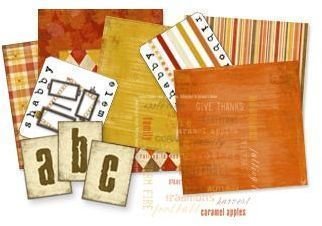 ShabbyPrincess is an online scrapbooking site that creates pages with a shabby chic look to them. Rustic and cute, each design set that they offer can be purchased as well as page embellishments to add an extra touch for any special occasion page that you would like to create.
They do offer a set selection of free pattern templates for scrapbooking but these sets are only for personal and non-commercial use only. The free selection includes such title themes as Shabby Mommy and Moody Blues. In the image to the left, you can see their Shabby Fall collection set that is only available for a limited time. Click on the image to get a better view. To check out their full set collections, click through here: ShabbyPrincess Templates
*images are provided by and © 2010 Hewlett-Packard, © 2006-9, Patent Pending, Aurora Digital Imaging, Ltd. and © 2004-2008 Shabby Princess Designs