Free Halloween Mask Templates: Printable Downloads for DIY Halloween Projects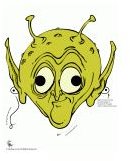 DTP & Halloween
Halloween is a great time to put desktop publishing skills to use to create fun, holiday-themed items for family and friends. One way to do this is by focusing on printables that come in the form of Halloween mask templates. The options for printing these masks offer full color masks, blank masks that need to be colored in and even the ability to decorate the mask with beads and other crafty items once the mask has been printed.
For more information on using DTP in conjunction with celebrating the Halloween holiday, see Halloween Adobe Photoshop Brushes of All Types and Free Halloween Printables.
Halloween Masks from ClassroomJr
The ClassroomJr website boasts a wide variety of crafty projects for kids. One area where they showcase fun and free printables is under their printable masks page. On this page, they have over twenty-five different masks for printing that range from cute animals to Greek culture masks.
They do have a selection of monster masks that are focused on the Halloween holiday, if you want to go the spookier route for your costume. The image to the left shows their Alien mask, which is only one of their Halloween mask templates collection. To check out all the free printable masks that they have, click through here: ClassroomJr Printable Masks
Halloween Masks from FamilyFun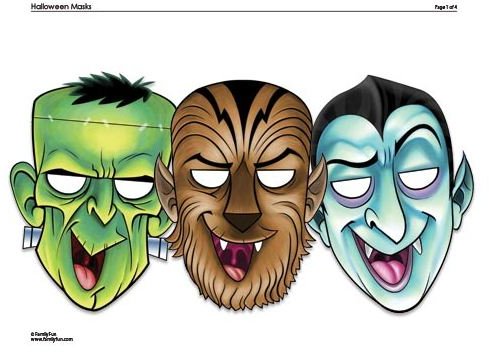 The FamilyFun web site was created by the Disney Corp. and has many different creative ideas and projects to celebrate each holiday with the whole family. For the Halloween holiday, they offer recipes, costume ideas, decorations, cards and even Halloween mask templates.
Their mask collection for the holiday ranges from monsters, ghosts, witches, cats and even a bunny. In the image to the left, you can see their monster collection, which includes printables for Frankenstein's Monster, a werewolf and a vampire. To see all of their masks, click through here: FamilyFun Halloween Masks
Halloween Masks from Woman's Day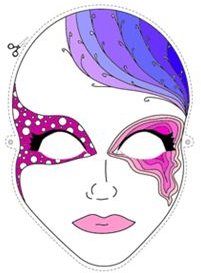 The Woman's Day magazine has been a popular resource for holiday craft related DTP projects for years. Their website is no different in that every holiday, the online version of the magazine displays a selection of fun items, which are all offered to the public for free.
Under their Halloween section for this year, Woman's Day has a wide selection of indoor and outdoor decorating projects as well as costume ideas and Halloween mask templates. In the image to the left, you can see one of their available fifteen masks that can be printed and colored, this one is their Sci-Fi mask. Even though the mask at the left is shown colored, all of the masks that they offer will need to be colored in and otherwise decorated for a finished mask. To check out the whole collection and get started on choosing your mask, click through here: Woman's Day Halloween Masks
*images are provided by and © 2010 Classroom Jr., © Disney and © 2010 Hachette Filipacchi Media U.S., Inc. for Woman's Day