Halloween Bat Templates for Invitations, Party Flyers, Decorations & More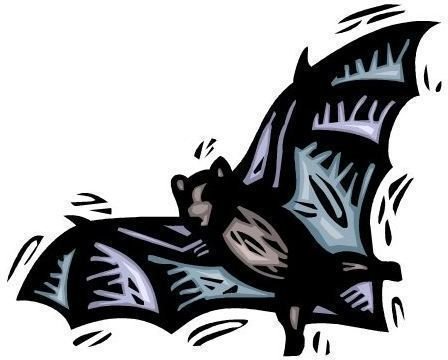 Why Bats?
Bats have been a popular Halloween decorating motif since the early 1800s when giving decorative cards for every holiday became social fashion, as did holding Halloween parties. Early artists chose bats based on the old vampire tales where they would turn into bats. This time period in American history is also when red devils, owls and prettier looking witches came on the scene for the holiday.
Bats can be a versatile element when it comes to creating party decorations and favors for the Halloween holiday. Their shape is universally well known and can be used it silhouette with out any added detailing to represent the animal. The most used image is that of a bat in flight, with wings spread wide and two pointy ears on top of the round head.
Here we are going to go over some great links that offer a variety of Halloween bat templates, from the outline of the form, to cutesy styled printables and black slim lined silhouette. If you are
Looking for other Halloween DTP ideas? See Great Halloween Pumpkin Templates and Kids Halloween Party Themes.
Martha Stewart Bats
The Martha Stewart Living site has crafty sections that are devoted to each holiday and Halloween is no exception. The main style used for creating decorations is that of the simple black silhouette.
On the web site there are many free printable templates and the one that is shown here to the left is the Halloween bat template. All templates through the site are offered in PDF printable format. To get this Fluttering Bat template and check out the others that are available, click through here: Martha Stewart Living Halloween Templates
Disney's Family Fun Bat Template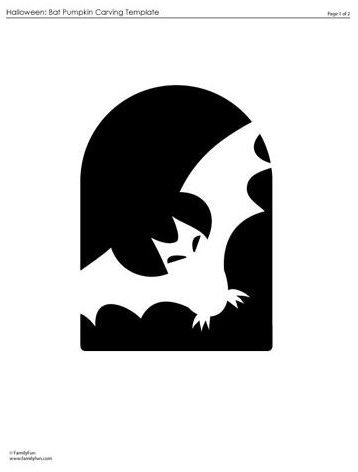 Created by Disney, the Family Fun site is all about celebrating and decorating for the holidays with the family. Under their Halloween printables section there are over three pages of cute designs that are free to print and use. One of their offerings is that of a Halloween bat template that can be seen in the image to the left.
You can get this free bat printable template and other Halloween themed decorations to print by clicking through here: Disney Family Fun Halloween Printables
Prudent Baby Bat Template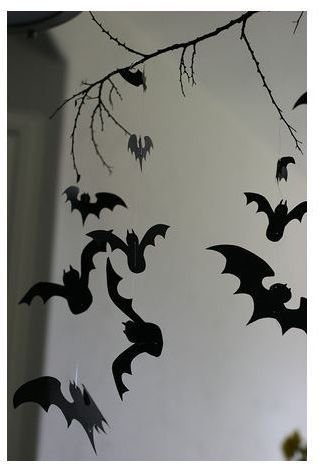 The Prudent Baby blog is run by two friends as they share their lives and crafty ideas with the online world. They cover various craft ideas, parenting ideas and how to get through life as a mommy.
One of the ideas that they share is with their Halloween bat template. Free to print and use, the basis for this template is to create a hanging bat mobile decoration that you can see in the image to the left. To get the template for this Halloween project, click through here: Prudent Baby Bat Mobile Template
DecorDir Bat Template
The DecorDir web site specializes in interior decorating ideas. They offer various holiday decorating theme templates, including the one that you see to the left as their Halloween bat template.
All of their Halloween themed templates are based on pumpkin carving stencils but can be used for any style of holiday decorating with a spooky feel to it. Free to print and use, you can get this template by clicking through here: DecorDir Bat Template
*Photographic image provided by and © 2010 Martha Stewart Living Omnimedia, Inc.