Halloween Wedding Invitations: Free Templates & Fun Ideas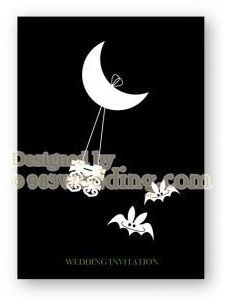 Having a Halloween Wedding
No longer is a Spring wedding the mainstay for having a wedding ceremony. Modern couples are now choosing a variation of dates and themes to celebrate their big day. One time of year that is gaining more popularity is that of the end of October where the Halloween holiday falls.
Many couples are picking Halloween themed weddings as a way to break from tradition and add some fun into their wedding ceremony. Some modern Halloween weddings even require that guests attend the event in costume, making way for an interesting collection of wedding day photos and giving the guests a fun way to participate in the celebration even if they are not a direct part of the wedding party.
The key to pulling a Halloween themed wedding together begins by setting the tone with the right invitation. Having a good set of halloween wedding invitations to send out can give those invited an idea of what colors to wear and what they can expect when attending your Halloween themed wedding ceremony. Here we are going to take a look at three distinct and free Halloween themed wedding invitation templates that you can use to set the tone for the big event.
If you are interested in learning more about other popular theme ideas for wedding invitations, see Fairytale Themed Wording for Wedding Invitations and Your Renaissance Wedding Invitation Wording.
983 Wedding Templates
The 983 Wedding site specializes in Chinese themed wedding invitations. They are an invitation site that provides various wedding templates in the hopes that you will need to order their printing services.
As an interesting addition to their selection of templates, the 983 Wedding site offers up three designs for free download that are halloween wedding invitations. The first invitation they have is of a black outline groom and bride on a white background. The second invitation you can see in the image to you left as a black background with rings hanging from the moon that have two bats flying underneath. The third is an orange background with bride and groom pumpkins. You can get each one by clicking through here: 983 Wedding Halloween Wedding
Microsoft Office Wedding Templates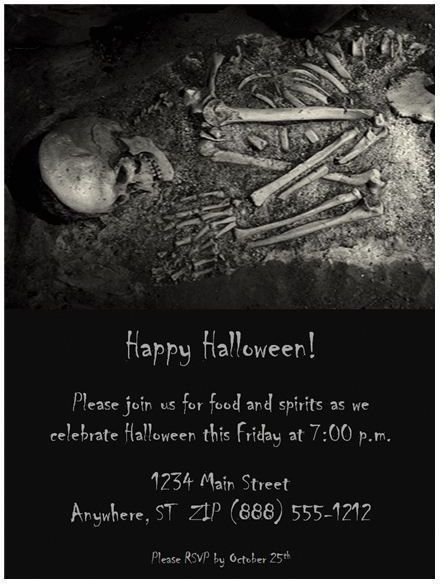 For users of the Microsoft Office suite of applications, there are thousands of free templates that can be used from their free template data base. Their current gallery hosts over seventy -two wedding invitation designs with many of them usable for halloween wedding invitations as well as invitations under the Halloween category that can be used as well.
The design styles range from the super spooky, to cute and through to elegant invitations using Halloween themed colors. In the to the left is one of the more spooky designs that showing a skeleton on the ground with a black background. To view the templates that can be used as halloween wedding invitations click through here, Microsoft Office Halloween and for the more elegant themed ones click through here, Microsoft Office Wedding.
Martha Stewart Templates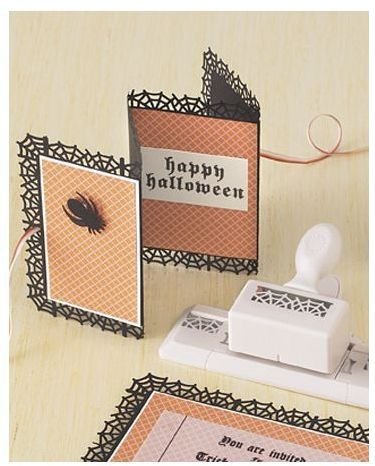 The Martha Stewart Living web site offers a small but elegant selection of templates for weddings, party invitations and holiday occasions. The Halloween party invitations can be used as halloween wedding invitations where all you need to do is change the wording a bit and add the date.
These invitations can be downloaded for free and created with your own wording. In the image to the left is an example of the Spiderweb Accordion card that can have wedding themed wording added anywhere on the card. Other styles that are free to download and create include the skeleton card, owl card, smashing pumpkin, severed finger, mad scientist and the luminary. To get full instructions and view each of these cards, click through here: Martha Stewart Handmade Halloween Invitations and Cards.
*Spiderweb Accordion Card image is provided by and © 2010 Martha Stewart Living Omnimedia, Inc.