Five Sites to Get Free Printable Glyphs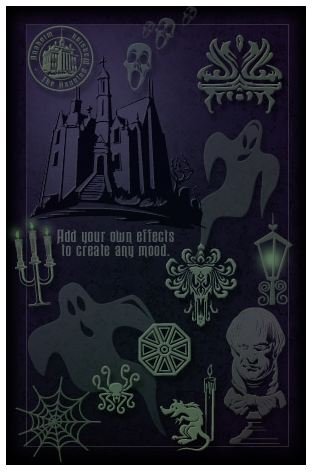 What is a Glyph?
A glyph is one graphic element. In the context of writing and graphic design, a glyph can be a single letter or a single marking that is put to paper. These elements can also be individual icons, symbols and or single letters used in design of any created alphabet in the world.
A common example that has been seen in many print publications is that of the first letter in a word being exaggerated. The beginning to many first paragraphs in novels start with the first letter being printed in bold and larger in font size than that of the rest of the word. That first letter would be considered a glyph as it stands alone. Each following letter can also be considered to be glyphs if they were to stand alone or if they are being categorized as a single marking onto the sheet of paper. Many elements of design can be given that special finishing touch with the use of printable glyphs.
In the Understanding Graphic Design series, you can see the Elements of Graphic Design for more information on glyphs and other items that contribute to using good design principles.
Getting Free Glyphs
There are many designers who have created glyphs as single printables and as printable collections. Not all of the glyphs available to print are free to use for commercial purposes, as some are only open for personal desktop publishing use.
Here we are going to offer a set of five online resources that have printable glyphs available. The majority will be commercial free for use but there will be a couple that are for personal use only. The difference will be listed next to each resource.
David Occhino Design
Graphic artist David Occhino has developed many popular fonts and glyph collections. His work can be seen on book jackets and movie posters around the world. Among his private collection of purchasable glyph collections, he does offer six free printable glyph collections.
In the image to the left, you can see what part of the Mansion Cryptbats free collection looks like. Click on the image to get a closer view. This collection contains one hundred and four glyphs. Each of the six collections are for personal use and internal business use only. To get commercial access for any of his work, you can contact David through his main web site.
*mansion cryptbats image is ©2010 David Occhino Design
Exljbris Font Foundry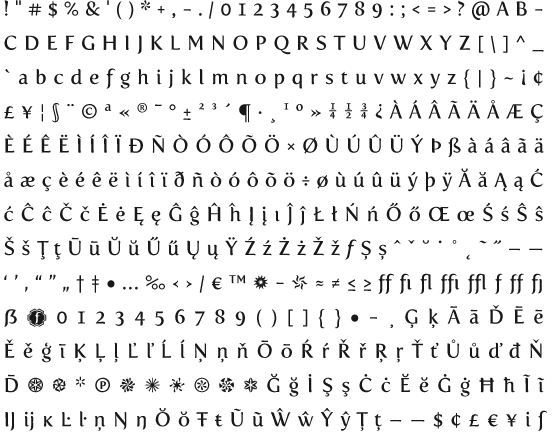 The exljbris font foundry web site was created by Jos Buivenga and offers free printable glyphs in addition to the free font sets that are available. This is another site that contains thousands of options when it comes to choosing a free set. the glyphs here are all based on typography design and come in both free for commercial use and for personal use only.
In the image to the left, is the Fertigo Pro set which comes with one hundred and fifty glyphs in the package. Click on the image to get a better view. See all of the glyph sets that are available by clicking through here: Exljbris Font Foundry
*image is © 2004—2010, exljbris Font Foundry
Dry Icons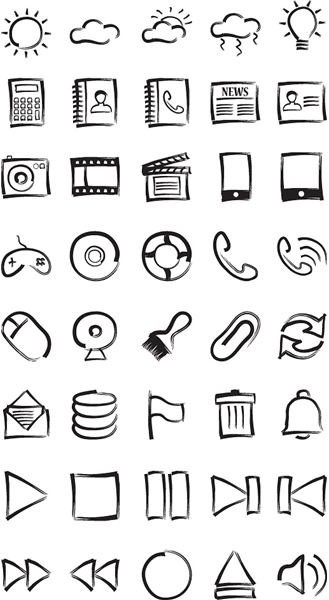 The Dry Icons web site is one that many designers can go to for free printable glyph icons, vector graphics and design themed sets. The free collections that they offer are always being updated and continually being contributed to be graphic designers. The site offers both free for commercial use and personal use only sets.
There are literally thousands of free glyph collections from which to chose from. Icon glyphs can be searched by topic or you can scroll through the web sites active pages to view the most current free offerings. As an example of what can be found through Dry Icons, in the image to the left is the Handy Light Part 2 set. Click on the image to get a better view.
To browse through all of the free printable glyph icon sets, go to: Dry Icons
PixelGirl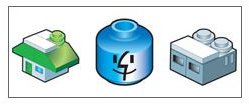 The Pixel Girl site was created by Shana Victor back in 2000 and has grown to showcase thousands of different and free design graphics. Under the printable glyph icon section of the web site there are currently twenty-eight pages of free glyphs, with most pages having at least thirteen different sets.
In the image to the left, you can see one of the sets that are available for download which is called the Lego system set. To check out all of the sets on the web site, see: PixelGirl Icon Sets
Q-Icons: Computer Related Glyphs

The Q-Icons web site was created by a web developer that goes by the name of Martin. The icons and glyphs that Martin offers are all royalty free and are usable for commercial purposes. The glyphs at this site are all based on computer related themes and have been mainly used for web development designs, you can use these glyphs for computer related desktop publishing projects.
To view the full glyph and icon collection, visit Martin's main web site at: Q-Icons