8 Great Microsoft Publisher Newsletter Templates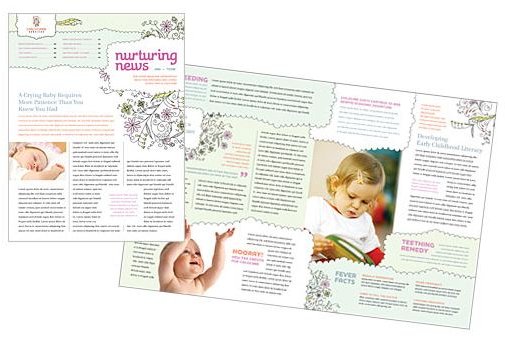 Microsoft Publisher is a popular, affordable desktop publishing application to which many people have access, either at home or in the workplace. This, along with the fact that it is a versatile program that puts out polished publications, makes it an ideal choice to use for the creation of newsletters.
Another benefit of using the program to create your newsletter is that Publisher templates abound. Whether you need a newsletter template for business, your family or a special interest group, you are sure to find one that suits your needs. The following newsletters are available from a variety of sources around the web; some are free, some are not. These templates are listed in alphabetical order.
Note: If you're more of an MS Word user, check out Keep in Touch: Make a Family Newsletter in Word.
Baby & Child Day Care Newsletter Template
If you run a day care center, work at a preschool or provide in-home childcare, the template offered by Layout Ready would be the perfect way to keep your kids' parents informed about upcoming programs, events and other news. This template costs around $30, which gets you templates for both Publisher and Word in 11x17 and A3 paper sizes.
Another beneficial aspect to this template is that Layout Ready offers flyer, advertisement, business card, letterhead and brochure templates in the same theme, allowing you to create a brand for your business. These templates can be bought separately or in one package at a much lower rate.
Template offered by Layout Ready (https://www.layoutready.com/Microsoft-Word-Templates/Newsletters/Baby-Child-Day-Care-Newsletter-Templates-CC0020301D.aspx)
Breast Cancer Themed Newsletter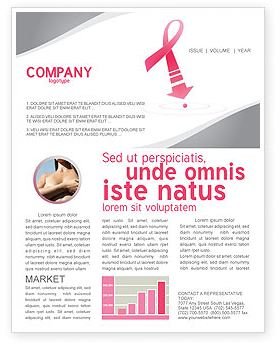 This breast cancer newsletter template from Powered Template could be used to inform volunteers and donors about fundraisers, to keep members of a support group in the loop or to provide information to patients and caregivers. This Microsoft Publisher newsletter template costs $86, but you can purchase it for under $2 if you subscribe to the Powered Templates library. Subscriptions start at $99 for three months and give you access to thousands of free and discounted templates.
Available from Microsoft Publisher (https://www.nl.poweredtemplate.com/brochure-templates/medical/newsletters/03816/0/index.html)
Elementary School Newsletter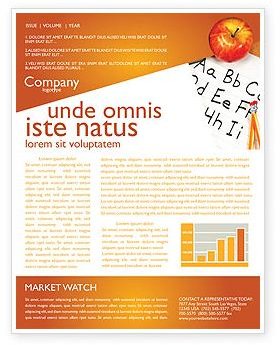 Teachers and school administrators will appreciate this elementary school newsletter template, offered by Powered Template. The eye-catching color scheme along with the professionally-placed apple and ruler are appropriate for any school newsletter. There is also an entire 10-template package available in the same theme, including a PowerPoint template, letterhead and more.
As with the breast cancer newsletter template, this one comes at a price of $86 or $299 for the entire package. However, you can acquire them much more affordably with a subscription to the site.
View it at Powered Template (https://www.nl.poweredtemplate.com/brochure-templates/education-training/newsletters/03795/0/index.html)
Email Newsletter
Not all newsletters must be printed and mailed. Many times an email newsletter is more appropriate. Microsoft offers several free email newsletter templates for Microsoft Publisher. Templates include picture placeholders, ideas for hyperlinks and more.
View at Microsoft's Site (https://office.microsoft.com/en-us/templates/results.aspx?av=all&ctags=CT010104328&queryid=cd487017-1257-44b8-af16-c53f7d732758&vtags=Newsletter)
Family Reunion Newsletter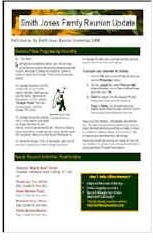 A newsletter is the perfect way to alert family members about an upcoming reunion and to fill in those who could not attend after the fact. Family Heritage Templates sells a family reunion template kit for just over $10 that includes templates for invitations, newsletters and flyers. If you need more family reunion templates, they also offer individual ones such as contact kits and recipe books.
See the template at Family Heritage Templates (https://www.family-heritage-templates.com/family_reunion_contact_templates.htm)
Holiday Family Newsletter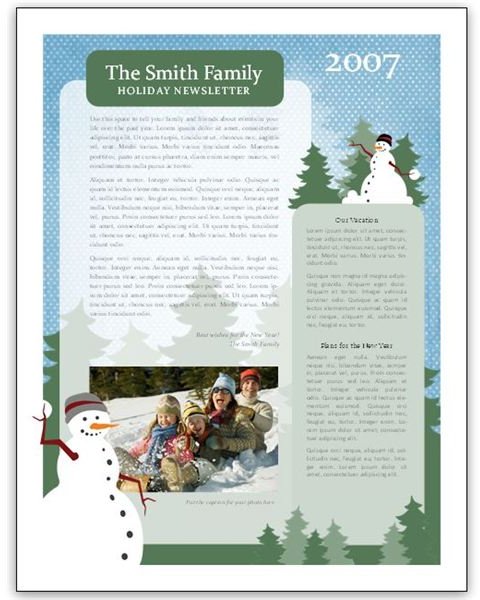 Many families enjoy creating holiday newsletters to mail out in lieu of or along with holiday greeting cards to update friends and family about the previous year's happenings. Microsoft has an adorable two-page holiday family newsletter template that is free of charge. This pine tree and snowman-covered publication is appropriate for any winter newsletter and laid out in an easy to use and read manner.
See the template here: https://office.microsoft.com/en-us/templates/results.aspx?qu=holiday+newsletter&ex=1&av=my#ai:TC010244900|
Real Estate Newsletter
If you are a realtor or trying to sell your own home, you know that it is beneficial to advertise as much as possible. Microsoft's free real estate newsletter template is perfect whether you want to spotlight a single home, display several houses for sale or inform clients about general real estate information. This half-fold template is for Publisher 2007 or later.
See the template here: https://office.microsoft.com/en-us/templates/results.aspx?qu=real+estate+newsletter&ex=1&av=my#ai:TC010381723|
Technology Themed Newsletter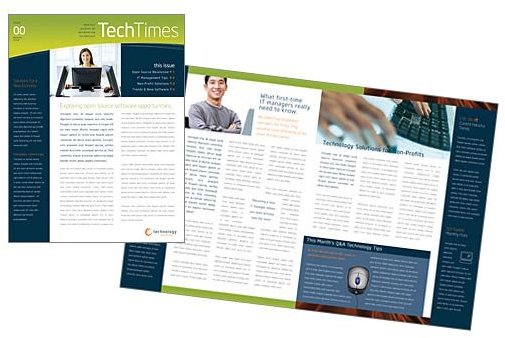 Finally, this technology-themed newsletter from Stock Layouts is one of several free templates offered on the site. The 11x17 half-fold template is entirely customizable and is part of a package that includes a brochure template, a flyer template and more. This newsletter would be suitable for any tech-related business or school.
Template is available from Stock Layouts (https://www.stocklayouts.com/Templates/Free-Templates/Free-Sample-Newsletter-Template-Design.aspx)