Make Your Own Cookbook: Design Tips & Tricks for Success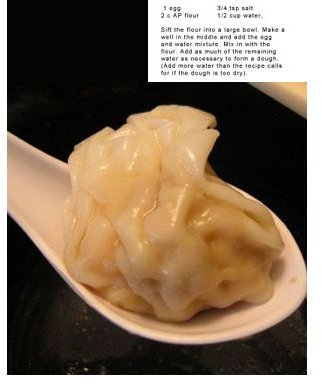 The Layout Payout
When placing recipes into your cookbook, one of the most important things to think about is the layout. With the layout, a lot depends on whether you are planning to include images. While the choice is entirely yours, take the time to consider the pros and cons of including images with your cookbook.
Using images not only guides the reader to what the end product should be, but entices them with pictures of prepared food. However, this generally means you have to cook each recipe (or find someone who will help) and plate and photograph each finished product. Printing color images also tends to be significantly more expensive. If you are making a lot of cookbooks that you will not be selling, it is worth noting that you will lose a bit of money by adding images.
No/Few Images
If you are not using a wealth of images, you have a few options. Traditionally, most cookbooks use a two-column layout. This improves readability and provides a great natural separation, as each recipe will seem to fall into its own "box" as in the example below. Make sure that you keep a decent gap between the left and right columns so that the reader does not begin reading one recipe and finish on another.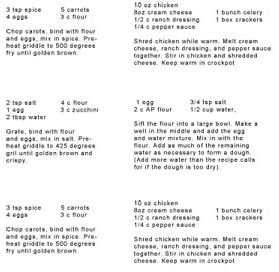 If you find that you are still having a problem keeping the recipes separate, one of the easiest solutions is to simply change the color of one of the columns. This is a simple and effective method that you can view here: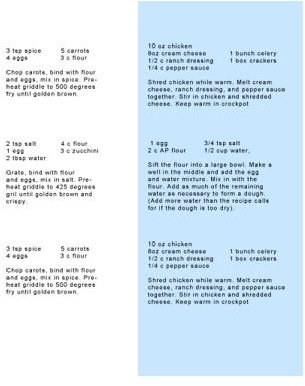 If you are only using a few images throughout the full book, try putting a near-full page image every so often for a great "WOW!" factor. The full page image looks stunning and will draw viewers in. You can include the recipe at the top or bottom of the page, as well as a little personal commentary somewhere near it. (Such as the example at the top of the page.)
Many Images
If you are going to include a lot of images, one of the most stunning effects is to alternate images on the left and right of the recipes. This not only looks great, but improves the flow and readability of your text with minimal effort. Be sure that each image is the same size. You want it to look professional, don't you? Here's an example of a layout that utilizes several images: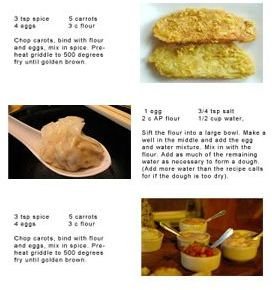 Consistency is Key
If you ask anyone who cooks from a recipe what their biggest annoyances are, they will probably tell you that they hate recipes that assume you will perform a step that is not listed. They may also say that they hate recipes with inconsistent formats.
If these are your recipes, read them over to ensure that they are as clear as possible. If they are recipes that are familiar to you, you might have a hard time doing so. This is where you should ask a friend or relative who has never cooked the recipe before to read it - or even try it out - and see if they understand it. This would preferably be someone who has a little cooking experience, but not someone who has enough experience that they do not represent an average home cook. If they don't understand the recipe, you might want to go back and revise your recipe. If they can understand or complete it with no problem, then you are set!
Consistency Part 2: Format
Format is also incredibly important. If these are your own recipes, you probably already use the same format over and over, such as using T or tsbp for tablespoon, or Metric or Americanized units of measurement. It is absolutely crucial that you do not switch back and forth between formats. Not only is it frustrating to read formats that switch mid-recipe, it can create some confusion as well. It is worth going through and dedicating yourself fully to one format for an entire book. This might require a little bit of recipe rewriting, but your readers will appreciate it more that you probably know.
Organization Will Set You Free!
Organizing your recipes inside the book is another step you can take to make your cookbook a success. While people do occasionally go into a cookbook with a clear idea of what they want to make, oftentimes people will have an idea of a specific meal or ingredient they would like to use. Organizing similar recipes on the same pages (specific chicken dishes, salads, cookies, and breads each with similar recipes), and then organizing the pages into sections that are related by type of meal (breakfast, lunch, dinner), purpose (hors d'oeuvres, entrees, desserts), or holiday (Thanksgiving, Christmas, etc.) will help people stumble upon new favorites as well as easily locate the classics.
They Were Wrong, Turns Out You CAN Judge a Book by Its Cover
It is worth noting that while a hardcover book looks classy and a paperback book is cheaper to produce, a two or three ring binder will be surprisingly effective. Using a binder allows people to easily remove, reorganize and even add their own recipes. It allows them to pull out a recipe effortlessly to allow someone to borrow it without requiring taking the whole book with them. The book will lay flat on a counter, eliminating mid-recipe panic when a book slams shut or the pages shuffle away from your recipe.
Binders come in a wealth of colors and materials, ranging from hard plastics (even clear plastics), vinyl and fabric-covered plastic, so you do not have to worry about your binder looking like a generic school supply. Many print shops will even screen-print the front of a binder for a relatively low fee, so logos, titles, and designs don't have to be sacrificed.
This post is part of the series: Cookbook Templates & Design Tips
With this collection of cookbook templates and design tips, not only can you share that great meal with friends and family, but you can also share how you made it with the rest of the world!