Free Open Source Alternatives for Adobe CS5 Applications: Scribus, Inkscape, GIMP, Synfig & More Can Replace InDesign, Illustrator, Photoshop, Flash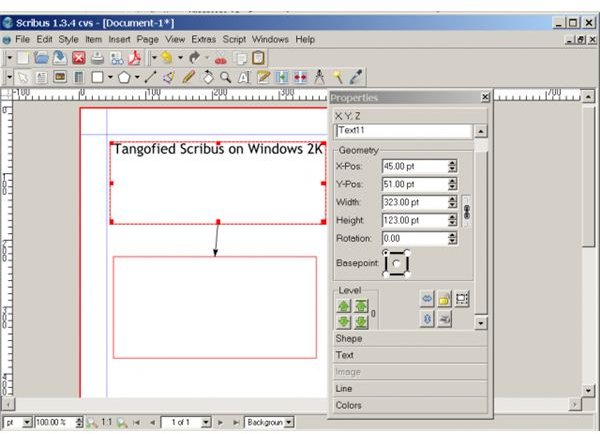 Adobe CS5 Alternatives
For decades, Adobe's been the gold standard for graphics applications. From Photoshop and Illustrator's early days as Mac-only programs, Adobe's suite of applications has grown both in scope — the CS5 suite includes Photoshop, Illustrator, InDesign, Acrobat, Flash, Dreamweaver, Premiere Pro, and Soundbooth — and in price.
Thanks to the Internet and the open-source movement, however, we now have professional-quality free open-source alternatives for Adobe CS5 applications at our fingertips. I was pleasantly surprised at the overall quality of the offerings and can recommend each program's alternative wholeheartedly.
I also made sure, with the rare exception, that each of these free open-source Adobe CS5 alternatives was available for Mac OS X, Windows, and Linux operating systems. Occasionally there was a solution developed for only one or two of these platforms, but was either rare enough or exceptional enough to merit inclusion in the list.
So, without further ado, here are the best open-source equivalents to Adobe CS5 applications.
Scribus: InDesign Replacement
Scribus is the first open-source page layout program that's "ready for prime time," as professional designers would put it. (Ironically, Microsoft's aging workhorse Publisher has never been ready for prime time.) No slouch, Scribus features important perks like the ability to print separations, work with spot color, and output a variety of print-ready PDFs. And, as you can see in the screenshot, uses basic things like frames with nice features like linking text boxes.
Inkscape: Illustrator Replacement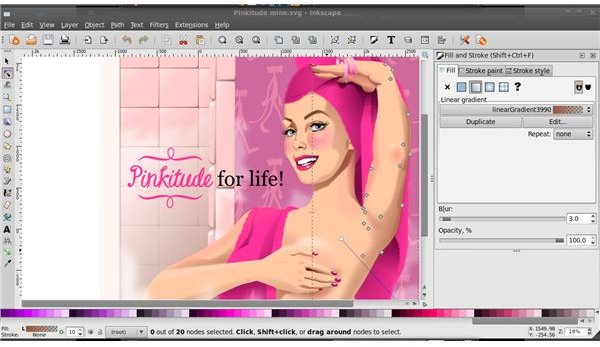 Inkscape is a free open-source vector drawing program that utilizes the W3C standard Scalable Vector Graphics (SVG) file format. Like Illustrator, Inkscape has an interface that's as streamlined as possible, and mimics Illustrator's tool placement, making switching to Inkscape from Illustrator easier. The SVG format makes operations that are normally very complex for vector programs standard, such as alpha blending, clones, and markers, and has an advanced autotrace system.
GIMP: Photoshop Replacement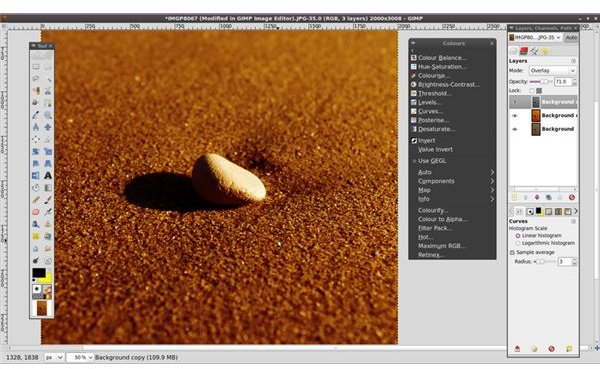 Windows: https://sourceforge.net/projects/gimp-win/
OS X: https://sourceforge.net/projects/gimponosx/
Linux: https://linux.softpedia.com/get/Multimedia/Graphics/The-Gimp-1952.shtml
GIMP stands for GNU Image Manipulation Program. The developers don't say it out loud, but people who've used it whisper that GIMP replicates and in some cases improves upon most of Photoshop's feature set. With GIMP you can do your basic image editing like cropping, resizing and conversions, make animated GIFs, and perform image manipulation and color correction.
As of this writing, GIMP.org is down, so I've provided alternative information and download links at Sourceforge and Softpedia.
Synfig: Flash Replacement (Maybe)
Unlike the above options, Flash is a bit more difficult to replace in toto. There aren't any comprehensive free open-source replacements for Adobe's Flash property. On the bright side, HTML 5 promises to be a "Flash-killer" because of its promised video capabilities. Until then, you may have to bite the bullet and use Flash or try this 2D animation software. Synfig is designed to produce high-quality animation and uses an advanced tweening algorithm that claims to virtually eliminate the need for tweening. If you do a lot of animation, consider giving Synfig a try.
KompoZer: Dreamweaver Replacement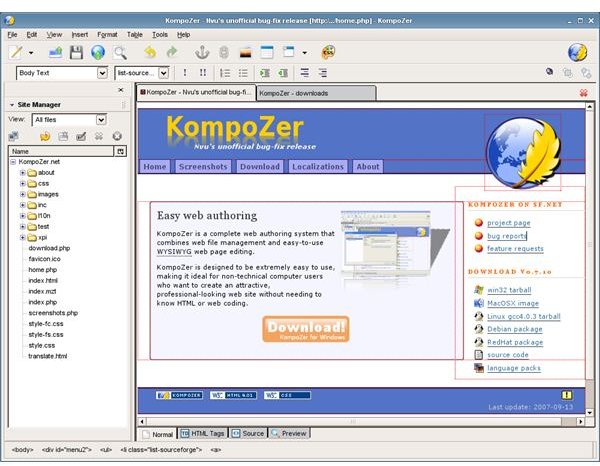 Given the loads of free HTML and CSS editors out there, a capable coder doesn't even need a standalone replacement for Dreamweaver. (We think Dreamweaver has a clunky, cumbersome interface anyway.)
However, if you need to scratch that WYSIWYG web page editor itch, give KompoZer a try. It's got a Dreamweaver-like interface and emulates all of Dreamweaver's features. Built on Gecko, Mozilla's layout engine, KompoZer is fast (something Dreamweaver can't always boast) and reliable, and supports XML, CSS and JavaScript flawlessly.
Acrobat
Acrobat is a funny animal to try to replace with open-source software. What Acrobat does is allow you to edit PDF files natively and print files to PDF format. There really isn't anything that allows you to edit PDFs natively, but most vector-based programs can open them and make them editable.
So what we're really down to is printing to PDF. That's quite easy to solve, especially if you're on OS X. All Macs have PDF writing capability built right in, accessible from the print screen of any application. On Windows, download the Bullzip PDF Printer which allows you to make PDFs from Windows applications. And on Linux, read "Turn your Linux box into a PDF-making machine" to learn how to write PDFs natively. It's too involved to go into here, but the short version is you simply need to get the Common UNIX Printing System (CUPS) and CUPS-PDF driver. I'm not a *nix person so forgive me (and correct me!) if I got any of that wrong.
Premiere Pro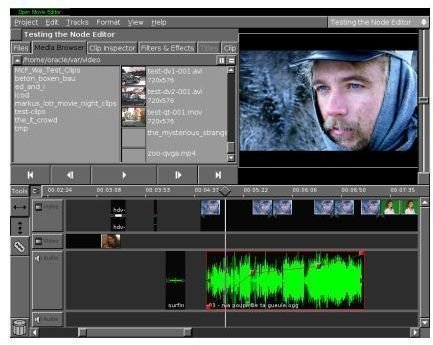 Your open-source solution to Premiere Pro varies depending on your operating system.
Mac OS X: iMovie ships with every Mac
Windows: Try Windows Live Movie Maker (only works on Windows 7 and Vista)
Linux: Try Open Movie Editor
All of these video/movie-editing applications have several features suitable for amateur to light pro work. None of them quite matches the feature set of Premiere Pro, though.
Audacity: Soundbooth Replacement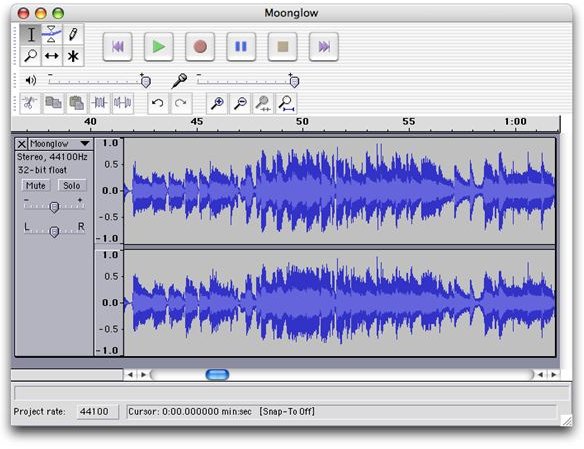 Ahh, back to simple solutions. Audacity is a feature-rich open-source sound editor, allowing you to record live audio, convert analog to digital, edit MP3, WAV, AIFF and Ogg Vorbis sound files, cut and splice, and more.
And there's the list: free, open-source alternatives for Adobe CS5 applications. I've found a spot-on solution to every program in the suite, including Photoshop, Illustrator, InDesign, Soundbooth, Premiere Pro, Acrobat, and Dreamweaver, and came close to a good solution for Flash. Let me know what you think of these selections, if you think there's anything I've missed, especially regarding Flash and Linux! Enjoy your open-source hunting and good luck building your free graphic design application arsenal.
Image credits: All screenshots are copyright their respective owners.