Free Scanning Software Options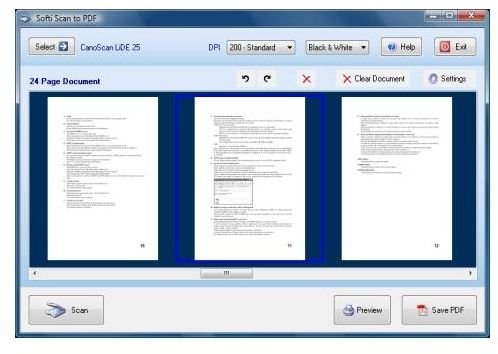 Free Options for Scanning Software
When you need scanning software for your business or home projects, you do not want to invest money into various programs unless you know that they will contain all the features you need and are easy to use. So, is there way that you can try out several programs before you buy, or better yet, are there services available online that will enable you to get your work done for free?
In the following article, we will discuss some of the available scanning software available online and some of the features that they possess.
There are certain features you will most likely be looking for when searching out the right free scanning software. While many may not have all of the features the paid versions would, others do with just a limited ability. Some things you may be looking for are:
User interface
Page layout reconstruction
Character recognition accuracy
Support for languages
Speed
Support for searchable PDF output
Multi-engine voting technology
Simple OCR
This was created as a freeware option for those who only have a little bit of work to do. Simple OCR allows you to avoid valuable time typing out documents repeatedly. While it can be used by anybody including schools and corporations, it is fully functional but it does not have the ability to read or accurately fix documents with multiple columns, non standard fonts, or images that are of poor quality or color. For this you would need a commercial paid version. Since this was released in 2002, the software systems it has been tried on and work with are Windows 98/ME/2000/XP/NT. You can look here for more information on OCR scanning software.
PDFCompressor Professional Evaluation
Created by CVISION, this software can convert your document into something that is both web optimized, and text searchable. It will compress into a PDF file. This is the popular choice for Fortune 500 companies and over a thousand corporate clients all around the country.This works with all Windows operating systems.
Scan to PDF(STP)
This software takes your individual text based pages and after scanning them, turns them into a PDF file. While there are many other programs that perform this feature as accurately as this software does, they are often both expensive or hard to understand or difficult to complete the steps. You can also convert pdf files from jpeg images, and mix both jpeg image and text when wanting to create a digital book or report. This software works with the older Windows operating systems such as Win98, 2000, XP, and NT. There is now a new version by Softi Software in the U.K. that works on Windows 7 and Vista.
Image by Softi Software at https://softi.co.uk/scantopdf.htm
Hamrick VueScan 8
Are you a photographer and wish you could scan slides or photos? VueScan is the best software for fine-tuning any of your colors, or for scanning in batches of photos. It also boasts more advanced features and superior control to over 400 other scanners. It can be used to enhance scanner features when needing to scan in batches of photos with image correction.This works with Windows, Macs, and Linux.
If you are a photographer, you may want to learn a little more information regarding 7 Steps for How to Turn Digital Photos Into Text Using OCR Software.
Kotax Desktop
Do you wish you could scan in documents and files for your emails in Outlook? This software allows you to save to a pdf, scan to email while you are still working in Microsoft Office, scan with one click, send your scans to folders, scan and release to Share Point. Version 2.0 can create full text OCR for scanned images.
If you are just starting up a home based business and unsure of what free scanning software would be able to save you time, money and stress, you should take advantage of the resources above and try the downloads to see which one you find the easiest to use with the best quality outcome.