Options for a Nespaper Front Page Layout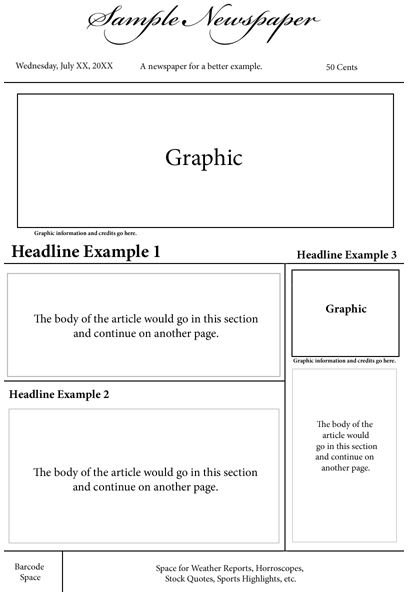 Designing Layouts for a Front Page
The front page of a newspaper is designed with the intentions that it is what will draw potential readers into purchasing and reading the articles enclosed. The front page also provides the most important and time relevant articles accompanied by at least one or more relevant photograph or data chart. Since front page space is premium, it is best to provide only one or two paragraphs with the body of the article further into the publication and also to choose articles that are the most time relevant and important to readers of your publication. Beyond the necessary design elements there are several optional features that you can include on your newspaper's front page to fill in empty space and provide some helpful information such as the daily weather forecast or large stock market changes.
Organizing a Front Page Layout
There are an almost infinite number of layout options for a newspaper front page because there is no set template that newspapers must follow to be called a newspaper. The only standard concept is that the front page must draw attention to it. It has to be easy to follow the progression of each article and therefore organized neatly, and that articles must be the most important articles of the day to pique the interest of readers. Beyond that all the design elements can be arranged in several orders depending on what works best for that day's news. I have provided a few examples that showcase some of the more common arrangements.
Front Page Example 1
This sample front page features a very large graphic which leaves less room for the bodies of articles but when arranged and folded for sale it becomes more visually appealing than its competitors' publications. This layout option is great if the first and second headline story are related in someway and can share the same graphic. If the featured news piece(s) are very important, a large headline could be placed over top the graphic to indicate a more urgent attention is required to understand the graphics.
Front Page Layout Example 2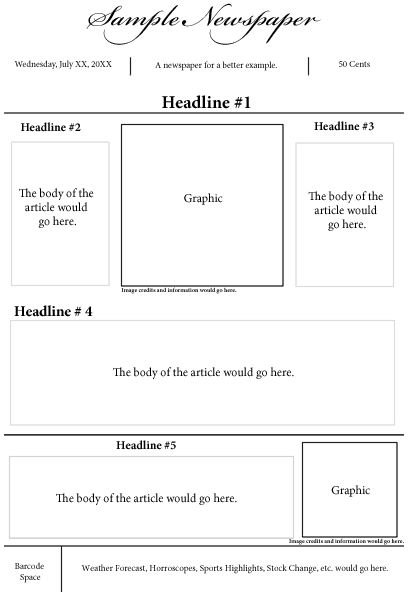 Along the same lines as the first example, Example 2 plays off two articles being related to a single graphic in someway. However, with example 2 the graphic is much smaller and allows for more articles to make it to the front page. This is a great layout because when folded and sold the graphic is still clearly visible and accompanied by a headline that gives insight to what it relates to, offers more space for articles, and reads very easy because of its vertical layout which will draw the reader's attention from top to bottom.
Front Page Layout Example 3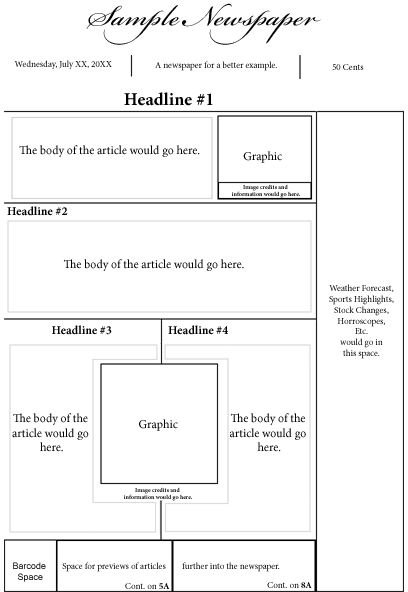 Example 3 is a newspaper front page layout option that lends itself more to a slower news day. The additional information the front page has to offer such as the weather forecast can be placed on either the left or right side of the page for readers to pick up and easily find. Graphics still appear throughout the page and this layout option lends itself to two articles being relevant to a single picture. At the very bottom includes a space for other articles to be featured that weren't quite front page material.
Image Credits
All images were created by the author of the article and are intended for educational purposes only.