Five Great Free Photoshop Shoe Brushes: Perfect for Invitations and Other Projects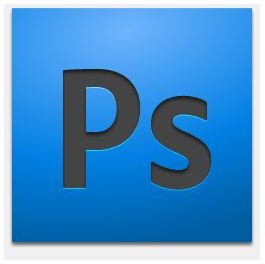 The Allure of Shoes
Shoes. They come in all sizes, shapes, colors and styles. And they've become the symbol of all sorts of things! If you see a pair of cowboy boots, you automatically think of cowboys and the wild west. If you see a pair of high heels you automatically think of women. The ultimate symbol of fashion, the accessory that you can't go out without, shoes have earned their place in the world of design. If you are looking for great Photoshop shoe brushes, this article will spotlight five of the best.
Warning: Remember that an artist created these brush packs for your use, and it is proper etiquette to provide a link back to the artist's website if you use these online or for display in a public area. It is also wise to remember that it is copyright infringement if you redistribute these brush packs, free or otherwise!
29 Shoe Brushes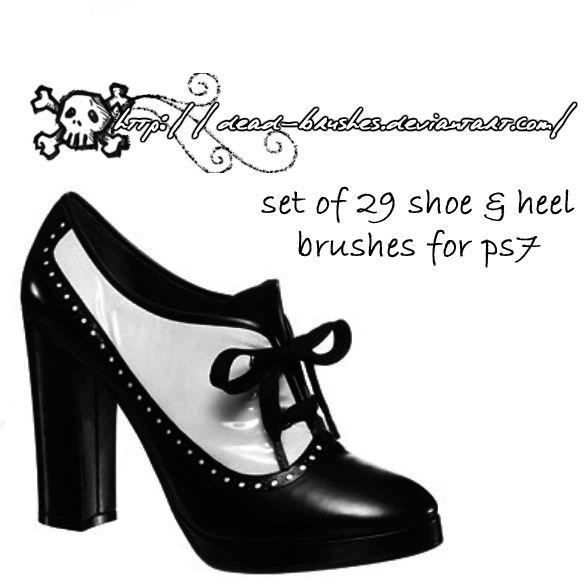 29 Shoe Brushes by dead-brushes is a great pack filled with high quality shoe brushes for all sorts of uses. They are some of the highest quality brushes I've run across, and several of them look just like high quality photographs. These brushes are sure to add great flare to all your projects.
Program Compatibility: Adobe Photoshop 7 and up
Give credit to: dead-brushes.deviantart.com
Lets Get Some Shoes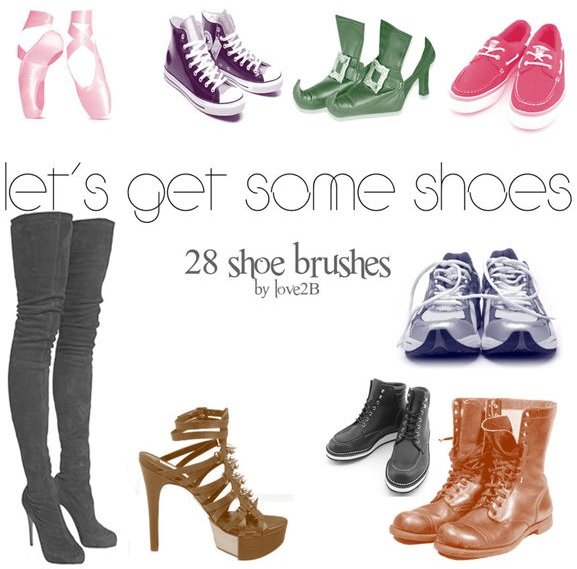 Let's Get Some Shoes by Love2b is a huge brush pack that contains 28 different shoes that you can easily find use for. It contains everything from cowboy boots to Converse, high heels to sneakers. It even has ballet shoes, which could make a stunning effect for ballet recital invitations. This is a great brush pack for all your needs.
Give credit to: love2b.deviantart.com
Silly Prints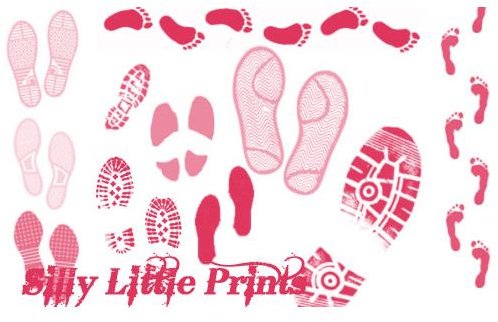 Silly prints by peteandbob isn't expressly a shoe brush pack, but it is a handy little pack that can be used to spice up all sorts of projects. Includes several different kinds of shoe and boot prints, and even includes a few different kinds of footprints. This one could be used to great effect with a scatter look.
Give credit to: peteandbob.deviantart.com
Shoe Brush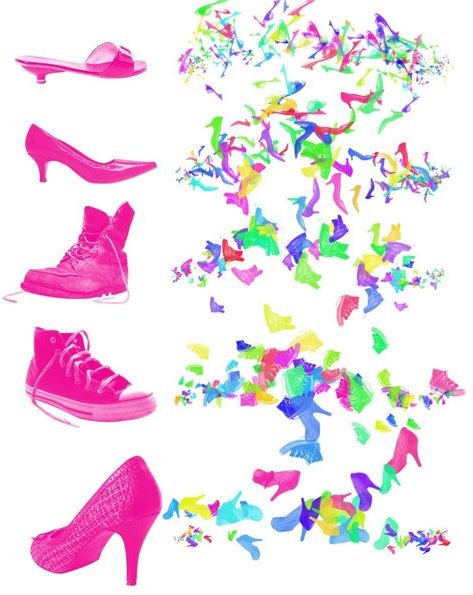 Shoe Brush by rev-Jesse-C is a cute little brush pack that includes five regular "stamp" style brushes, and then five scatter "confetti" style brushes. These are great brushes for borders and accents to all sorts of projects, and are fine additions to your brush collections.
Give credit to: rev-jesse-c.deviantart.com
Shoes - 13 pairs, 26 brushes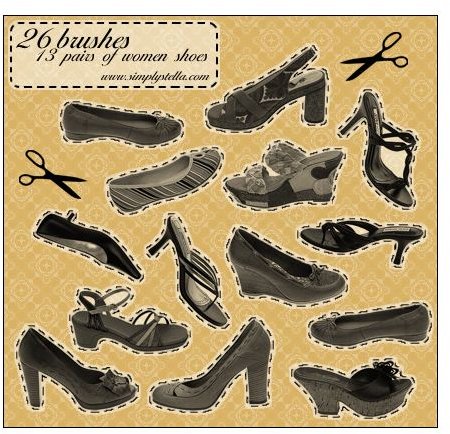 Shoes - 13 pairs, 26 brushes by thinkpastel has the one shoe brush pack that you absolutely should look into. Twenty-six individual shoes (thirteen pairs) of women's shoes from different angles in all styles, shapes and sizes. These are all extremely high resolution brushes, making them absolutely perfect for printing or large-scale work.
Give credit to: thinkpastel.deviantart.com
Image Credits
The images above were made by the creators of the brushes as samples of the brushes included for download in the packs and are used for demonstration purposes only. A gigantic thanks goes out to all the great artists who put these packs up for public use!