Finding Free Iron-On Design Images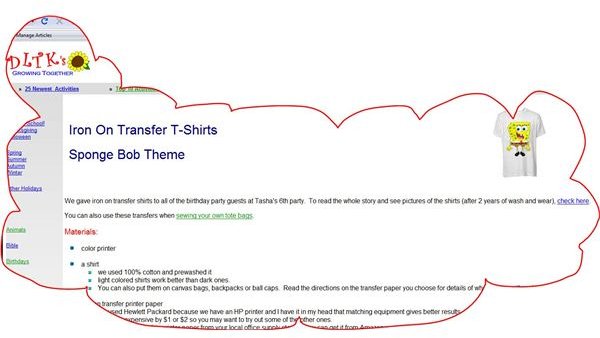 Some Great Resources
You don't really need fancy photo-editing software if you're not creating your own images; Adobe Photoshop works to display your art with most websites. You've got to have special iron-on transfer paper, however, no matter what kind of software you're using. Just about all printers let you designate options so that the transfer paper is inked heavily enough for a good iron-on design image during the transfer process.
DLTK's Crafts for Kids
DLTK's Crafts for Kids, created by a mother of two named Leanne, displays great designs for
everyone in the family. Leanne does this for a hobby, and there are plenty of free iron-on design images, honoring cartoon favorites and celebrating the seasons and holidays, suitable for kids on this site. And they're great for teens, too—who doesn't want Sponge Bob chillin' on his chest? Whether you're about to party for St. Patrick's Day or Halloween, you'll find something you like here.
This site deserves extra kudos for the TLC Leanne has put into the detailed instructions she gives. She really tells you all you need to know—like, don't forget to wash your t-shirt before you apply the transfer.
Lee Hansen Graphics
You can also visit Lee Hansen Graphics and click on the Printables tab. Choose Iron-Ons, but on that page there are only about a half dozen to choose from. Don't get discouraged, though—if you search through the website, you'll find some neat graphic images, suitable for kids and families. Check to see if your favorites open large enough to use as iron-on design images—there was a neat Mardi Gras mask that's going to look great on my next t-shirt, especially after I embellish it with some rhinestones. When I tried to open up the fairy princess stuff, however, it was just formatted for note cards. If you do choose an image that looks suitable for a t-shirt—but isn't specified as a iron-on heat transfer—just go into your printer's Options, select Iron-on Transfer as your paper type, choose Page Layout, and then select Mirror so that the image prints in the required reverse layout for the iron-on transfer.
Pastiche Family Portals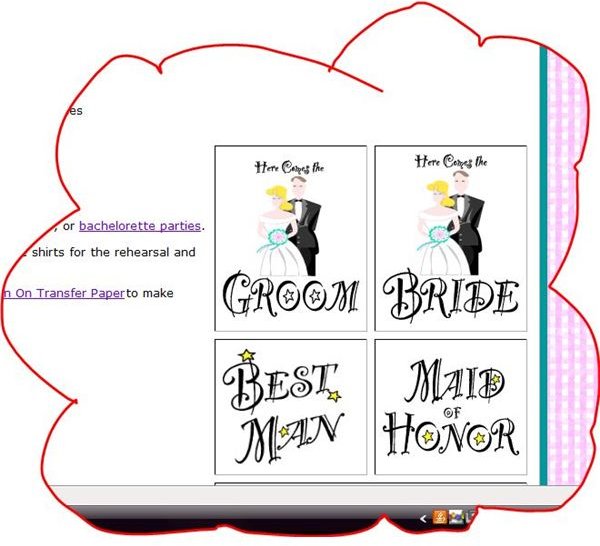 Pastiche Family Portals is another family-oriented website. It's a little more difficult to navigate the website to find the transfer you want, but when you find it, it's gold. There's plenty of kid-oriented stuff, but also look here if you're going to be a bride or expecting a blessed event. Plus, there are loads of unusual patriotic designs.
Fashion Frog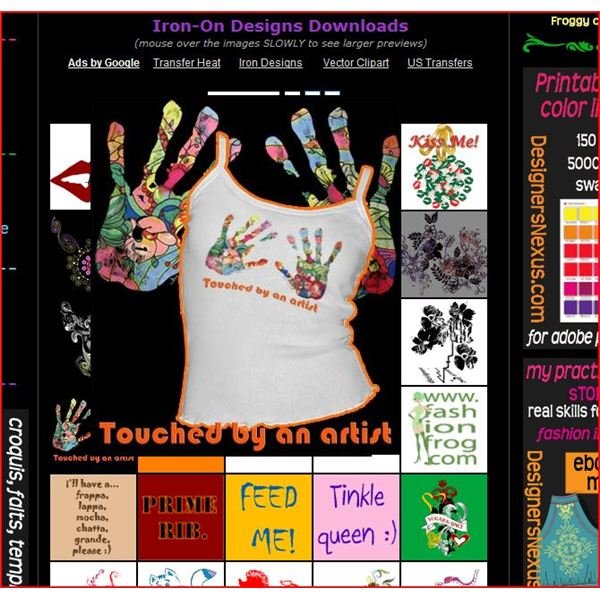 I'm not saying I saved the best for last. I will say that this one has not much (if anything) here for the kiddies. Teenage girls and young women, however, are going to be loving the great designs featured on Fashion Frog. Let your mouse hover slowly over the three dozen or so options, and then click on the one you like. You'll see a larger-size view, plus advice for the type and size of transfer paper to use. Where it says Download, click on the word Jpeg. It will look right-side out to you, but it formats automatically so that you don't have to do anything except insert your iron-on design image paper and click on Print.
Image Credits: Screenshots by author, taken from each specified website.