Learn How to Make Your Own Printable Crossword Puzzles: Free Online Tools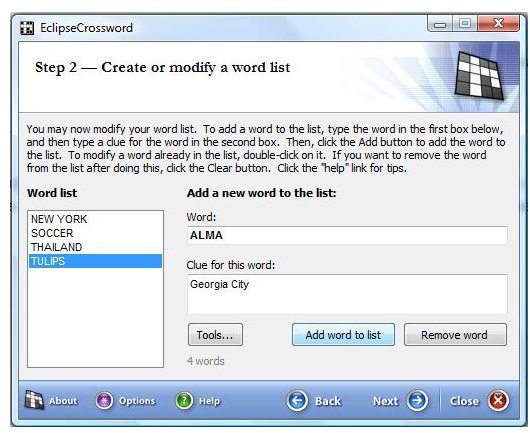 Crossword Puzzle Creation Tools
Crossword puzzles are fun ways to improve your vocabulary, and creating your own is fun, too. Moreover, sometimes making your own puzzles may just be a necessity, for example, if you are a teacher and want to test your student's vocabulary with a custom crossword puzzle! This article discusses some tools that let you make your own printable crossword puzzle with ease and even without any designing skill.
Crossword Puzzle Maker
Crossword Puzzle Maker is an online tool that creates crossword puzzles based on words and clues specified by the user. It is a very simple tool that also allows you to configure various aspects of the crossword puzzle, like color and size of the squares. Once a crossword puzzle is created, you can print it by generating a printable HTML or PDF file.
EclipseCrossword
EclipseCrossword is a freeware desktop application for Microsoft Windows for creating crossword puzzles. With more than 3 million downloads, it is one of the most popular crossword puzzle making tools.
Creating a crossword puzzle with EclipseCrossword is pretty simple. EclipseCrossword has a wizard interface that guides the user through each step of the process. At each step, the interface provides the user with relevant choices like starting a new crossword or opening a previously saved one, creating a word list from scratch or using an existing one, etc.
Creating the word list for your puzzle is a simple task. You just have to enter the word and the clue for it and click on "Add word to list". Once you have enough words in your word list click on "Next" and in this step you can customize your puzzle by giving it a name, copyright information, and so forth. Once you have finished all the steps, EclipseCrossword will generate the puzzle and also provide you with an option to print it.
The Teacher's Corner
Crossword Puzzle Maker from The Teacher's Corner is an online tool to create crossword puzzles. With this tool you can either start creating a crossword puzzle from the scratch or modify an existing one selecting from its long list of popular word-clue combinations. You can also customize the appearance of the puzzle by specifying fonts, size of the squares etc. This tool generates the puzzle and renders it in the browser. From there, you can print the puzzle.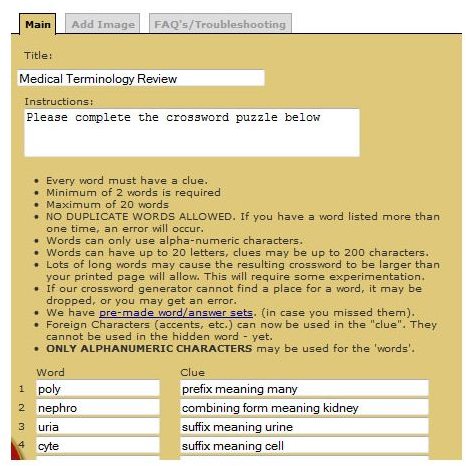 Puzzlemaker
Discovery Education's Puzzlemaker is an online tool to create various kinds of puzzles like word search, math squares, mazes, criss-cross, etc. It's a simple tool with not much customization available. Just enter the title of the puzzle, the number and size of the squares and the words and clues and it will create a puzzle with a PNG image and HTML text that you can print.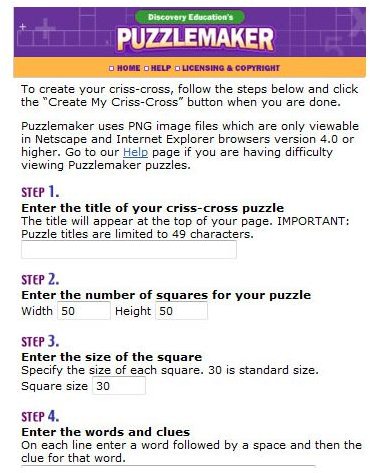 Tools for Educators
Tools for Educators' free online crossword generator creates 100% customizable and printable crossword puzzles with text hints. Alternatively, you can also use images to create a puzzle with image hints. It also lets you customize the appearance of the puzzle by choosing among a few common fonts. The crossword generated consists of PNG image and HTML text, and all you need to print the crossword is to print the webpage.