Word Games for Free: Make Your Own Word Search Puzzles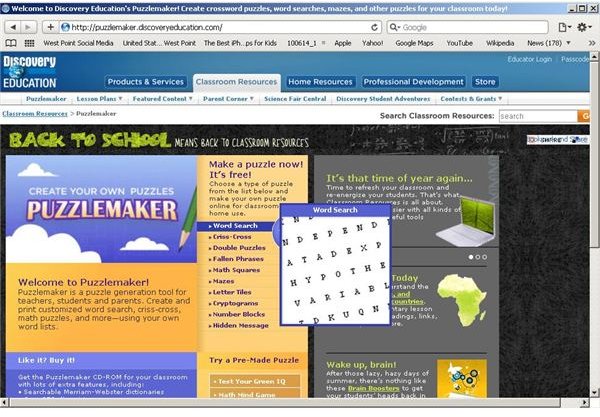 Free Tools for Making Your Own Word Search Puzzles
The following are some of the best free online resources for creating word search puzzles.
1. Discovery Education has great tools that can be used to create all types of puzzles including word searches. After visiting their puzzlemaker Web site, just click on "Word Search" to begin." On the next page, you are prompted for the title of your puzzle, the number of letters down and across, and for puzzle options that make your puzzle either harder or easier. Finally, enter the words you want to appear inside your word search. The Discovery puzzle maker also checks your puzzle to make sure the randomized content doesn't produce any offensive words.
The word search printables you create at Discovery Education are easy to read, creating a rich experience suitable for any occasion, and they make great teaching tools.
2. Livewire Puzzles has free make your own word search puzzles that are great for classes or for rainy days. The word searches you print from this site are already made and ready for you to download and print. Choose from a huge selection of puzzles that include movie themes, animals, television, sports, and music. A special section intended just for children includes holiday, seasonal, time, cooking, games, transportation, sea creature, school and other themes. Once at the Livewire site, click on the puzzle you want and print it out. It's that easy! Best of all, these puzzles include solutions so if you get stuck, help is just a click away.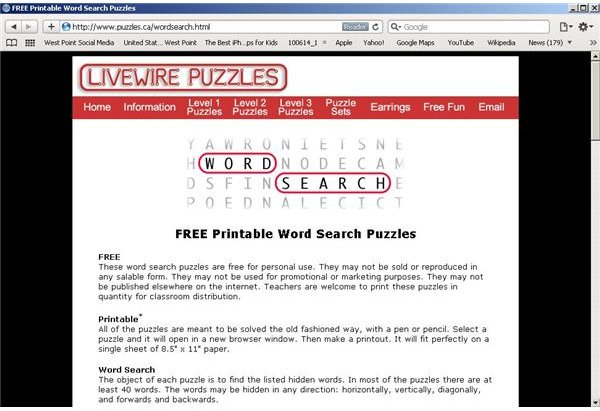 Armored Penguin allows users to create word searches with your own word lists. Users can also add titles, descriptions, colors, and a number of other powerful formatting options before clicking the "Make Puzzle" button at the bottom of the page. When complete, yo can save your puzzles them as either HTML or PDF documents for printing. The printable word searches you and other users create are saved on the site for two months, so you can try the puzzles other people have made and they can try yours.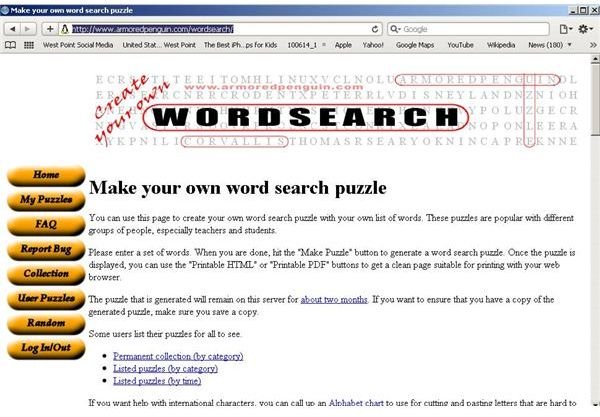 4. A free program can be downloaded from Schoolhouse Technologies, Vocabulary Worksheet Factory Lite, that installs on your computer and allows you to create custom word search puzzles. This free tool has an advantage because once you have the program installed, you can run the program wherever you are, even if you do not have Internet access.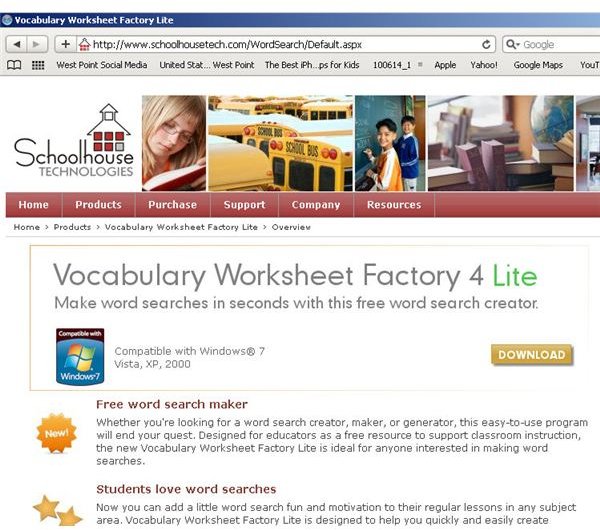 To download the program, just click in the "Download" button on the Web site. After this, you will see another download confirmation page that gives you a summary of the program. Again, click the "Download" button and your download will start. After the download process is complete, double-click the file and follow the on-screen instructions to install the program.
Image Credits: Screenshots taken by Bruce Tyson.