Top 10 Sites for Free Adobe Photoshop Patterns for Everyday Use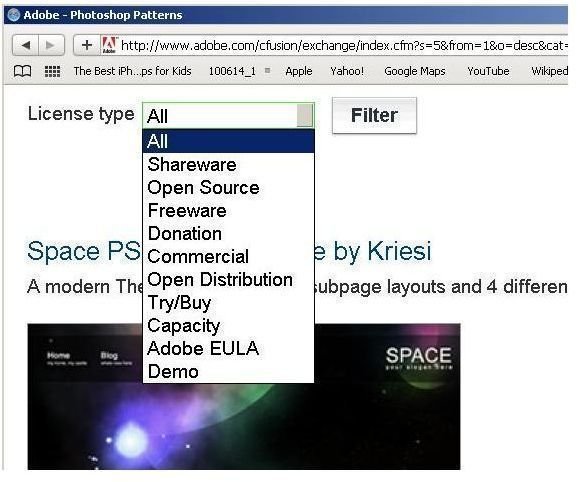 Free Photoshop Patterns
Everyone loves freebies, and there are a lot of great free Photoshop resources available. However, there are also some that are not so great. To help you weed through the lot, we've put a list together of ten of the best websites you can visit to to find free Adobe Photoshop patterns. As with brush resources, most of these are available with generous licensing terms, so you can use them in virtually all your work.
1. Adobe.com. Since they are the ones who actually make the program, it stands to reason that Adobe might have some outstanding Photoshop patterns. Not all of the patterns found on this site are free, however, so be sure to use the license type selector to choose the type of license you are interested in. Try Freeware, Open Source, or Free Distribution as options to get started.
2. FreePhotoshopPatterns.com has a large assortment of patterns that can be downloaded for free and applied to many uses in Photoshop.
3. The next source for free Photoshop patterns is Smashing Magazine. Here you will find skull patterns, carbon fiber patterns, grunge patterns, geometric patterns, scan line patterns, floral patterns and more all in one fantastic collection.
4. This might seem confusing, but the next source for free Photoshop patterns sounds a lot like one we've already mentioned: Free-Photoshop-Patterns (note the dashes). Here you will find page after page of patterns and pattern sets to choose from. Take your time and look through them all until you find the one that is perfect for you.
5. An art blogger, Francesco Mugani has a collection of free designs that help you jump right into some of the most exciting patterns out there. Browse through fabric patterns, stripes, kid's stuff and more all from one hand picked list.
6. Squidfingers has a wonderful collection of free patterns arranged in an austere, but functional manner. As you page through these,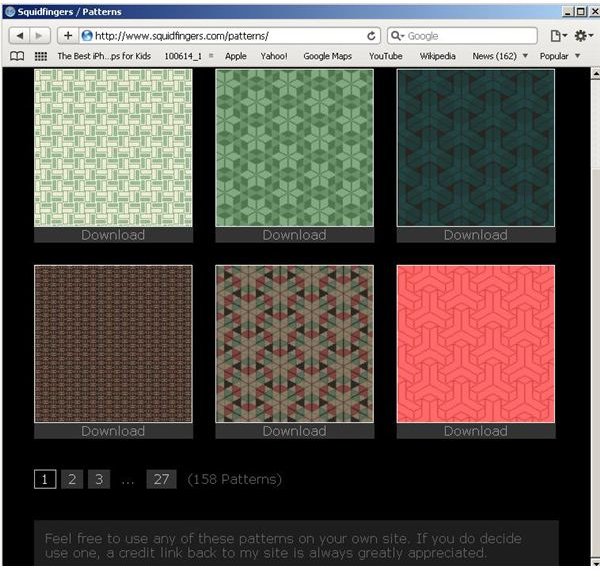 copy the ones you like and give Squidfingers a link back from your website in return
7. DigiScrapDepot has an array of Photoshop freebies: Photoshop patterns are just a sample of what you can get there.
8. Get 65 free Adobe Photoshop patterns assembled as three separate preset files at Design Spice. These are different line patterns that you can use all the time in Photoshop.
9. Pixel patterns are the name of the game at Kaliber1000, where you can find more than 974 pixellated patterns. Browse by Latest Patterns, Random Patterns, or K10K Favs to find the patterns that suit you best.
10. TipClique has several sets of high resolution patterns that you do not want to miss. Patterns such as Alien Rain, Combustion, and Mold are just a few of the awesome designs available at this site. Be sure to browse all three of these fantastic collections.