Is There Calendar-Printing Free Software?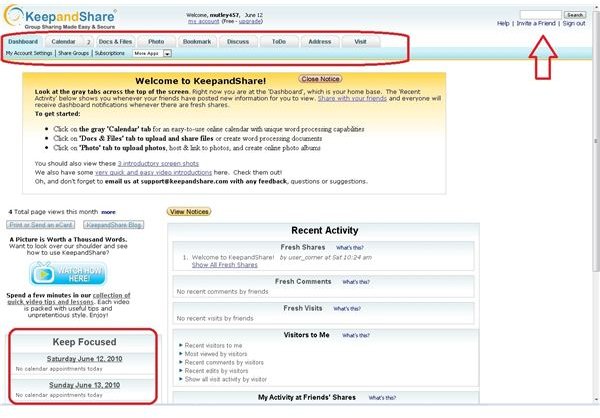 Overview
Calendar-printing free software can be useful for keeping track of a variety of events and having documentation to show for it. That is the printing part. But all three products go well beyond what was originally just a calendar-producing program. They have a variety of advanced features that were not even contemplated a few short years ago. The influence of Twitter, FaceBook, and other similar programs have extended the range of the calendar programs.
The programs that are under review here include KeepAndShare, a web-based, social-networking program. VueMinder is a computer-based calendar program with social-networking features. NaturCalendar, the last of the programs in review, is strictly PC based and is not a social-networking program. Each has a different style and focus.
KeepAndShare
KeepandShare has a website of available downloadable calendars. Each calendar is formatted as a 12-month PDF file showing major holidays. These calendars were made using KeepandShare's online calendar. This online template is available to the user for free. To access it, in order to customize your printable calendar, create a free account and log in. After you create an account, you can access an online calendar and record information on it–things like important dates or special events. Other possibilities are to print or save to disk.
This on-line calendar program can be a handy tool for you to access and control other things besides date events. You can have photos and shares. This is a social-networking calendar program. Plus you can print your calendar in needed.
But KeepAndShare is more than a calendar-downloading program; it is a social-networking program where you can share files, photos, and calendar events. The file-sharing option allows you to add files or photos so that your friends, when you invite them, can have access as well.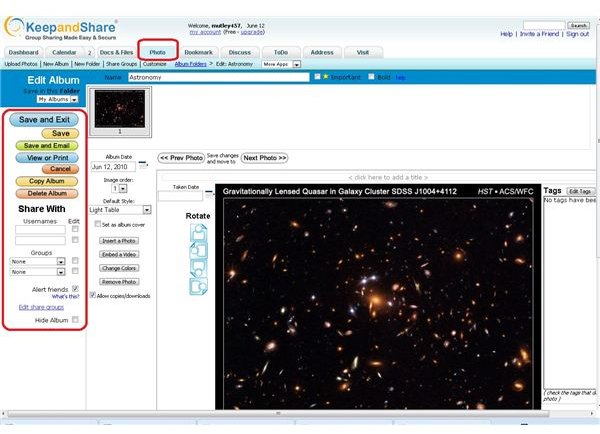 Source: KeepAndShare
VueMinder Calendar
If you do not want to keep your calendar on-line but prefer to have it available on your PC, then one option is VueMinder. This program comes in two editions: the Lite and the Professional editions. Lite is free, whereas the Pro version 1 license is $34.95.
Here are some of the features:
You can create reminders using video and music elements, or event descriptions including pictures, or web pages.

You can automatically send reminders to family, friends, or coworkers via email or SMS text messages.

You can also share reminders or calendars over your local network or online.

Same-calendar collaboration with multiple people is also possible.

You can modify and tailor different facets of the interface.

Synchronization with Microsoft Outlook or Google Calendar is also possible.

Other imports, such as from Excel or other file formats, can be done. Exports are likewise available.
This calendar program is also a social-network program. It does not have the rich capacity of KeepAndShare but it is functional and easy to use.
Source: VueMinder
NaturCalendar
NaturCalendar, like VueMinder, is a desktop calendar and scheduler for a PC. This software is geared to let you keep track of holidays, birthdays, appointments, and other events. It also has diary components. Version ST can run from the system tray; you can easily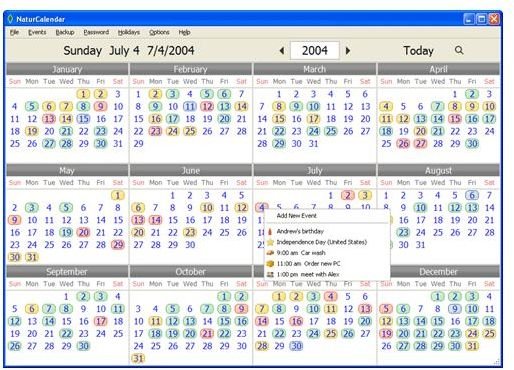 get your upcoming reminders. It has 39 predefined world holidays; it also comes with human voice reminder sound and multiple event colors. For European users there are European date formats alongside the American version.
Unlike the other programs reviewed here, NaturCalendar offers more complete control of the events associated with the calendar. In that sense it it not a social-networking program like the other two. You cannot use it to share files and photos. It is to manage your daily and weekly events and get reminders about them. It comes with a full-version 30-day free trial. After that it is $29.95 for the license.
Source: NaturCalendar
Summary
The calendar-printing free software reviewed here have a variety of features that make each one unique. If you are looking for a social-networking calendar, then KeepAndShare and VueMinder will fill that need. If you just need a calendar program to manage your daily, weekly, or monthly events, then NaturCalendar can fill that need.