Can't Delete Swatches in InDesign? Try These Troubleshooting Tips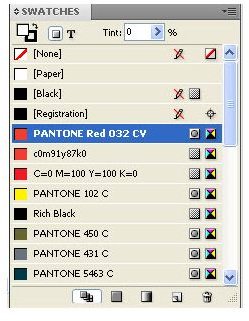 Check for Graphics with the Color
If you can't delete swatches in InDesign, one of the colors may be in a graphic without you realizing it. Check all graphics for the color. Delete the graphic that has the color; then you will be able to delete the swatch.
If you are using CS4, you can delete the swatch and InDesign will prompt you to replace it. If you want to replace all instances of the color with another swatch, then click on Defined Swatch and choose the swatch you want to change to. If you want to change it to an unnamed color, click on Unnamed Swatch. For information on how you can use grayscale in your InDesign work, see this article: Going Gray: Converting InDesign Documents to Grayscale.
Try Exporting to InDesign Interchange
Using the export to InDesign Interchange method works for both CS and CS2 when you can't delete swatches in InDesign. First open a file in InDesign. Then go to File-Export. When the Export box appears, select InDesign Interchange and then click Save. When you open the new file in InDesign, you should be able to delete the swatches you want to delete. Now you can continue working on your website, catalog, or brochure printing project.
Try Deleting All Unused Swatches
Sometimes simply choosing to delete all unused swatches at once will work when deleting a single swatch will not. To do this, after opening your InDesign file, go to the Swatches menu. Then click on Select All Unused. Finally, click Delete.
Try Importing as a PDF File
Importing as a PDF file works if you have a color swatch that will not delete, even a spot color. First create a new document. Then draw a small rectangle object for each color you are using. Make sure you can see your original document and the new document at the same time. Then drag each color one by one from your original document over to the new document, filling in the empty rectangles.
Go to File-Adobe PDF Presets-High Quality Print. Then name the file and save. After accepting the default settings, click Export. Next you need to put the PDF file in the original InDesign file and delete the PDF. Go to the Swatches menu and click Select All Unused, then delete. Now you are all set to finish your poster or brochure printing projcet.
If InDesign CS3 Crashes
When your computer crashes, it can be very frustrating, but be encouraged. The solution is fairly simple. If you try to delete a color used in a transparency effect and InDesign CS3 crashes, you need to update your version of the software. For software updates, visit www.adobe.com/support/downloads and download the latest CS3 update. This should prevent CS3 from crashing the next time you delete a color.
Conclusion
Do not let trouble with deleting color swatches delay your project. Try every possible route available for disposing of colors in InDesign until you find one that works, and remember that if the same trouble arises the next time to you delete swatches, you will know exactly which method to use. For more information on working with images in InDesign, read this general overview: A Guide to Working with Images in InDesign.