DIY: Create Your Own Free Printable Flyers - Tips, Tricks, and Templates for Creating Flyers for Business or Personal Use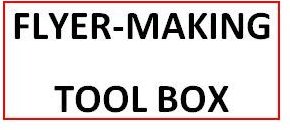 Select Your Best Tool for Making Printable Flyers for Free
This is your stop to create free printable flyer material which is to simply say; if you want to design a flyer and print it out at the home or office, this article is going to relate all the most useful information to help get it done well for you. The fact is, you have a wide array of options depending upon the software you have available to you. So if we're talking about software that you don't already have, skip that section until you find the free means to make a flyer. There are online sources that have applications to help you design a flyer that meets your specific criteria too, depending upon the wide array of reasons you might want one.
Therefore, in each section below, you'll find a brief synopsis of another article on our site that goes into greater detail on the specified method and the corresponding tips and tricks that accompany it. A quick click on a link is your door to completion of this project. No matter the method, you'll essentially be using templates or design software to create a free printable flyer that you will customize with your own text, graphics, and images, if you desire. So think of this as your tool box full of the same kinds of implements to build you a flyer. The tool box is open, and one of the tools below will become the best means for you, depending upon your software knowledge, preferences, and the level and of creative design features you'll want to have available before you get the thing to the printer. Each subtitle will clue you into the means, or will have some specific advice for a particular kind of flyer, such as one for some school-related purpose, for example.
Making Use of the HP Creative Design Studio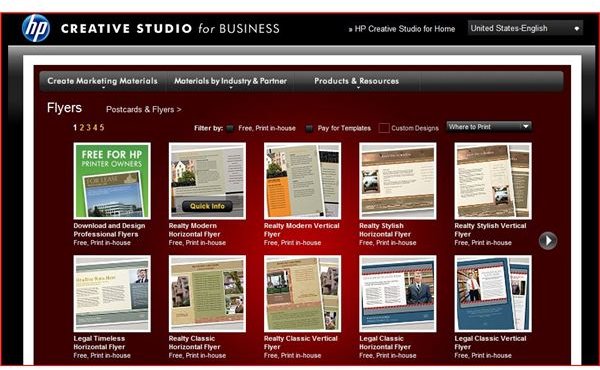 You'll find that Making Flyers from the Free Templates in HP Creative Studio is a very nice method because the flyers here are sharp and colorful and also cater toward both business and personal reasons for making one. So whether you want to make a flyer for a party, or design one to announce a special sale for your business, you can find a template here for that purpose. The directions to utilize their site are straightforward and there are ample tricks and tips offered to maximize the potential of your flyer.
Using Microst Word's Flyer Making Capabilities
This is a quick and easy method, especially if you don't want to spend too much time tweaking the design, but would rather just use a generic flyer catered to a specific goal and add type over the text with your specifics. After reading How to Create Flyers for Free with Microsoft Office Online Word Templates, you'll know exactly how and where to check out their wide array of templates, and then download the one you find to suit your needs. Word is an easy program to work with and you have guidance for all your customizing options once your template is downloaded.
Microsoft Publisher has Great Design Features Built-In
In just five steps, you can learn Learn How to Create Flyers with Microsoft Publisher that are indeed sharp and professional looking. This program may not be as familiar to some folks, but it is a DTP software that many like to use for all sorts of projects from brochures to nesletters to greeting cards. We have a comprehensive tutorial, complete with screenshots to assist you in creating a flyer for something really specific like a pep rally or any other school function for that matter.
Fond of Microsft PowerPoint?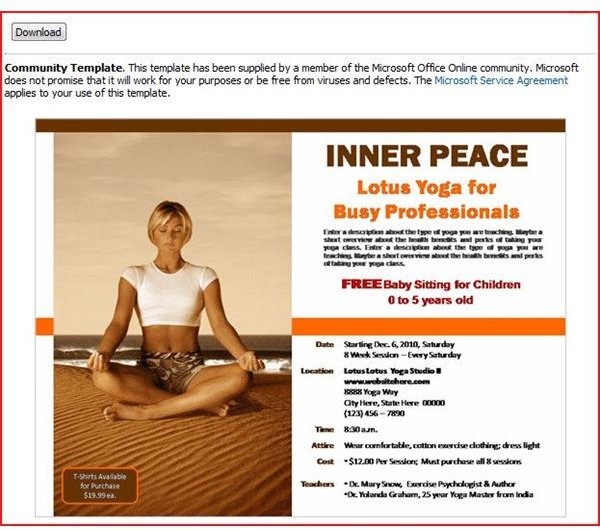 PowerPoint can be used for more than just presentations in case you find this application a breeze to work with. This Microsoft PowerPoint tutorial connects you with the templates and instructions for use with this application. Wizards withing the program make it easy for you to navigate through the creation process.Again, you can access Microsoft Office Online and use their filter function to see all available templates for use in PowerPoint.
Real Estate Flyers
When it comes to moving real estate, flyers can be a handy advertising tool to spread the word about a property that is up for sale. This open house template is a great option to do just that. There are many other cost saving marketing material ideas you can be apprised of in that article too.
Final Thoughts on Design Ideas
When it comes to what you want on your flyer, here are a few simple tips. First of all, take a look at plenty of the samples which you will be directly linked to from any of the above articles. That will give you a good idea about what you like and don't like. Keep it simple, people's attention spans are limited these days, because of the way they're constantly bombarded with marketing material from all angles. A good flyer has a zone of attention that has brings the eye naturally to the part of the flyer that is most important in announcing its overall purpose. Use the right fonts for flyers that are readable and easy on the eyes. Choose colors that are appropriate to its function and relevant graphics such as a floral theme for a landscaping company, as an example. Make sure you display the right company information, dates, a company logo perhaps , and contact information prominently. A well placed photo or graphic design is another good idea and attention-grabber.
If you're flyer is for a personal reason, a party or celebration for instance, a lot of the same principles above can be taken into account too. Use your creative flair to make it sound most appealing no matter what. After you've finished creating your free printable flyer, have someone proof the finished product and then it's just a matter of getting it to the people by whatever means you wish.