Finding & Using Free Business Card Software Online: Links to Three Sources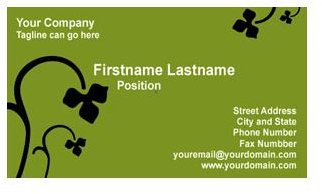 Some graphics programs can cost hundreds of dollars while creating business cards that have the same look as online business card generators. Besides price, another issue with expensive business card software is that you cannot always convert the files easily for developed printing. Many software developers seem to forget that most desktop publishers are home based businesses or individuals trying to create a business and do not have a state of the art printing press at their disposal.
Keeping in mind the small desktop publishers and independent contractors, here we are going to take a look at the best and free business card software that is available today. Save money on business card creation for the other myriad business expenses that occur in a difficult economy and use free, or close to free software instead.
Business Card Land
The Businesscardland.com web site offers a web based and free business card creator. One of the benefits that this site has over many others online business card creators, is that they do not offer the design for free and then charge you to print the cards. They also do not hold the completed business card image hostage in an effort to force a large printed order of card stock. At this web site, you create the business card and convert it to PDF for you print your own. The image you design for your business card is the image that you keep; they do not store your any of your information.
Another advantage of using this site is the business card size. The card sizes available to chose from are based off of Avery pre-cut business card stock. They also offer a bleed and non-bleed final design that you can chose to go with the business card stock you have for self printing. If you are uncertain about the business card size and paper that you want to use for printing, they also offer a paper-guide based on stock that is available at office supply stores and information on printing at home based on laser or ink jet printers. The information is free and they do not request that you purchase business card stock through them.
The image to the left is one of the Ornate card designs. When creating a free business card here, you get to chose the template and color combination after you have entered in the business information. To get started using this site for free business cards, visit www.businesscardland.com
Downloadable Software
Many free software packages that are available for download offer a free trial. This means that the software download can be limited to a certain time period or the package can be offered as shareware in which a donation is looked for. Another downloadable type is that of freeware. In freeware, the software is provided for download with no strings attached unless specified by the creator. Provided below are links to both versions of download software for creating business cards. The links will take you to the software's source page and will not automatically start a download.
Businesscard Monster Designer Pro 2.1 2.1
Business Cards Design Gadget 1.0
It is also important to note, that when you are looking for free business card software to read the about section on the main page of the site. Unlike Businesscardland.com where they offer you the ability to keep a PDF file of the business card that was created, some online business card creators will charge you for printing when you complete the card design. Remember to find out about the site you are on before working on a business card through an online editing and creation tool.