InDesign Publishing Tip: Adding a Video Clip to InDesign CS4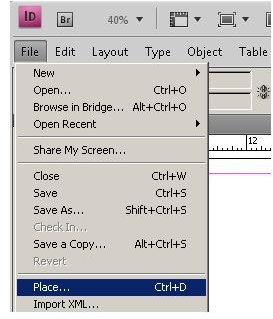 Video Formats Compatible with InDesign CS4
Movie formats that are supported in InDesign CS4 include QuickTime (.mov), AVI, MPEG, and SWF. Adobe recommends that users have Quicktime installed on the system that is being used to create the InDesign layout. Keep in mind that PDF files with embedded video require Adobe Acrobat version 6.0 or later.
Adding a video clip to InDesign CS4
Video files can be placed into InDesign documents just like any other importable file. Within InDesign, click "File" on the menu bar and then "Place."
In the "Place" dialog, select media files and browse for your video clip.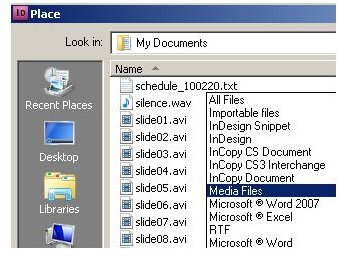 An alternate way to place your video click is to drag it from Explorer or Finder directly into your layout.
When you place a video clip into an Adobe InDesign document, InDesign will create a still frame or a "poster" that will stand in the place of the video. You can choose to add your own poster or you can decide not to have one at all. The frame that holds the video clip can also be resized to the desired dimensions of the clip.
It is also possible to convert a regular frame to one that holds a video. All you have to do is click "Object" on the menu bar and then "Interactive," and then "Movie Options." You can now add your video to the converted frame.
If you need to make the video the same size as the frame, choose "Object" from the menu bar and then "Fitting," and "Frame to Content."
Caution: If the center of the video clip resides off the page in InDesign, it won't be in your exported file.
You can edit the properties of your video clip by double clicking on it. In the "Movie Options" window, you can select the video source, poster, and mode. You can also define whether play controls are displayed or if the window should float.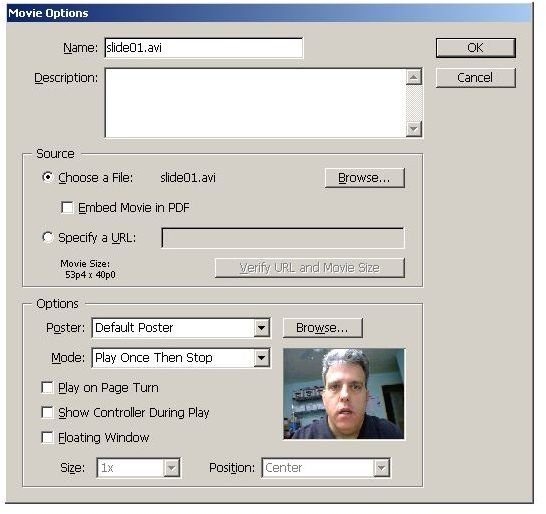 The clip can be previewed by holding the or key down while double clicking.
Exporting a Video Layout to a Playable PDF
To export an InDesign Layout to PDF, click "File" and then "Export". After naming your file in the "Export" window, you will be taken to the "Export Adobe PDF" window. Here, be sure to check the "Interactive Elements" box. If you don't, your video won't come out in the exported file.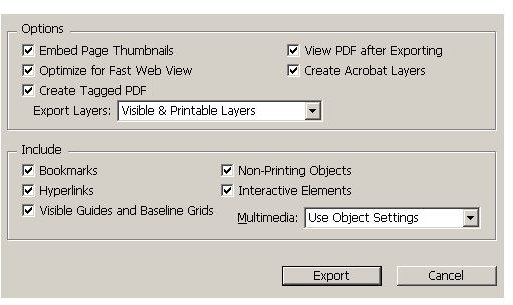 You can also place a check mark in the "View PDF after Exporting" box to make it easy to evaluate your work. After exporting, when Acrobat starts with the exported content displayed, double click the video poster to play. When the "Manage Trust for Multimedia Content" dialog appears, choose whether you want to play the content once, or if you want to play it and add it to the list of trusted documents.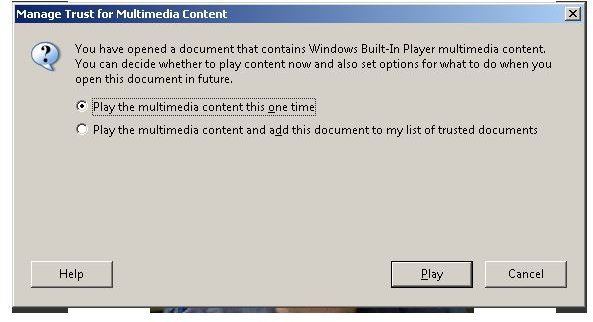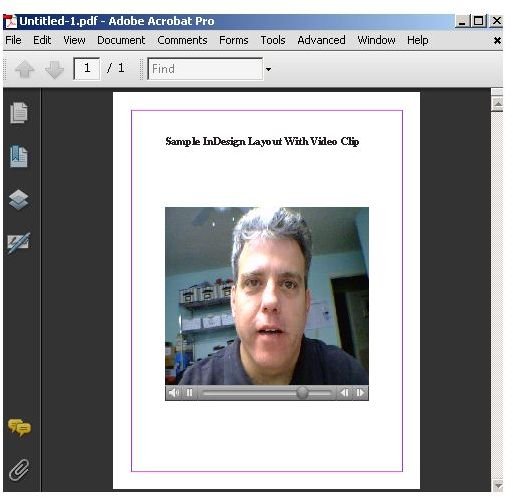 InDesign: More Than Just Print
Adding video to InDesign CS4 demonstrates that the desktop publishing program is for more than just print. it is a robust digital publisher that can be used to create fantastic multimedia layouts for digital and online distribution.