Examples of Graduation Invitation Inserts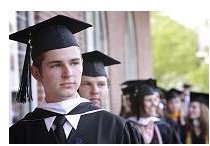 DIY Graduation Invitation Inserts
Graduation invitation inserts provide you with a great opportunity to either personalize the graduation announcements, or invite others to events after the graduation ceremony. You'll save money and time including an insert, as opposed to mailing out pictures or additional invitations. If you're not sure how to use graduation invitation inserts, or need a few ideas, consider these.
Professional Photos of the Graduate
Include favorite photos of the graduate by using graduation invitation inserts. A four-by-five insert is a good size to use for a standard graduation announcement. You can add up to four photos, but two looks best. Four photos on an insert tend to look overcrowded. You might consider getting a professional photographer to take the photos for the inserts as a gift. Capture the graduate in a casual setting or enjoying a favorite activity. Let their personality shine. It doesn't have to be a photo of them wearing their graduation cap and gown. In fact, you should avoid that. The photo can also include the graduation class year or date in the background.
To maximize your use of the professional photography fees, make it a photo that they can use in their career or business down the road. For example, they can upload the same pictures used for the graduation inserts for profiles that they upload to websites or as part of a portfolio.
Graduation Reception
If you plan to have a reception after the graduation ceremony, graduation invitation inserts are the best way to make that announcement. It avoids the need to send out a separate invitation as well, which means a separate mailing and additional postage. For example, an insert can be as simple as this one found on Hummie's World: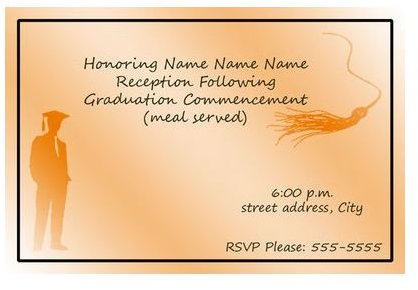 The "please" is redundant as it is already included in RSVP. However, this is a simple and elegant example of a graduation invitation insert for announcing a reception that you can use for ideas.
Open House Inserts
If you want to plan something less formal than a reception, consider an open house following the graduation ceremony. You can create your own template for a two-color insert to announce the open house. A red or green background with black text is a popular choice. The insert should include basic information, such as:
The title, "Open House" at the top of the insert
For________
Date: _______ Time ______
Given By________
RSVP ___________
It's standard to include that information, and you fill in the blanks when you create the inserts.
A more visually appealing open house insert to consider is this free one offered by Graduation Invitations and Graduation Party Ideas: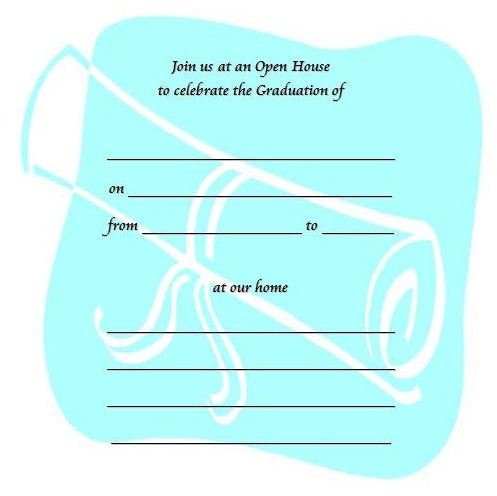 Choose a graduation graphics that compliments your insert.
Don't leave your graduation announcements empty. Use one or more of these ideas for graduation invitation inserts.